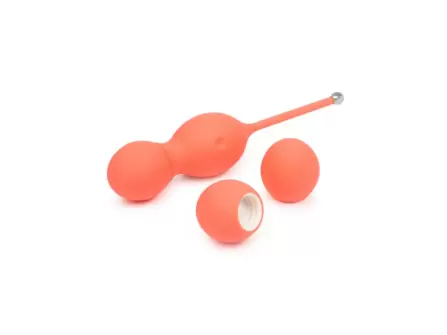 We-Vibe Bloom
Overall Rating
4.78 out of 5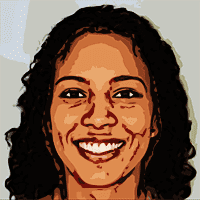 We-Vibe Bloom
We-Vibe Bloom is a vibrating Kegel exercise device that can help improve bladder control and reduce urinary incontinence. Kegel exercises are simple clench-and-release exercises that can be done anywhere, anytime. For best results, be sure to do your Kegel exercises regularly.
Not only that, We-vibe Bloom is a new, innovative way to experience pleasure. This unique product allows you to control the vibration and intensity of your pleasure, making it possible to customize your experience. The We-Vibe Bloom also works as a G-spot stimulator, making it the perfect way to enjoy internal stimulation. With its sleek design and easy-to-use controls, the We-Vibe Bloom is sure to become your new favorite way to play and exercise.
The Benefits Of We-Vibe Bloom
Here is a short list to highlight the benefits of We-Vibe Bloom and what the toy can do for you:
Order Now
Flexes With Your Movements
This vibrator is designed to make your Kegels more fun. If you're someone who has trouble exercising your pelvic floor muscles, the We-Vibe Bloom can inspire you to get to that exercising routine. If vibrations are what get you going, this toy is definitely worth a try. You might get more than exercises.
App-Controled Play
You can fully control the toy via the We-Connect app and make the most of your exercise routine. Since you have a lot to explore you can also do that with your partner. Your partner can tease you to please you. So, most likely you'll end up with an orgasm rather than a round of exercises.
10 Vibration Patterns
With 10 vibration patterns to choose from, the We-Vibe Bloom allows you to customize your experience each time you play. Whether you want a strong, fast climax or a teasing experience that will leave you on edge, the Jive has you covered. So enjoy what this vibrator has to offer!
Body-Safe Materials
We-Vibe understands that your health and safety are important, which is why they use only body-safe materials in the production of their sex toys. This means that you and your partner are protected from any unexpected allergies or skin irritations. Unfortunately, the sex toy market is still unregulated, so there are many toys with harmful substances still circulating. So, before you buy anything, make sure to read the labels.
Strenghten The Pelvic Floor
Having a strong pelvic floor is very important for several reasons. First, it can lead to better sexual experiences and more intense orgasms. Second, if you don't exercise the muscles they will weaken with time and you could end up having trouble holding in urine. It's a common problem and exercising the muscles is the best-known way to prevent it. Also, your vagina will remain nice and tight.
100% Waterproof
The We-VIbe Bloom is fully waterproof. This means that you can do your Kegels in the bathtub or while taking a shower. After you're done with the exercise routine, you can also give yourself a little treat with the vibrations. After all, the toy is already inside you. 😉
Specifications
Here are the technical characteristics of the We-Vibe Bloom :
Run Time: Up to 90 minutes
Charge Time: 90 minutes
Materials: Body-safe silicone — free from phthalates and BPA and made without latex
Dimensions: 33 mm x 179.25 mm
Warranty: Two year
What's Inside The Box?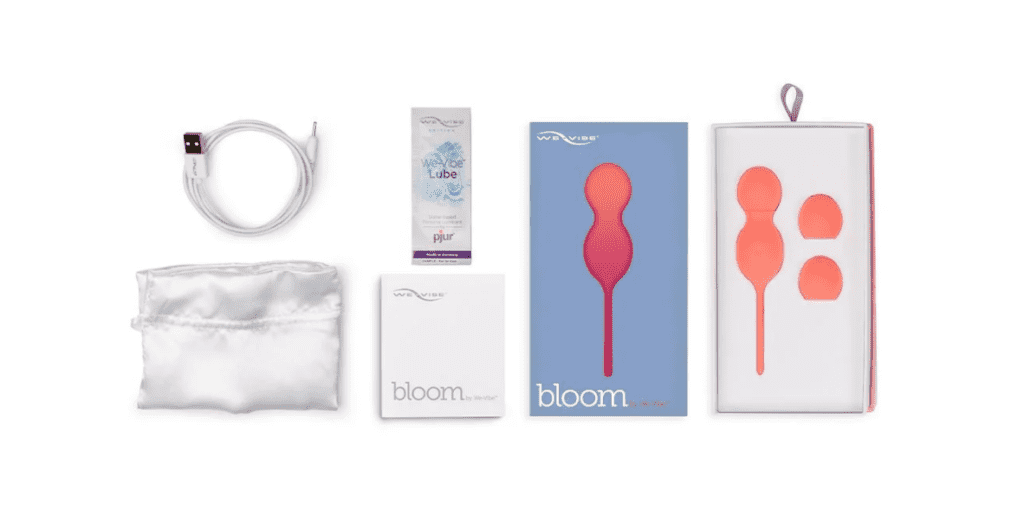 Here is a full list of items that you will find inside the box of We-Vibe Bloom:
Bloom vibrating base 35g:3 progressive weights (10g,30g,45g)
USB cable for charging via any USB port or widely available USB power adapter (not included)
We-Vibe Lube™ — made by pjur® 2ml sample
Storage bag
Illustrated, multi-language instruction manual
Consider getting some extra lube for the future. Personally, the experience is smoother.
We-Vibe Bloom In Action
It's hard to understand how important working your pelvic muscles is until you actually have problems with them. I know I learned it the hard way. I used to do occasional exercises for them but no routine ever stuck.
That's why having a toy to make the exercises actually pleasurable can help you. It doesn't matter whether we're talking about pelvic muscles or any others, the rules remain the same. Everything is okay when you're young and your body is tight, strong, and recovers quickly. However, as you age, you need to help your body stay strong.
The same goes for the pelvic muscles. Especially if you're planning to have children or already had them and have trouble regaining the previous tightness. Weak pelvic muscles can also cause urine leakage, even at a younger age, especially if you gave birth naturally (without a C-section).
So, to get to the point: exercise your pelvic muscle in advance to avoid the issues and have faster recovery after birth. The female body goes through a lot, so take care of yourself.
When it comes to We-Vibe Bloom, it's actually a very thought-out way to do you Kegels. Why? Well, it vibrates and after exercising you can give yourself a prize – an orgasm.
The toy is very versatile and comes with 3 different weights which you can change as you progress. So, there's no need to buy three different devices. After I tried this exercising routine, I was a little sad that it didn't exist after I gave birth. Other than that, after trying this toy, I still occasionally use it.
So, if you're someone who's looking to strengthen their pelvic muscles and want to do it gradually, this is a very good exercising system that gives you a vibrating reward.
Tips For Using Your Sex Toys
Sex toys can be intimidating, especially if you are buying your first one. I know they were for me. However, they shouldn't be, as long as you know what they are, how they work, and how to look after the toys to ensure their longevity. Here is a short list that I swear by. Everything else that is toy-specific will be covered by the manufacturer. So, make sure to read the user manual.
Get Used to Experiences
There are a few reasons why it may take time to get used to a vibrator. First, it may be a new sensation that your body is not used to. Second, you may need to experiment with different speeds and intensities to find what feels best for you. Finally, it may take a few tries to figure out the best way to use the vibrator for your own pleasure.
Lubricate Generously
The vagina is self-lubricating. However, some days she's simply not moist enough. It could be your hormones, or you could be slightly dehydrated. That's perfectly normal. That's why having some lube at home is always a good choice. I always say it doesn't hurt to try at least once, you might actually like it. Also, there are lubes with heating and cooling effect – those are game-changers. But you need to experience that to understand.
Hygiene is a Must!
If you don't wash your sex toys, they can become a breeding ground for bacteria. This can lead to infections or other health problems. Wash your toys with soap and water, and make sure to dry them before using them again.
We-Vibe Bloom Reviews
You already learned everything about my experience. However, I'm not the only person in the world, right? I collected some reviews from verified buyers that will help you better understand the product and make sure whether it's exactly what you're looking for.
I bought the Bloom because I wanted to strengthen my pelvic floor muscles. I don't have particularly weak muscles, but I thought it's never too early to start with such things. After using it a while I was absolutely overwhelmed. Sex with my partner got soo much better because I can now actively control my muscles way better. I'd recommend that to every woman out there, with or without pelvic floor muscle problems!

If I could change something about the Bloom it would probably be the design. It could look a bit cuter 😉

LanaBanana
It's crazy, the Bloom helped me strengthening my pelvic floor and at the same time gives me soooo much pleasure… Just love it! The only negative is that I don't like that orange-ish color a lot.

Ellie Ma
I always look forward to getting my kegel exercises done when using this toy! its so fun, powerful and it actually works!! my orgasms have never been better…

Worth every penny!

HeyYa
Alternatives to We-Vibe Bloom
The We-Vibe Bloom is a great way to strengthen your pelvic muscles. However, if you are looking for a vibrating toy that is less about the Kegels and more about the vibrations for the G-spot, I have an alternative for you:
We-Vibe Jive – it's a wearable vibrator for the G-spot that you can also use for doing Kegels, however, it's more pleasure-oriented. So, if that's what you're seeking – make sure to check it out.
Order Now
The Verdict on We-Vibe Bloom
Overall, it's a great exercise system to help you gradually strengthen your pelvic muscles. Doing Kegels from a younger age is important as it helps maintain our pelvic muscles in a healthy and strong state. Things women go through, like giving birth weakens the pelvic wall and can even cause urine leakage. Experiencing this can result in becoming self-conscious and shy. Kegels is one of the best ways to restore the muscles and your confidence back.
The exercise system comes with 3 different weights so you can progress gradually. It's discreet and you can reward yourself with vibrations when you're done with your sports.