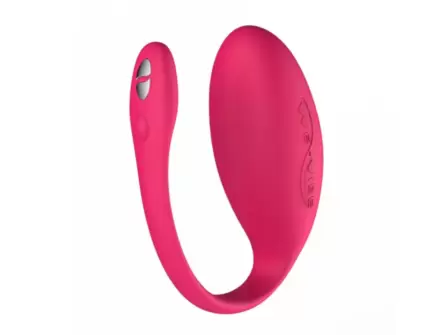 We-Vibe Jive
Overall Rating
4.58 out of 5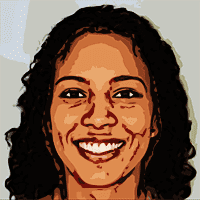 Written by
on , updated on
We-Vibe Jive
We-Vibe Jive is a unique and effective way to stimulate your G-spot. This sleek and comfortable toy is inserted into the vagina and rests against the G-spot. As you move, the toy vibrates and applies pressure to the G-spot, resulting in mind-blowing orgasms. The toy is great for solo play as well as sessions with your partner, as it can be controlled with the We-Vibe app. Whether you're using it with a partner or on your own, We-Vibe Jive is sure to take your pleasure to the next level.
The Benefits Of We-Vibe Jive
Here is a short list that highlights the benefits that come with using the We-Vibe Jive sex toy.
G-Spot Focused
This vibrator is designed specifically to stimulate the G-spot. If you're someone who has trouble orgasming from penetrative sex alone, this toy might be for you. The head of the vibrator presses firmly against the G-spot, providing focused stimulation. If vibrations are what get you going, this toy is definitely worth a try.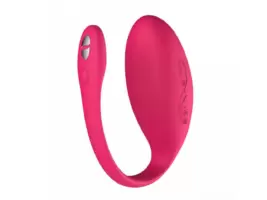 Order Now
10 Vibration Patterns
The We-Vibe Jive comes with an impressive number of 10 vibration patterns, so you can fully personalize your experience each time you play with the toy. Go strong and climax fast, or tease yourself till you can't handle it anymore – your body your choice, so enjoy.
App-Controled Play
The toy can be fully controlled through the We-Connect app. Or you can use the button on the tail to switch between vibration patterns. The flexibility of controlling the toy via an app gives you the advantage of giving control to your partner. Your partner can take charge of the toy from a distance to tease and please you.
Body-Safe Materials
We-Vibe produces sex toys that are body-safe. This aspect is very important to highlight and for you to consider before you make any purchasing decisions. Sex toys can sometimes be made with materials that can cause skin irritations. We-Vibe only uses body-safe materials that are latex-free, phthalate-free, and BPA-free. This means that you and your partner can safely use our sex toys without worrying about any unexpected skin allergies or irritations.
Easy to Use
It doesn't matter whether you control the toy via the app or with the button on the tail of it the process is very simple and requires no previous knowledge or experience.
Couples-Friendly
This sex toy can be used by couples who are in a long-distance relationship, as well as couples who are in a close-distance relationship. The toy can be controlled remotely via Bluetooth and a special app, so it can be used anywhere in the world as long as both participants have internet access.
100% Waterproof
If you enjoy long hot showers or baths – you're about to enjoy them even more. The We-Vibe Jive is fully waterproof, so you can use it for your pleasure in wet areas.
Specifications
Here are the technical characteristics of the We-Vibe Jive :
Color: Blue
Battery: USB rechargeable lithium polymer battery
Run Time: Up to 2 hours
Charge Time: 90 minutes
Materials: Body-safe silicone — free from phthalates and BPA and made without latex
Dimensions: 92 mm x 64.3 mm x 35.75 mm
Warranty: Two years
What's Inside The Box?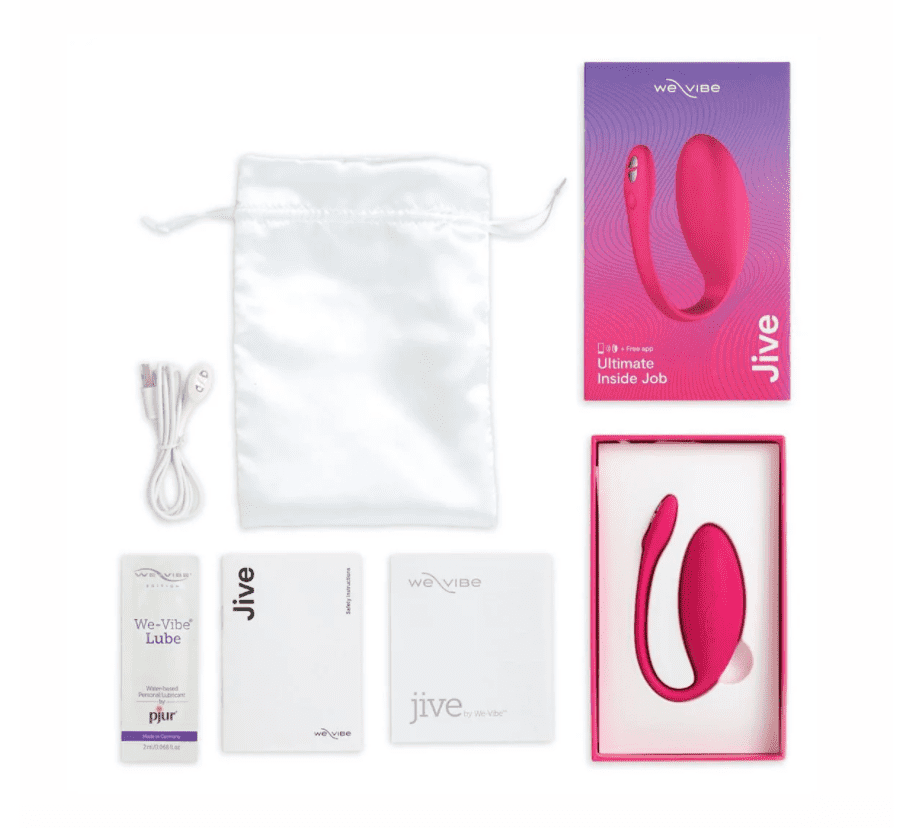 Here is a full list of items that you will find inside the box of We-Vibe Jive:
We-Vibe Jive
USB cable for charging via any USB port or widely available USB power adapter (not included)
Illustrated, multi-language instruction manual
We-Vibe Lube™— made by pjur®2ml sample
Storage bag
Even though the vagina is self-lubricating, consider getting some extra lube. It can be a game-changer.
We-Vibe Jive In Action
The We-Vibe Jive is advertised as a wearable and super silent vibrator. So, my expectations for it was to stay in place no matter what I'm doing and be silent enough so even if I'm wearing it in public no one would know.
The only downside is – as many sex toys as I've tried, it's hard for me to actually wear them in public. Despite them being silent, somehow I feel like EVERYONE knows and hears the vibrations.
Still, I try to push myself forward and see how it goes. So, I did the same with We-Vibe Jive. It did pass the discreetness test, but not in my mind.
First, since it's a wearable vibrator, you should be able to wear it in public. However, before you decide to step outside with the device inside you – try it at home. Even though the toy is discreet there's still a chance to get too excited. Don't know how it is for you, but for me hiding my orgasm face is difficult.
Before you start playing with the toy, make sure to fully charge it. Then, grab some lube (We-Vibe has you covered for the first try), lubricate the toy, and put it inside you. I was a bit skeptical about the toy moving the way I do but it actually did most of the time. However, if you decide to wear it and do enough moving to get you sweaty down there – the toy can get uncomfortable. Other than that, you're good.
The toy has 10 vibration patterns that you may be familiar with if you already own some We-Vibe toys. Since the toy moves with you, it's constantly pressed against the G-spot. If you have a sensitive one, there's a great chance that the toy will do a lot more than just tease you.
However, since I'm one of those women who have difficulty reaching orgasms solely through penetrative sex, the toy would vibe enough or the right way for me to reach an orgasm around 1-2 times out of 10. That would happen only if I'm super relaxed and wear it for longer times. Works super well when I'm in the bathtub as well.
When it comes to the controls, I prefer the button on the toy itself. I'm a bit clumsy and in most cases playing with the app is just too much effort.
Overall, this toy will suit most women who simply enjoy some vibrations that are not overwhelming and simply relaxing. Yet, if you're looking for a toy to make you orgasm, consider a more traditional vibrator.
Tips For Using Your Sex Toys
Here are some essential sex toys tips. If you're a first-time user, don't skip these.
Hygiene is a Must!
Hygiene is important for vibrators because they can be a breeding ground for bacteria. If not cleaned properly, vibrators can lead to infections.
Start Slow
It's not unusual to feel a bit awkward using a sex toy for the first time. Many people feel self-conscious or embarrassed about using sex toys, but there's no need to feel this way. Using sex toys is perfectly normal and can be a great way to enhance your sex life. If you're feeling awkward or embarrassed, just take some time to relax and get comfortable with your new toy. You'll likely find that using it isn't as difficult or awkward as you thought it would be.
Lubricate
Lube can make vibrator use more pleasurable because it reduces friction. Friction can cause discomfort or pain, especially if the vibrator is being used for extended periods of time. Lube can also help the vibrator move more smoothly over the skin.
We-Vibe Jive Reviews
Well, I have already told you everything I experienced with the toy. However, there are many more people who tried it. Some had similar experiences, while others noticed other traits of the toy. These reviews were written by real users on the official We-Vibe website. Here's what people are talking about the toy:
RIDE. The excitement of wearing a sex toy in public is good enough but Jive is suuuuper comfortable and you can control it with your phone which is amazing.

Ana546
love the Jive!! It hits the exact right spot and is very quiet, I've worn it while watching a movie with my roommates and no one knew!! It's the perfect size too, easy and discreet to travel with. My only problem is with the app. I don't know if it is a problem with the app itself or maybe just my product's bluetooth capabilities, but it often has trouble connecting with the app and when it does connect, the connection is often lost turning off the vibe randomly which can kill the buzz, if you know what I mean. Works perfectly without the app too so highly highly recommend this product!!

Rosie
This is one of the coolest sex toys i've ever had! My partner had to go away on a business trip last week and we were still able to feel intimate with one another even though he was so far away! I can imagine the wonders it would do to couples in long distance relationships. The app is cool and easy to use. I highly recommend for those that still need some loving while their partner is away.

JulieBoo
Alternatives to We-Vibe Jive
We-Vibe Jive is fun, let's get that right. However, there are several alternatives to it that you should know about. As I like to say: the more you know, the better of a toy you choose.
OhMiBod Esca 2 – in general, it's a very similar toy for a lower price. However, technologically and from the whole experience, Jive is a better value for money option. With Esca 2 I experienced a lot of connectivity issues, so it was a dealbreaker.
We-Vibe Bloom – if you are more about Kegels and less about fun only, We-Vibe Bloom is an alternative definitely worth considering. It comes with three different weights, so you can track the progress that you are making with your pelvic muscle exercises. The toy also vibrates, so you can reward yourself with an orgasm after every session.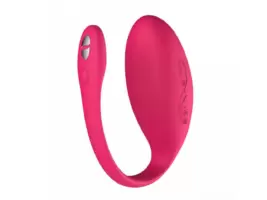 Order Now
The Verdict on We-Vibe Jive
The We-Vibe Jive is a high-quality and discreet vibrator that is great to get you in the mood. It is designed to move together with your body and does a great job staying in place. Unless you decide to go for a run with it and get all sweaty – that could make it rub against your body in a wrong way.
Other than that, it is discreet and vibrates in 10 exciting patterns. Since it's always pressed against the G-spot, it's a great way to explore it. Especially for women who have difficulty reaching orgasms solely through penetrative sex. Sometimes some good vibrations are enough to do the trick.