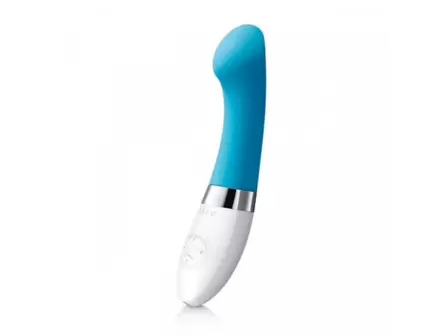 Lelo Gigi 2
Overall Rating
4.75 out of 5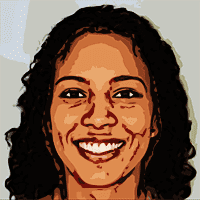 Written by
on , updated on
Lelo Gigi 2
If someone would have handed me Lelo Gigi 2 when I was a teenager, I think I would have had a better understanding of sex, vibrator, and what my body is all about.
I grew up in a family where I couldn't have an open conversation with my mother, and all sex-related stuff, boys, etc. was a topic never discussed. Don't get me wrong, I had all my freedom to go out, date, and explore the world. However, I had to figure out everything on my own.
Lelo Gigi 2 for me, seems like the perfect vibrator for someone who has little to no sexual experience or simply likes toys that are all about functionality and not about size.
Order Now
The Specs
Lelo Gigi 2 is a powerful vibrator that can please you for around 4 hours straight. Check out more technical characteristics of this vibrator below:
Made from: ABS Plastic / Silicone
Size: 165 x 35 x 33mm / 6.5 x 1.4 x 1.3in.
Diameter: 37.8mm / 1.5in.
Insertable Length: 95mm / 3.7in.
Weight: 79g / 2.8oz.
Using Time: Up to 4 h
Battery:Li-Ion 920mAh 3.7
Frequency:100Hz
Max. Noise Level: 50dB
Lelo Gigi 2 Benefits
Lelo Gigi 2 is an exciting sex toy for women who want a compact vibrator that is versatile and can be used in more than one way. Here are some of the main benefits of Lelo Gigi 2.
2 in 1 Toy
Even though technically it's a wand massager, designed to stimulate the G-spot, this toy is a clitoris toy as well. The flat tip of the vibrator is perfect for a wide-touch approach to the clitoris. Not only that, this flat angle is actually pretty great for the G-spot as well.
8 Vibration Patterns
Lelo Gigi 2 comes with 8 unique vibration patterns, designed solely for your pleasure. It doesn't matter whether you're hitting the G-spot or giving your clitoris some action – you'll find your pattern.
Long-Runing Time
Even though Lelo Gigi 2 comes with powerful vibrations, it comes with an even more powerful, rechargeable battery. The battery can run for up to 2 hours without any interruptions. However, the run time depends on the settings that you're using. However, it's more than enough for a couple of orgasms without any pause.
Body-Safe Materials
Lelo uses only the highest quality silicone for its vibrators. This means that your toy is completely hypoallergenic and won't cause any unexpected skin irritations or allergies. You can rest assured that your body is in good hands when you choose Lelo.
Simple Controls
Lelo Gigi 2 comes with simple and intuitive controls. The buttons are easy to spot with your fingertips, therefore, you don't need to see what you're doing, you'll be able to feel it from touch.
100% Waterproof
Having a quality sex toy is exciting. However, having one that you can use in the bath and shower is even better. There's nothing more relaxing than a bath after a long day at work. Oh wait, an additional orgasm is more relaxing.
Discreet Shipping
Lelo respects your privacy. That's why each and every item that you order from them will arrive in plain carton boxes without any flashy signs stating that there's a vibrator inside.
Tips For Using Your Toy
If this is your first toy, knowing some details about using it and looking after it is helpful. At least they were for me. I can tell you one thing, what I read fifteen years ago before buying my first vibrator – still works today. So, sex toys are more advanced now but the principles remain the same. Here are your simple tips:
Lube It Up
Be generous with lube. Especially if you're using the toy for massaging your clitoris or other places don't lubricate themselves as a vagina does. Lubricant reduces friction and protects your skin from potential irritation the friction could cause.
Don't Rush – Ease Into It
Take it slow. If it's your first toy, it can take several uses to get used to it properly and ease into the experiences. You may get impatient and finish the job yourself. That's normal. Ease into it and experience the big O.
No Wash, No O
If you don't clean your sex toys – you don't get an orgasm. That's my rule. It doesn't matter whether you're having sex with a person or with a toy – hygiene matters. Even if you're the only person who uses the sex toy. It can still accumulate dirt, dust, and bacteria. Don't let those spread to your body.
What's Inside The Box?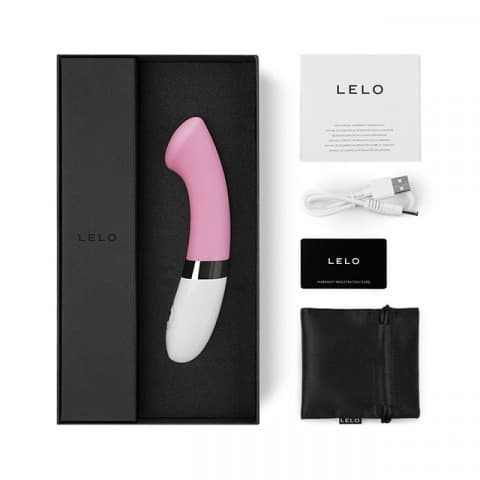 Even though your items arrive in a plain carton box, there's a whole luxurious experience hidden inside. Lelo took the extra step to make unwrapping a sex toy feel like opening a gift that came straight from a designer store. Here's the full list of items you will get when ordering Lelo Gigi 2:
GIGI™ 2
USB-Charging Cord
Satin Storage Pouch
Warranty Registration Card
Detailed Instruction Manual
If you plan on using the Lelo Gigi 2 on your clit – make sure to get some lube. The natural juices that your vagina produces evaporate very fast therefore require to be reapplied very frequently. If you don't use lube, you may irritate your clit instead of pleasing it.
Lelo Gigi 2 in Action
Gigi 2 is the smallest G-spot vibrator from Lelo. Small but mighty, as people like to say.
Due to Gigi's unique shape, it's actually of the most precise G-spot vibrators I have encountered. With 8 different vibration settings and various intensities, the toy can even surprise someone who has tried many sex toys. However, if you're all about the size, better consider the alternatives.
The unique shape of Gigi 2 also benefits other things – like stimulating the clitoris. Due to its flat surface, the area is easy to cover and there is very little room for error, so it doesn't require too much aiming.
Also, the flat shape is surprisingly good for neck massages. Especially in those places where the head connects to the neck. Simply brilliant.
So if you are looking for a non-intimidating vibrator (size-wise and vibration-wise) that's designed to enrobe the G-spot and equally as well massage your clit (or neck) – give Gigi 2 a chance.
Alternatives to Lelo Gigi 2
Lelo Gigi 2 is a fun vibrator, especially if you're buying your first one, or just prefer vibrators on the slightly smaller side. However, if you're shopping for something larger, let me suggest you several alternatives that are as good as Lelo Gigi 2, only slightly longer:
Lelo Liv 2 – this vibrator is only 5mm longer, however, sometimes only that's only how much you need to actually make a difference. However, this vibrator has a round head and is more narrow, so might not be as fulfilling.
Lelo Mona 2 – this vibrator is nearly a third longer, so if you're looking to be more fulfilled than with Gigi 2, it could be the right choice for you. When it comes to the diameter, both vibrators are the same, so measure and see which is better for your needs.
Lelo Gigi 2 Reviews
Lelo Gigi 2 is a brilliant vibrator for some. Others might not like it. Well, you won't know for sure until you learn what people are talking about it, right?
That's why I collected some positive as well as negative reviews of Lelo Gigi 2, written by verified users on the official Lelo website. This way you know you're reading genuine feedback!
The positive experience with Lelo
Beautiful colour and texture, it is silky soft and feels sensational inside and outside. Great vibration settings… and my partner loves it too. My fav g spot toy. Highly recommend!

Emma1551
The GiGi 2 is a must have for the bedroom, I love using it on my wife and it really does find the G spot and she has the most amazing O's. As with all Lelo products it super high quality and really easy to keep clean. Can say that this little wonder will be traveling with us for vacations and trips I will not leave home without it.

Robbie26
The negative experience with Lelo
Vibration isn't strong at all. If you are one that has a hard time having the O this isn't the toy for you.

– A-Girl
I only used it twice and I'm not a fan. The vibrations are very weak and I've gotten stronger ones from a $20 vibrator. I'm really sad I want to enjoy it especially since they claim to be a luxury brand, I just didn't have a luxurious experience.

– Sad Girl
Order Now
The Verdict
In my opinion, Lelo Gigi 2 is a brilliant choice as a first vibrator. Especially if you never had sex and want to get to know your body first. The vibrator is not big and has a large surface on its tip if you wish to stimulate the clit.
However, if you are someone who enjoys a large cock inside you, this vibrator will disappoint you and most likely you'll feel like you wasted your money.