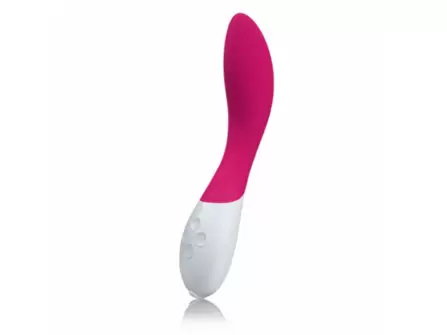 Lelo Mona 2
Overall Rating
4.75 out of 5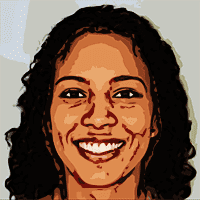 Written by
on , updated on
Lelo Mona 2
If you are looking for a versatile G-spot vibrator that is a bit on the larger side and can hit the clitoris just about right – Lelo Mona 2 is worth considering.
If you are choosing between Lelo G-spot vibrators and got confused, let me tell you that size-wise it goes like this: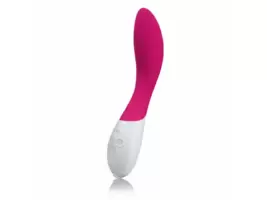 Order Now
While Liv 2 could be characterized as the average-size and average-vibration toy, Mona 2 can take you a step further. However, let's not rush into things and see what this vibrator is all about.
The Specs
Lelo Mona 2 is a worldwide best-seller that comes in 3 beautiful colors. Check out more technical specifications of Lelo Mona 2 below:
Made from: ABS Plastic / Silicone
Size: 220 x 51 x 33mm / 8.7 x 2.0 x 1.3in.
Diameter: ? 37mm / 1.5in.
Insertable Length: 110mm / 4.3in.
User Time: Up to 2hrs
Weight: 128g / 4.5oz.
Charging: 2hrs at 5.0V 500mA
Frequency: 100Hz
Max Noise Level: <50dB
Interface: Variable interface, 6 modes
Lelo Mona 2 Benefits
Lelo Mona 2 is a global best-seller. Naturally, there has to be something special about this vibrator that led it to international success. Let's see what are the main benefits of this toy.
Ergonomic Design
It looks very simple, however, the Lelo Mona 2 has a very ergonomic design, where each curve serves the purpose of making your sexual journey more exciting from any angle that you wish to take.
6 Vibration Patterns
Lelo Mona 2 comes with 6 unique vibration patterns that you can mix and match in a manner that's most pleasurable for you. You can start slow and work yourself up, or, on the contrary, start from ultra-intense vibrations from the very start.
Long-Runing Time
Even though Lelo Mona 2 comes with intense vibrations, the toy can please you for around two hours without any interruptions. This should cover several exciting orgasms without any rush.
Body-Safe Materials
Lelo is a premium brand and they produce only premium products made from premium materials. The Lelo Mona 2 is made from the highest-quality and ultra-soft silicone. This means that the toy not only feels great against your skin, but it's also completely hypoallergenic. So, you don't have to worry about the materials causing unexpected skin irritations or allergies.
Simple Controls
Using this sex toy is very easy as the controls are very intuitive. This means that you don't actually need to see the buttons to know what they're doing. Also, they're not surface-smooth, so you'll be able to spot them solely with your fingertips from any angle.
100% Waterproof
A waterproof sex toy for me is very important. Just imagine how annoying it would be if you had to worry about water splashes getting on it. Also, the vagina is also not the dryest place, if you know what I mean. So, waterproof toys are not only more fun since you can bring them to the shower but also, usually, they're better quality.
Discreet Shipping
Lelo values your privacy. That's why each and every toy that you order from them will be handled in a discreet manner. The toys will arrive in plain carton boxes without any flashy signs that help identify what's hiding inside the box.
Tips For Using Your Toy
Some people that never used a sex toy in their life find them intimidating. However, I'm here to share some tips with you that helped me when I got started. Even though toys are becoming more advanced, using them and storing them is pretty much the same. Even easier. Here are my essential tips for sex toys:
Lube It Up
Lube it up and lube it up generously. Especially if you will be using your sex toy in places that are not self-lubricating.
Start Slow and Get Used to Experiences
Don't fantasize about your experience with your sex toy too much. It can do more harm than good. If you never had a sex toy, it may not be fireworks from the first few minutes. You might need time to fully give into the experiences.
No Washing, No Orgasms
I can't put enough emphasis on how important hygiene is when using sex toys. These objects touch the most private body parts of yours that are a perfect place for various bacteria to spread. So, be clean, stay safe and wash your toys the way the manufacturer suggests.
What's Inside The Box?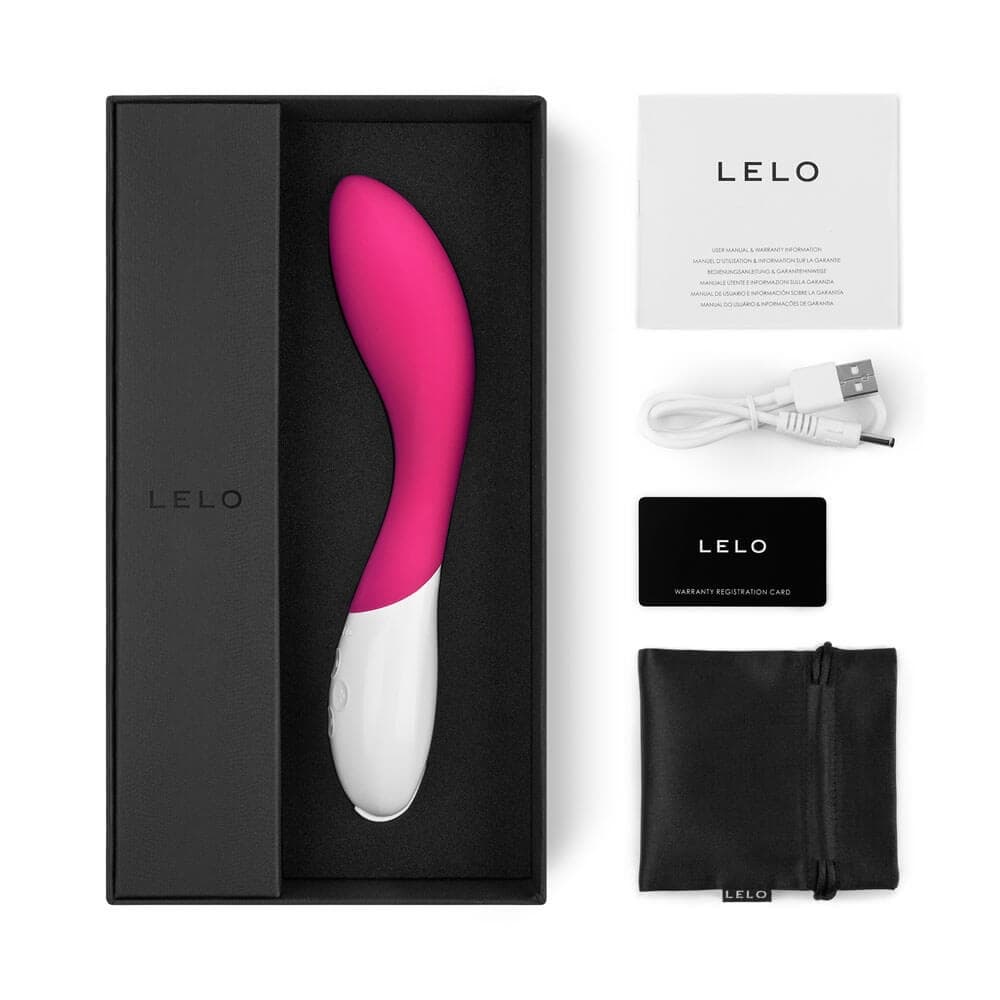 If you have never bought anything from Lelo – you're in for a treat. If you have – we'll you're in a treat again. Getting something from this brand always feels like giving a gift to yourself. Yes, their packaging and attention to detail are that good. Here's the full list of items you will get when ordering Lelo Mona 2:
MONA™ 2 in selected color
USB-Charging Cord
Satin Storage Pouch to keep the dust away
Warranty Registration Card
Detailed Instruction Manual for effortless using
Even though it's not a must, you can consider getting some lube, if you don't already have some. It's worth trying to use lube with a vibrator at least once. Trust me on this one, lube does make everything better and smoother. Make sure the lube is silicone-compatible!
Lelo Mona 2 in Action
Well, it's time to see in more detail what this vibrator feels like when actually being used.
Compared to its larger (Elise 2) and smaller (Liv 2) alternatives, Mona 2 has a wider surface area just below the tip, which gave me a more precise G-spot stimulation.
The same applies to the clitoris, the more surface area you have – the less aiming is required. However, the vibrator doesn't have a flat angle that usually works best for the clit, so you'll still have some adjusting to do.
My experience with it was good, but not the best. As I like to say, there's no one toy that works for all. Personally, I would prefer a little more intensity for the vibrations.
Overall this vibrator is good for those who want a larger toy that works very well for the G-spot and does a pretty decent job for your clitoris.
Mona vs Mona 2
Also, if you're familiar with just Mona and are wondering what is the second edition all about, let me explain it to you.
The answer is pretty simple. The device itself is the same, only better. Lelo Mona 2 has 30 % more power and if you will feel the difference with the toy inside you.
So, if you really liked the first one and feel like it's time for a refresh, you can replace the old Mona with Lelo Mona 2. I'm pretty sure that you will like the upgrade.
Alternatives to Lelo Mona 2
Lelo Mona 2 is an excellent choice as a vibrator. However, it's not excellent for everyone. That's why I made a list of several alternatives among which you will find a smaller and a larger choice.
Lelo Gigi 2– this is a brilliant vibrator if you're looking for something smaller. Also, it has a head that's diagonal, so you'll have a large surface area to please your clitoris. However, for me at least, it wasn't too good for the G-spot.
Lelo Elise 2 – if Mona 2 is not long enough, Elise 2 might just be. This vibrator truly gives you a sense of feeling full down there. It's large, thick, and very good for stimulating the G-spot.
Lelo Mona 2 Reviews
Sex toys come in various shapes and sizes. Some work better for me, some for you, some for else. So, the more information you know about a product, the better purchasing decision you can make.
Here I collected some positive and negative reviews of Lelo Mona 2. This way you will be able to make a better-informed decision whether buying this toy is right for you. All reviews are from the official Lelo website, so you know they're written by verified users who actually tried it.
The positive experience with Lelo Mona 2
I got this vibrator as a wedding gift for a friend and she loves it!! If you're getting married you need to invest in your sex life!!!! I have the same one in purple and LOVE IT, it had made orgasming so consistent. It is a good size and shape for using with a partner during sex. I think that every woman should have a vibrator.

– Saree
The Mona 2 is quiet as promised so discretion is guaranteed. The more defined tip is a workhorse for both inside and outside pleasure. Definitely a favorite!

-Mymeg
With this kind of expense I expect quality battery, ease of use, strong vibe. This has all of that. I like the ability to both use a pinpoint vibration, and a more subtle long edge, depending on my needs. Its firm, which I liked.

-Mleloafficionado
The negative experience with LeloMona 2
It's a good quality product, easy to use and sufficiently quiet.. To me the vibrations are more buzzy than rumbly and not very powerful.. I can *o* but it takes some time and even then I don't feel the need to shut it down right after for overstimulation (like with other vibe I have) I would recommend it to someone who doesn't need strong pinpoint vibrations like me.

-Kenekila
The Verdict
Lelo Mona 2 is not the strongest vibrator that Lelo has to offer but it's usually enough for most women. However, I was not one of them.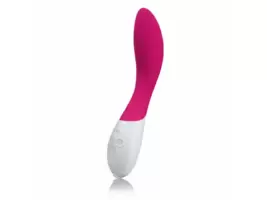 Order Now
For me personally, the vibrations were not strong enough, so the Mona Wave choice for this vibrator would be my recommendation. The come-hither move is brilliant.
Also, if you wish to get a rabbit vibrator to stimulate your clit simultaneously, consider Ina vibrators or my all-time favorite – the Soraya series.