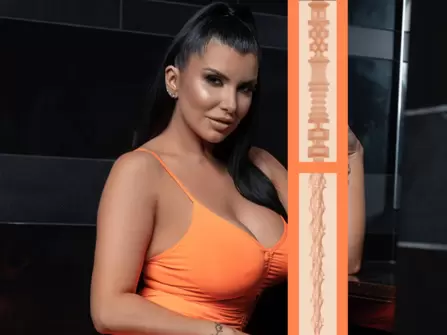 Romi Rain
Overall Rating
4.1 out of 5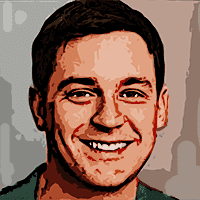 Written by
on , updated on
Romi Rain Fleshlight
Romi Rain s known as the girl who does it all. Sex-wise, at least. It's great that she teamed up with Fleshlight and now there's an exciting Romi Rain Fleshlight series for her fans to enjoy.
The Romi Rain Fleshlight series currently has two models. The sleeve is called Storm and has an orifice that looks exactly like Romi's vagina and an anal one called Tempest that features an orifice that looks like Romi's butt.
Let's see if she"ll cause a storm on my private parts.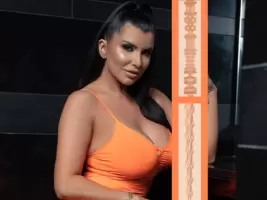 Order Now
Romi Rain Fleshlight Benefits
Fleshlights are luxury items in the sex toy market. Naturally, luxury comes with numerous benefits. here's what you get from Fleshlight:
Unique Textures
Each and every Fleshlight model has a unique sleeve that brings unique sensations and Romi Rain Fleshlight is one of them. Once you'll be ready for more sleeves, there will be around a hundred different ones waiting for you online.
Fantasy Element
Each and every guy dreams about sleeping with their favorite porn star. Fleshlight allows you to get the next best thing – a porn star Fleshlight. So, if Romi is your favorite, get a Romi Rain Fleshlight, unleash your fantasies, and support your favorite actress.
Quality Materials
Fleshlight uses only top-quality materials for its products. Each sleeve is made for SuperSkin material. SuperSkin is hypoallergenic. this means that the sleeve won't cause any unexpected irritations or allergies to your private parts.
Real Feel
SuperSkin is not only hypoallergenic, but it's also super realistic. When it comes to sex toys, currently it's as close as you can get to feeling real flesh. Especially when you warm the sleeve up to human body temperature.
Discreet Shipping
Fleshlight values and respects your privacy. that's why each and every item that you order on their website will arrive discretely packed. no one will be able to tell what treasures are actually hiding in the box. Also, when you buy from the official website, you know that you are getting the original item.
How Romi Rain Fleshlight Feels?
Storm Sleeve
The Romi Rain Fleshlight Storm sleeve has an orifice that looks like her vagina and a unique sleeve with five main textures.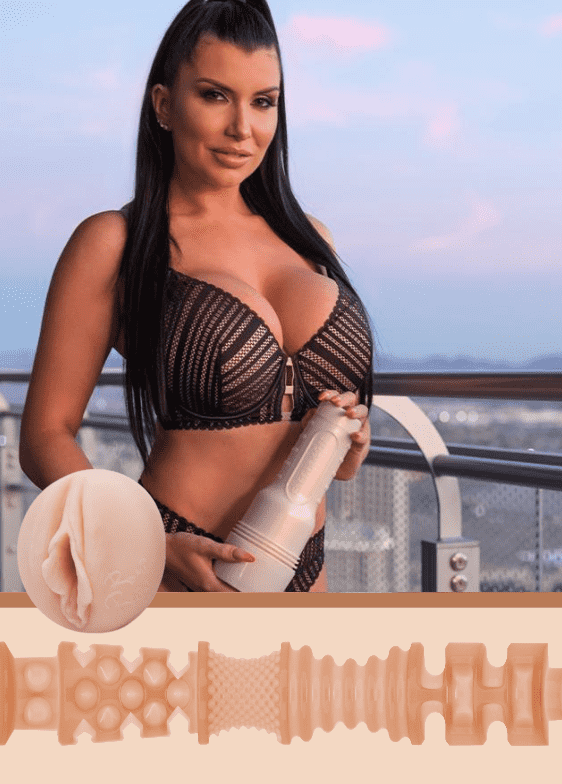 The first several inches of the sleeve are covered with dots to massage your penis. The sleeve gets narrower inch by inch and, of course, becomes more intense.
The texture that's between 4 and 5.5 inches deep feels very tight and intense. However, the real action is right after it.
This texture is super tight and the vertical ribs are simply insane. If you don't feel overwhelmed after that one, visit the last texture.
Overall, this is a very intense sleeve that is only for serious men who are prepared for serious pleasure. If you're a beginner, better choose a lighter option or be ready to experience tension on your penis.
Tempest Sleeve
Thes second sleeve comes with an orifice that looks like the backdoor entrance to Romi.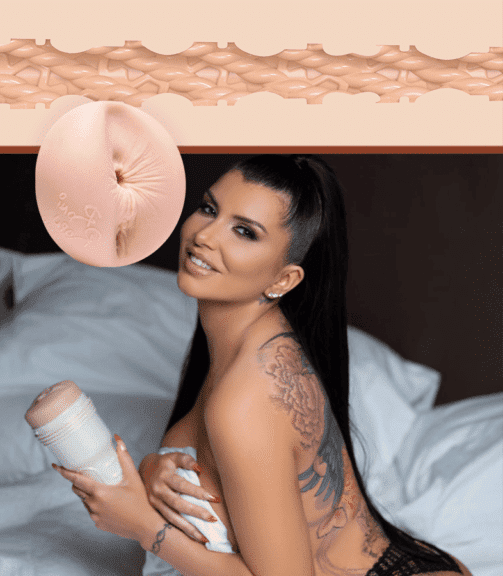 The texture of the sleeve is the same throughout the whole length, so there is no need to worry about reaching any chambers.
The sleeve itself is on the intense side and the texture feels great when you slightly twist it while using it. So, if that sounds like something you would like – be sure to try this sleeve.
Romi Rain Fleshlight Downsides
Even though Romi Rain Fleshlight has a lot of benefits and an exciting texture, there's one downside to her:
Too Intense for Beginners
You can see from the picture that the sleeve is tight. If you're a beginner, she could be a bit too intense. However, you can consider it your stamina training.
Romi Rain Fleshlight Alternatives
Since there are around a hundred different Fleshlights with different sleeves, there are quite a few Romi Rain Fleshlight alternatives.
If you feel like she's not the one for you, there are other options.
Here is a list of my current favorites. Maybe you'll find your match among them. If not, leave a comment under the article about what you'd like and I'll give you my recommendations.
Janice Griffith. For me, she's the perfectly balanced Fleshlight product. Also, she's super hot.
Stamina Training Unit is a must for every man, in my opinion. It's like a training program for your dick so that you would know what you're doing in bed.
Check out Mia Malkova's latest sleeve, If intense anal is what you want. She's worth your attention.
Romi Rain Fleshlight Reviews
Well, you already know my Romi Rain Fleshlight review, so, it's time to move on and take a look at what other guys are talking about her.
Every Romi Rain Fleshlight review listed below was written by a verified Fleshlight user who made a purchase on their website.
Take a look at what they're talking and maybe it will help you make up your mind whether this sleeve is for you.
The nubs in the front seem similar to the Stamina Training Unit which is amazing. However, I think what happens after those nubs is what makes her ten times better!

– Derek C.
I received this sleeve last week. The textures will leave you breathless in the end as only you could imagine if Romi was doing it herself. Worth adding to your collection.

– Daniel R.
Overall Experience: 10/10. All around, an intense sleeve with amazing variety that's great for frequent sessions.

Smoothness: 7/10. If you're a girthy guy and rough textures scrape on you, don't worry – though the texture is complicated, it's fairly wide and doesn't have any bad ridges.

Intensity: 10/10. The sleeve's intensity isn't in a "strong rubbing that's hard to handle" way, but rather a "so nice it's hard to hold out" way. Even going slowly, you can't really avoid it feeling overwhelming.

Sensation: 10/10. Thus is subjective, but my first time entering this sleeve resulted in an involuntary "ohhhhhhhhh" and some expletives. It's an incredibly active sleeve, so you can't really pick out what specifically you're feeling when… it's just a whirl of amazing, soft, squishy sensations.

Finish inside? 6/10. It's a lot to rub against you, so if you're sensitive during orgasm, it may not be a good sleeve to stroke through.

– Colin H.
What's In The Package?
If you order directly from the official Fleshlight website, all your items will arrive in unmarked boxes. There will be no Fleshlight branding on them.
Here is a full list of items that will hide in the pain carton box:
Brand new Storm texture sleeve
Unique Romi Rain Lady orifice
Luxurious Fleshlight case that comes with an extended protective cover
Detailed instructions for proper use and care
If you don't have any water-based lube at home, make sure you get some. You can order it directly from Fleshlight or use any other that you like.
If you decide to order from another store than Fleshlight, make sure that you're getting an original item and not just a cheap knock-off.
Additional Items
Romi Rain Fleshlight is a great experience on her own. However, there are a few additional items that can upgrade your experiences to the next level.
Sleeve Warmer – super simple and convenient way to heat up the Fleshlight to the human body temperature.
Shower Mount – guaranteed hands-free orgasms in the shower.
Fleshlight Launch will stroke your penis like no person ever could. Launch comes with a price tag but the experience is worth every penny. You can check out my Fleshlight Launch review here.
Also, you can make your Fleshlight care super easy with these two items: Fleshwash and Fleshlight Powder.
Fleshlight Care Tips
All Fleshlights are very simple to look after. Even though they're basically the luxury of the sex toys world – Fleshlights are not high-maintenance.
Overall, there are only two simple rules that you need to remember about Fleshlight care. By following these rules, you will ensure that your sex toy remains good as new for as long as possible.
Hygiene Matters A LOT
You must wash your Fleshlight properly after each use. Each time you use a Fleshlight, you fill the sleeve with various body fluids, including sperm and sweat.
I'm sure that it is not something you want to stick your penis in again. Also, not taking proper care of your Fleshlight makes it the perfect place for nasty bacteria and even mold to grow. That's definitely not something you would like touching your penis. Here is my detailed guide to Fleshlight care, read it, learn it and use it.
Lube Her Up
The second essential thing for Fleshlights is lube. If you don't use lube and try to put your penis in two bad things are most likely to happen:
First, you may accidentally rip the sleeve. That can happen due to traction that forms when rubbing a dry sleeve against a dry penis. Lube helps reduce traction.
Second, you may irritate your penis skin. Everyone who has a penis know how sensitive the skin is. That can happen due to the same reason – traction.
In terms of lube choice, water-based one has the perfect texture.
So, if you take care of hygiene and lube, your Fleshlight will take care of you. If you're new to Fleshlights and wish to learn more about them, check out my complete Fleshlight guide.
Overall Verdict
Overall, the Romi Rain Fleshlight is super intense and only real men will handle her.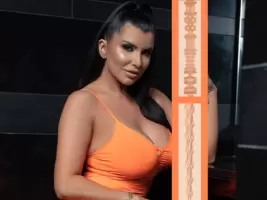 Order Now
The sleeve is narrow and textured, in some places maybe even too much.
I wouldn't recommend her for beginners. I believe she's the perfect choice for those who enjoy getting their dicks destroyed by extra intense sleeves.