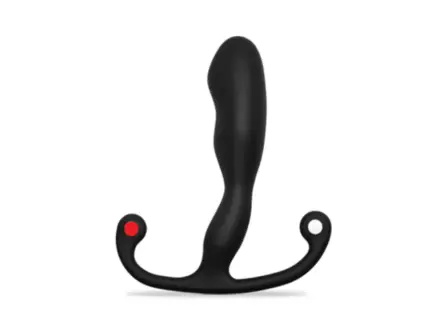 Helix Syn Trident
Overall Rating
4.95 out of 5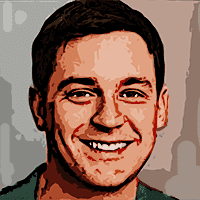 Written by
on , updated on
Aneros Helix Syn Trident
Aneros Helix Syn is a widely known prostate massager, designed for beginners and intermediate users to reach the ultimate pleasure.
Back in 2012, Aneros introduced the Helix Syn prostate massager. Due to its unique and very well focused stimulation and extreme comfort, the Helix Syn soon bacame one of the most popular male masturbator that allows you to reach hands-free orgasms.
Today, you can get the upgraded and more advanced version of Helix Syn, called the Trident. The Aneros Helix Syn Trident is a perfect sex toy to enhance your sexual experience with your partner or to intensify your solo pleasure.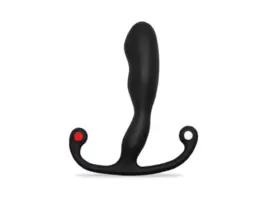 Order Now
Let's take a look at what Aneros Helix Syn Trident can offer you in more detail.
Aneros Helix Syn Trident Benefits
A hands-free prostate massager comes in handy in nearly any sex situation. It doesn't matter whether you're straight, gay, play alone or with your partner – there's always a way to benefit from Aneros Helix Syn Trident.
Hands-Free Prostate Stimulation
Aneros Helix Syn Trident is designed with male anatomy in mind. This prostate massager has a unique shape and material combination that ensures it's stays in position at any intensity of intercourse.
So, it doesn't matter if you play alone or have wild sex with your partner – Aneros Helix Syn Trident will stay in place and continue hitting the p-spot in most ecstatic ways.
Superior Internal Motions
Aneros Helix Syn Trident allows you to experience self prostate massages in a discreet and comfort manner. It doesn't require you to use your hand for any additional motions, as it makes slight movements itself.
By using anal Kegel exercises combined with natural body movement, the Helix Syn Trident uses a self-pivoting mechanism. This mechanism stimulates prostate internally from different angles.
It's done completely hands-free and each body position will change the sensations on your prostate. So, you have a lot to explore.
Pleasurous External Stimulation
Aneros Helix Syn Trident gives you intense internal stimulation but that's not all. As you can see from the shape, the prostate massager features two outside handles. One of them is designed to stimulate your p-spot from the exterior.
So, as your body moves the handle will provide pleasurable external stimulation along your prostate. I'm one of those guys who enjoy double stimulation, so having an external stimulation hand is a huge bonus for me.
Beginner-Friendly
The dimensions of Aneros Helix Syn Trident are small enough to be beginner-friendly. However, the pros will enjoy this prostate massager as well.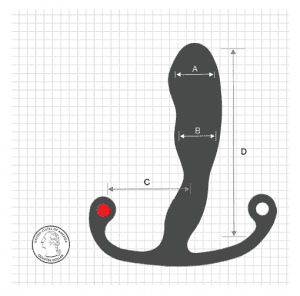 The insertable length (D) is 3.5 inches, so it's perfect to reach the prostate and stimulate it from various angles. The distance between stem and penereum (C) is 1.75 inches, so it's capable of comfortably reaching your p-spot from the exterior.
The mid-range (B) of Aneros Helix Syn Trident is 0.86 inches wide and the tip (A) of this prostate massager is 0.98 inches wide. So, it is smooth and sleek. Narrow enough for any person who never had any object bigger than their finger up their butt hole.
Discreet Packaging
Aneros respects the privacy of its clients and offers them the best treatment. It doesn't matter what you order on their website, all your items will arrive in plain carton boxes without any Aneros branding.
How Aneros Helix Syn Trident Works and Feels?
Understanding how Aneros Helix Syn Trident works are very simple. Since it offers you a hands-free experience, other parts of your body will be working.
However, before you start, make sure you have some water-based lube. Internal prostate massagers should only be used with lube. Otherwise, inserting it in could be painful.
If it's your first time using such a prostate massager, it could be tricky. So, use this 6-step guide to make it easier.
Step 1 – Make Time For Yourself
Make sure your schedule is free. Prostate stimulation is different then penis stimulation and requires a lot more time. You will need to be fully relaxed without any unnecessary business on your mind.
Step 2 – Lube It Up
As I mentioned before, make sure you have plenty of lube available. The butt is not a vagina and it won't moist itself from excitement. Make sure the lube is water-based. Don't use oils or lubes with silicone. They may turn into goo and ruin the whole experience for you.
Step 3 – Finding Your Position
If you tried a prostate massager, most likely you know your favorite pose to easily put it in. However, here's one that will help beginners, as it makes it super easy to slide Aneros Helix Syn Trident in.
First, lie down on your side. If you're right-handed, lie down on your left, if you're left-handed – lie down on your right. You will need the hand that is on top to insert the toy.
Now bend your upper leg and pull the knee towards your chest. Congratulations, you're currently in one of the comfiest positions to put in anal sex toys.
Step 4 – Putting It In
When you have your Aneros Helix Syn Trident and your butt lubed up, use your upper arm to slowly insert the toy. If you feel tensed, first play with your fingers to relax the muscles.
Usually, all you need to do is push only a third of the sex toy up your anus. The muscles will do the remaining job by pulling the sex toy in. Don't worry, the sex toy has outer handles, so your prostate massager won't get too deep so that you couldn't reach it.
Once it's done, let go and don't touch it until you're ready to remove it.
Step 5 – Taking Action
Now, it's time to take action. For some men, it will take a couple of minutes to reach an orgasm, while others will require up to an hour, or more.
Start by slowly contracting your pelvic muscles and then releasing them. The contracting muscles should feel similar to when you try to stop peeing, as it affects the same muscle area. Step by step find your speed and rhythm, as well as try different positions.
However, don't make any sudden moves until you get to know how your body reacts to Aneros Helix Syn Trident. You can also stimulate your penis at the same time for more intense sensations and faster orgasm.
Step 6 – Cleaning Up
Once you're done with your fun – time to clean up. Be sure to have prepared some fresh towels as you could have some poo on your massager. After all, you're not pulling it out from a bouquet of flowers. It is completely normal and you shouldn't stress about it.
Be sure to wash yourself and your prostate massager neatly. Hygiene is very important. Wash it before and after each use. For that, you will need some warm water and antibacterial soap. Store it in a dark place, away from dust.
How Aneros Helix Syn Trident Feels?
In terms of getting it – the most difficult part is getting the first bulb up your butt, as it is the widest one. Everything else gets in very easily. The important thing is getting it lubed up properly to eliminate any traction.
If it's your first hands-free prostate stimulator at first the whole experience can seem strange. Yet with several times, it will become very pleasurable.
You will understand what your body likes and will discover the best poses. After that – it's pure heaven.
It's perfectly shaped to fit the male anatomy, so the internal movements will stroke your p-spot from the inside and the outer handle will lightly rub it from the exterior. It's pure pleasure. Especially once you start using it when having sex with your partner.
What's Included in The Package?
Knowing what comes in the package lets you prepare yourself and get any additional items that might be required. So, once your ordered Aneros Helix Syn Trident arrives, here's what you will find in the box:
As you can see, the contents of the box are limited to the sex toy only. So taking care of proper storage and lube is completely up to you. Even though some people just throw their sex toys in a pile, I prefer having separate pouches for each.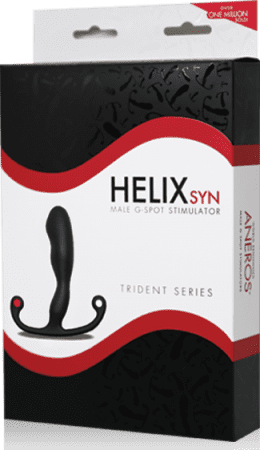 This way I can ensure the prevention of any mechanical exterior damage, such as scratches. Also, it keeps it away from dust and direct sunlight, which is not good for silicone sex toys.
Also, be sure to order some lube. There is a chance that you'll get some samples, depending on where you order, yet it's better to come prepared.
Aneros Helix Syn Trident Downsides
Even though it's a quality prostate massager, there are some downsides that you can face with Aneros Helix Syn Trident:
No Additional Items
As I mentioned before, I enjoy properly storing my sex toys in separate pouches. That's why when I get a plain sex toy with no additional items for storage, I get a little upset. However, if you don;t mind piling your sex toys in one place, it won't be an issue for you.
Could Be Too Small For Pros
Since the widest part of Aneros Helix Syn Trident is less than an inch wide, it could be too small for some men who enjoy bigger objects up their butt. However, since it bends as you move, it's large enough to use when having sex with your partner.
Aneros Helix Syn Trident Alternatives
If you want a more exclusive hands-free orgasm experience, there are some alternatives to Aneros Helix Syn Trident.
Let's take LELO HUGO as an example. It stimulates your p-spot from inside and out, has a remote control, and also vibrates. So, if you want to upgrade your experience – there are ways.
Naturally, the more advanced the prostate massager is, the bigger the price tag it has. However, in my opinion, pleasure is worth the investment.
Yet, if you don't mind having several prostate massagers, you should seriously consider adding Aneros Helix Syn Trident to your collection.
The Verdict
Overall, Aneros Helix Syn Trident is a quality-made anal prostate massager. It's thin enough for beginners to use, and thick enough for pros to get pleasure out of it.
By choosing Aneros Helix Syn Trident, you will benefit from an excellent addition to your sex toys collection, especially since you can use it alone or together with your partner.
So, if you feel like you would enjoy double hands-free prostate orgasms – get your Aneros Helix Syn Trident today, directly from the manufacturer.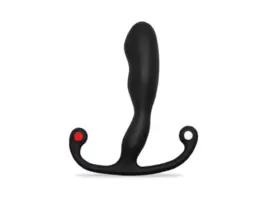 Order Now
By ordering from the manufacturer's website, you can be sure that you're getting the original product and not just some cheap knock-off.