We-Vibe Vector
Overall Rating
4.73 out of 5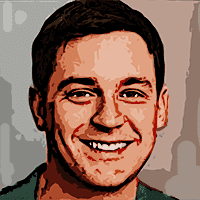 Written by
on , updated on
We-Vibe Vector Review
In this We-Vibe Vector I'll tell you all about the benefits and downsides of this vibrating prostate toy.
Vibrating prostate massagers or any other prostate toys are my among my favorite male sex toys to test, since there's nothing that compares to an orgasm you can get from stimulating your P-spot.
Once I came across We-Vibe products I knew I had to test at least one of them to see whether they're worth it. What particularly caught my attention was the mobile compatibility and app that allows you to create your own vibrations. So, I ordered the We-Vibe Vector prostate massager as it seemed to be the most promising one.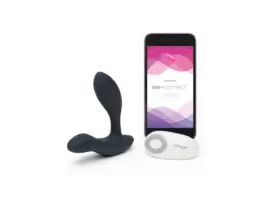 Order Now
While We-Vibe is not as well known as LELO or Fleshlight, they seem to be pretty good at what they're doing. So, let's review in detail what We-Vibe Vector can offer and whether it's worth the price.
We-Vibe Vector Benefits
While the brand is not well known, the Vector prostate toy has more than just a few benefits. So, I'm pretty sure that with time they could become a hit in the sex toys market. However, let's look into what We-Vibe Vector has to offer before making any assumptions.
10 Intense Stimulation Modes
We-Vibe Vector has ten intense and very diverse stimulation modes. While four of them are regular and only vary based on intensity (low, medium, high, and ultra) the remaining 6 are diverse and give unique sensations. To better understand what I'm talking about, you can check them out in the image below.

Also, you can create your own, unique vibrations. This way you can fully customize this prostate toy to your needs and likes.
Comfortable and Skin-Safe
This prostate toy surprised me with how ergonomic it is. It feels very comfortable in your hand and in your butt as well.
We-Vibe Vector is made from body-safe silicone, it is free from phthalates and BPA. Also, this prostate massager contains no latex. So it's perfectly skin safe and will work with any skin type.
Simply get some water-based lube and you're good to go.
Remote Control and Mobile Compatible
Being mobile-compatible makes We-Vibe Vector quite a unique prostate toy. You can install and use the free We-Connect app on your mobile to play and share the control of We-Vibe Vector from anywhere you want. You can also, create some custom vibes that tingle your P-spot the way you enjoy it. The app also allows you to use it together with other We-Vibe products.
Waterproof and Silent
We-Wibe Vector is fully waterproof, so you can use it in the shower, bathtub, or any other place that contains water. Being waterproof also makes it super simple to clean. Overall, this prostate toy is very easy to take care of.
Even though the prostate massager is quite powerful, it's super silent, so even if you use it while other people are at home and want to keep it a secret – you can do it. Simply close the door and I'm no one will know what's happening on the other side.
Long Lasting and Quickly Charging
Another thing that's great about We-Vibe Vector is its longevity. On average, this prostate massager will last for 2 full hours. Of course, the more intense vibrations you use, the faster it will lose power.
Yet, it has a light indicator that will inform you when it's running out of power. The charging time doesn't bite either. It will take you only 90 minutes to get We-Vibe Vector fully charged.
Discreet Shipping and Warranty Included
We-Vibe offers discreet shipping and billing. So, your interest in prostate toys is safe and private.
Another thing that comes with this sex toy is a long-lasting warranty. For 2 whole years, you're completely protected in case the We-Vibe Vector malfunctions or breaks.
How We-Vibe Vector Works and Feels?
Just like any other prostate toy We-Vibe Vector is a very straightforward device. However, before you start, you need to take these steps:
Charge it
Wash it
Lube it up with water-based lube
Turn it on
Put it in
You can use the buttons to adjust the vibrations or pair them with the remote control for more convenient use. Also, once you're ready, you can download the app and start creating your own custom vibrations. If you want to learn more about how to use the We-Vibe Vector, you can review the user manual here.
Once you have it inside, this prostate toy for me seemed to be a perfect size. Not too big and not too small. However, if you're a beginner it could seem too big.
The diverse vibrations gave me some pretty unique experiences, yet some of them were quite similar to those of Lelo Hugo. In comparison, I could say that Hugo has a slight edge over We-Vibe Vector.
Having the possibility to control it from distance made it very convenient for me to use. Also, playing with the app was very enjoyable.
The possibility of fully customizing my experience was a bit weird at first. Yet with time when I learned to properly control it, I soon discovered the intensity and the rhythm that worked perfectly for me. Well, what happened after that – you already know. So, there's no need to get into detail.
What's Included in The Package?
Unboxing sex toys is always a mystery if you have several ordered at the same time. My We-Vibe prostate toy arrived in a discreet unmarked box. So, just as the website promised – no one was able to say what's inside, including me.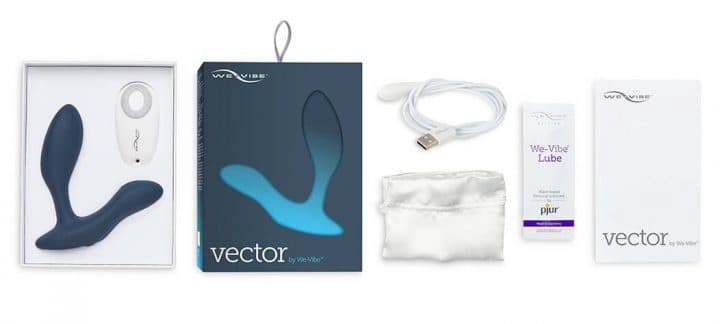 Once I opened the box, here's what I found:
Vector vibrating prostate massager
Wireless remote control
Magnetic USB cable
Silky storage bag
We-Vibe Lube 2 milliliters sample
Quick-start illustrated user guide
So, as you can see, since it already comes with a lube sample – you're fully equipped for a test ride. Another great thing is the silky storage bag. It comes very handy when traveling or simply storing it on a daily basis. This way you keep your prostate massager clean and away from dust, sunlight, and everything else that you don't want to get on it.
We-Vibe Vector Downsides
Even though it has many benefits, there are a couple of downsides to it. Even though the inconveniences were minor, still they're worth knowing before you make your purchasing decision.
Could Be Too Small For Pros
Even though there are plenty of smaller prostate massagers, this one still could be a bit too small for complete pros. However, if you're a beginner, you won't have trouble using it.
Also, if you've never experienced prostate stimulation before you buy any toys, try doing it with your finger instead. This way you'll know whether you enjoy such sensations.
Could be Confusing to Use
Since it has the app and full customization option, it could be a bit tricky at first. As I mentioned before, I found it a bit complicated, yet I figured it out and I'm sure that you will as well.
We-Vibe Vector Alternatives
Even though We-Vibe Vector is quite a unique prostate toy, there are some alternatives to it. Especially if you're a pro and wish to get something bigger.
My best suggestion would be LELO Hugo. LELO Hugo has similar vibrations yet is a bit bigger, so more suitable for pros. Just like We-Vibe Vector, it has a remote control, so you'll be able to control it from distance.
If you want to learn more about LELO Hugo, you can read my review here.
The Verdict
Overall, the We-Vibe Vector prostate toy is quality-made and comfortable to use. It is small enough to suit beginner needs and large enough for intermediate users.
It's quite unique as it comes with an app that makes the massager fully customizable to your needs. Even though it may seem tricky at the beginning, you will figure it out fast.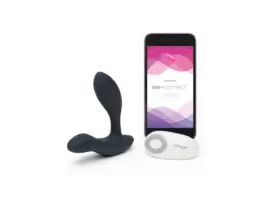 Order Now
So, if you think that the We-Vibe vector could be your new prostate toy, be sure to buy it from the manufacturer's website. This way you will know that you're getting an original product along with its long-term warranties. Click here to visit the official website.
If you're curious to learn more about prostate massagers and how they work, as well as see my other recommendations for prostate toys – click here.