Lelo Hugo
Overall Rating
4.85 out of 5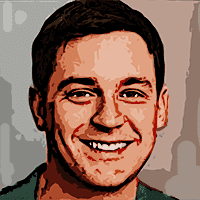 Written by
on , updated on
Lelo Hugo Review
In this Lelo Hugo review, I will go over the good and the bad about this worldwide loved prostate massager.
Made by a famous sex toy brand – Lelo, Hugo is not your simple prostate massager. It's a luxurious device, made from quality materials and is designed to stimulate the P-spot.
The P-spot, originally called the prostate is a relatively small muscular gland, located between the scrotum and the butt hole. The prostate produces the seminal fluid found in the ejaculate.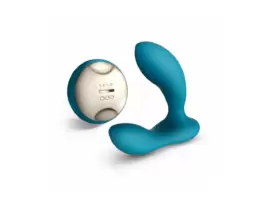 Order Now
As you probably already know or want to use a prostate massager to find out, stimulating it gives you sensations that no action with your penis can compete with.
To create this intense stimulation, Lelo Hugo could be one of your best choices, even if you never owned a prostate massager.
Since it is mid-sized, Lelo Hugo is small enough for beginners and large enough for the pros to enjoy.
Lelo Hugo Pros
Lelo Hugo is one of the most powerful prostate massagers in the market. Of course, it has numerous benefits. Based on user reviews and our expertise, here's the list of benefits that you can get from Lelo Hugo:
Ideal Shape and Size
Being mid-sized makes Lelo Hugo an ideal prostate massager for a great variety of users. It is small enough for beginners and big enough to entertain the pros.
Lelo Hugo's shape ideally fits the male body. The prostate massager's length and curvature are perfect to reach the P-spot and stimulate it.
100% Waterproof
Not only is it ideally shaped but it also is the perfect sex toy for you to take anywhere you want. 100% waterproof, Lelo Hugo will be an ideal companion to take to the shower when taking a bath or even enjoy a private pool.
With Lelo Hugo, there are no limitations to where you can enjoy a nice prostate orgasm.
Long Lasting Battery Life
Even though the device isn't that big – it's very powerful. With Lelo Hugo, you'll be able to enjoy 2 hours of uninterrupted pleasure – if you can last that long. It is fully rechargeable. It comes with a wireless remote and 2 x AAA batteries, already included in the package.
Compared to its competition, Lelo Hugo has an exquisite running time based on the intense vibrations you get and general battery life. So, with Hugo, you'll avoid the annoying part of constantly charging it.
Intuitive Sensors
Lelo Hugo comes with a powerful motion-sensing technology that reacts to your movements. This means that the prostate massager is smart enough to adjust vibrations based on your position and movement. So, you're in for an exciting ride each time you use it.
Quality Materials
Lelo Hugo is made using only top-quality and hypoallergenic materials. It contains no phthalates or latex, so it is completely safe with any skin type.
It doesn't matter about which sex toy we talk about, always choose only those that are made from hypoallergenic materials. This way you will protect yourself and your partner from any skin irritations and/or allergies.
Silent and Discreet
Despite how powerful it is, Lelo Hugo is equally as silent. By using it, you won't need to worry about anyone finding out that you're using it, no matter where you are. Unless, of course, someone sees you.
It's small enough to take it with you on trips. You won't need a lot of places to securely store it, as it will fit in a small drawer or any place you like.
Easy to Clean and Maintain
Even though it's techy – Lelo Hugo is very low maintenance. You won't need any special cleaners or additional purchases to clean and maintain it.
Simply wash it with warm water and soap – that's it. Securely store it away from direct sunlight, dust, and any other dirt.
How Lelo Hugo Works?
Even though it has some serious technology behind it, Lelo Hugo is very simple to use. However, the first few times I recommend you to have the instructions nearby. That helped me a lot as at first, it may be difficult to remember which button does what.
Due to the medical-grade silicone, the manufacturers used to produce this prostate massager, it has a smooth velvety finish and simply slides into your ass without nearly any traction.
Hugo has two handles and each is powered with a motor, therefore you will be getting the best out of both worlds – internal and external prostate stimulation.
In terms of dimensions, Lelo Hugo is 5.5 inches long and a little under 4 inches in girth. It has 2 curved handles – the longer one for internal prostate stimulation and a shorter one for external – perineum stimulation.
Another fun feature you will discover on Hugo – SenseMotion technology. Simply by shaking and moving the remote control you can increase and decrease the vibration levels on the prostate stimulator.
As Hugo comes with 6 pre-programmed functions, all of them can be controlled with the remote as well. There are three buttons on the top of the two-sided remote that will help you easily navigate through the pre-programmed experiences.
The controller can be used with the massager and even work completely separately as a vibrating massager for your private parts.
What You Get in The Package?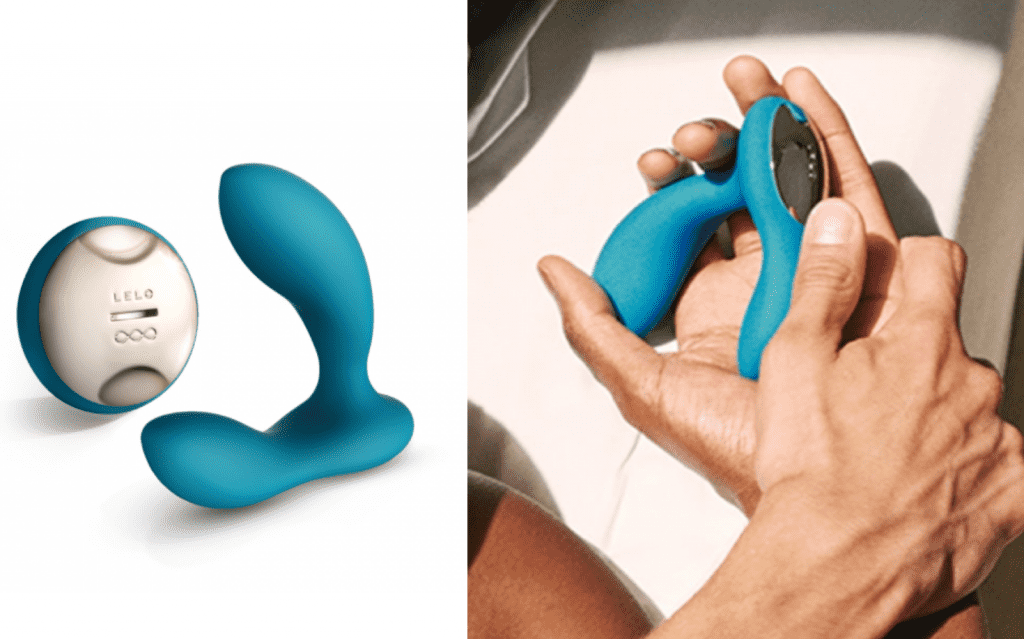 Opening the Lelo Hugo package is almost as exciting as getting the device itself. The packaging looks very luxurious and durable. A black-satin-like box with a small window. Through it, you can see your brand new exciting sex toy. Once you unbox your goods, here's what you'll find in the box:
The Lelo Hugo Prostate Massager
Satin pouch for storing
Wireless remote control
USB charging cable
Instruction booklet
Small packet of water-based anal lube
So, here's the complete list of your goodies. Since prostate massagers aren't the most discreet devices out there, the satin pouch comes in very handy for storage.
Lelo Hugo Cons
Even though the device comes with numerous benefits, there are some minor downsides. In my opinion, they aren't very important when you look into the big picture. However, you as a consumer deserve to know what you are paying your money for.
Charging
Even though Hugo is strong enough to last you for several hours, it requires an additional hour of charging time. Also, I've noticed that after around 15 battery charges, I needed to get new ones, as those did not last very long.
Not Perfect for Pros
Even though it's suitable for those who have experience with prostate massagers, it won't be suitable for all. It may be too small for guys who enjoy longer prongs than 5.5 inches. Also, since the device is designed to stimulate you externally as well, very big balls could become an obstacle to using the device.
Special Cleaner for Longevity
Since it's made from medical-grade silicone, the manufacturer recommends using an antibacterial toy cleaning spray to preserve it. A couple of ounces cost 15 to 20 dollars.
Reduced Vibrations When Battery is Going Down
Well, this one is I guess the most annoying thing about Hugo. Once the battery starts going down, the vibrations of the prostate massager weaken as well. Since there is no way to tell when your P-spot massager is starting to lose energy, sometimes it just feels easier to charge it after each use.
Frequently Asked Questions
Here you will find answers to some of the most asked questions about Lelo Hugo.
What is Lelo Hugo?
Lelo Hugo is a mid-sized, luxurious prostate massager. Made from medical silicone it is hypoallergenic and safe for any skin type. Lelo Hugo has 6 pre-programmed sexual experiences.
Also, it comes with a smart remote controller that you can use separately as a vibrating massager or simply to control your Hugo. Another advantage of Hugo is SenseMotion technology which automatically adjusts the strengths of vibrations based on your movement.
Where can I buy Lelo Hugo?
Currently, you can buy a Hugo prostate massager on the official website. Simply click here or visit other online stores. Hugo might be available also in physical sex shops.
Is Lelo Hugo safe to use?
Yes, Lelo Hugo is completely safe to use if you use it the way the manufacturer suggests.
It doesn't matter whether we talk about Lelo Hugo or any other sex toy, always follow the manufacturer's manual. There are numerous cases when people got hurt when using sex toys.
Most of those cases happened due to irresponsible behavior and not following the manufacturer's manual.
Can I get hurt using Lelo Hugo?
If you follow the manufacturer's instructions you will not get hurt when using the Lelo Hugo prostate massager.
However, it doesn't matter whether we discuss Hugo or any other sex toy, be sure to always follow the manufacturer's manual. There have been numerous cases of people getting hurt from using sex toys.
However, most of those cases happened solely due to irresponsible behavior and not following the manufacturer's instructions provided with the device they owned.
What happens if it breaks?
Just like any other quality sex toy every other sex toy that is made by a reputable manufacturer, Hugo sells with a warranty. So, you can remain calm, since as a buyer you are fully protected in case the device malfunctions or breaks.
It doesn't matter whether we're talking about Lelo Hugo or any other sex toy, you should always purchase those that come with warranties. Especially, if they cost more than several dozen dollars. This way, you, as a buyer, are fully protected from getting a defective product, or in case of any malfunction.
Do I need any additional purchases to use Hugo?
Yes, you should get a lube. In Hugo's case, choose a water-based one, as it is compatible with any material, including silicone from which Hugo is made of.
If you already have your closet stacked with lube, then you don't need anything. The only thing you can get is a special cleaner in order to ensure the longevity of your Lelo Hugo.
Do I need any special skills to use Lelo Hugo?
No, you don't need any special skills, or experience to use this sex toy. Even though Lelo Hugo seems a bit complex at first and requires reading the manual, pretty fast you'll memorize what button does what, and it will become way easier. So, even if you are a beginner, you can use Lelo Hugo. Just make sure that you follow the manufacturer's specifications.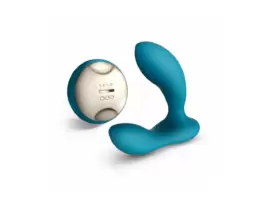 Order Now
It doesn't matter whether we discuss Lelo Hugo or any other sex toy, be sure to always follow the manufacturer's manual. There have been numerous cases of people getting hurt by using sex toys. However, most of those cases happened solely due to irresponsible behavior and not following the manufacturer's instructions provided with the device they owned.
Are there any alternatives to Lelo Hugo?
Yes, there are some alternatives to Lelo Hugo. However, if you're a beginner, I would recommend sticking with Hugo. If you're a pro and want something different, check out this list of best prostate massagers.