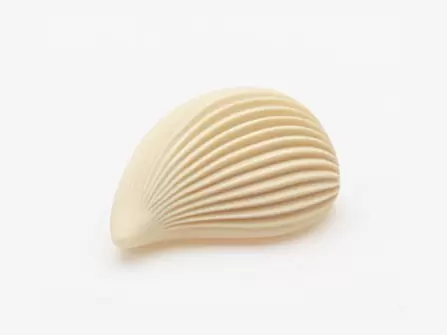 Iroha+ Kushi
Overall Rating
4.8 out of 5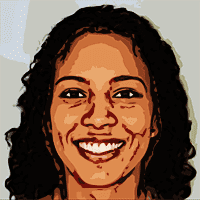 Written by
on , updated on
Iroha+ Kushi Review
The Iroha+ Kushi does not look like your typical vibrator, let's get that right. It has a clean aesthetic design of a seashell with a modern twist. If I didn't know what Kushi was, my first guess wouldn't be a vibrator.
Kushi vibrator is from the newer and improved Iroha+ series that features three unique vibrators. Compared to the older Iroha generation, the major differences are improved stronger motors, more vibration patterns, and, of course, new shapes.
Iroha+ Kushi is palm-sized and weighs roughly a hundred grams. It is fully waterproof and covered with their signature Soft-Touch material.
Order Now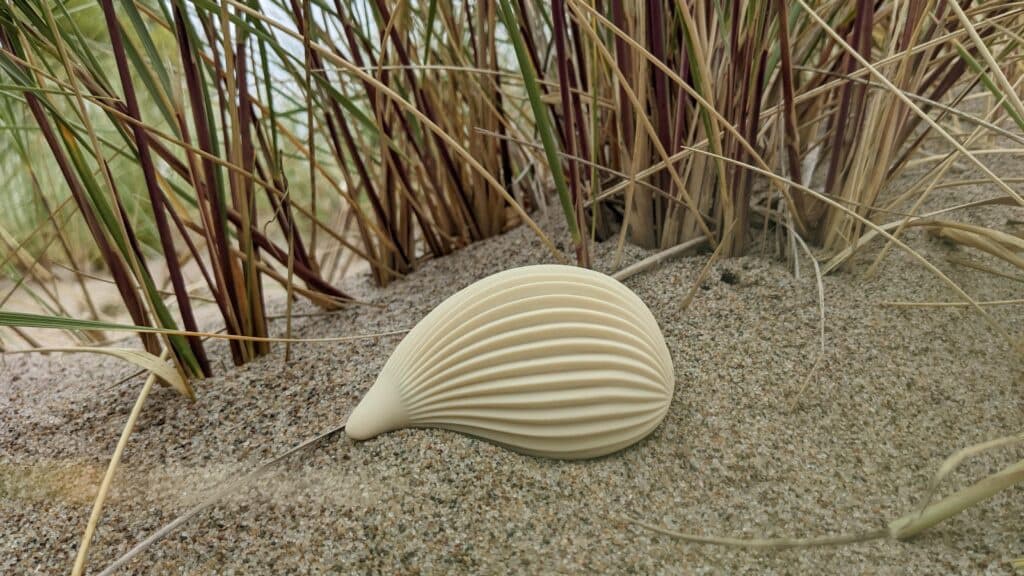 *Tenga sent us Iroha+ Kushi vibrator in exchange for an honest review. This does not impact our judgment.
What's Good About Kushi and What's Not So Good?
Here's a quick overview of what is really great about the Kushi vibrator and some things that could be improved.
The Good
Very discreet
5 vibration strengths + 2 pulsating patterns
Gorgeous design
Beginner-friendly
Waterproof
Brilliant price/quality ration
Skin-safe materials
Comes with a protective case
Rechargeable
The Not So Good
The soft tip of the toy requires getting used to
Battery life could be improved
Gorgeous Discreet Design
The Kushi vibrator comes with a magnetic charging base and a protective cap that helps keep the dust away. The design of the toy completely stole my heart. I'm very impressed with how well every detail is thought out to make the toy look like a gorgeous seashell.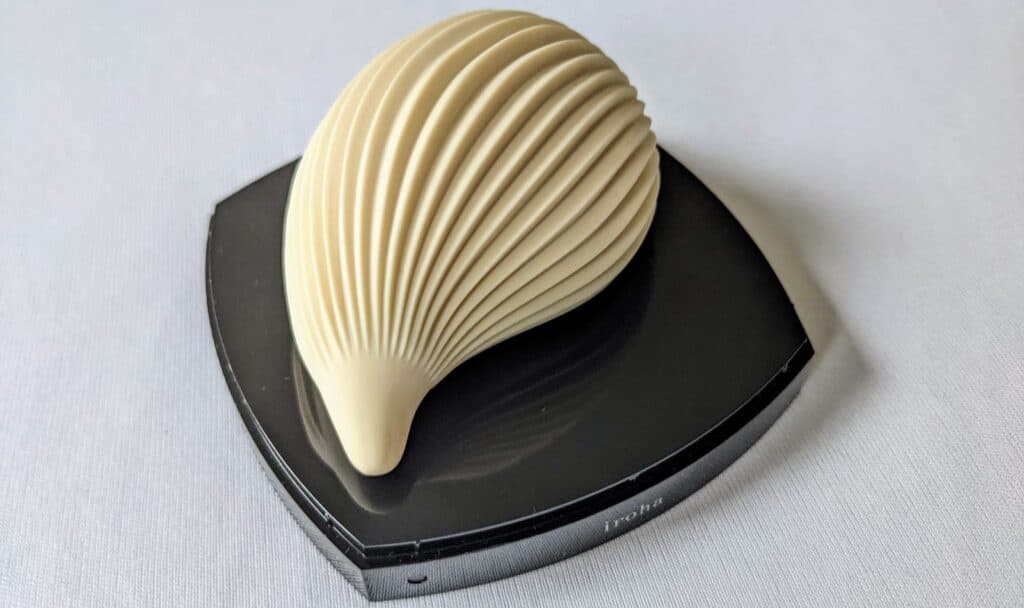 Waterproof + 7 Pleasure Settings
The vibrator feels comfortable in the hand and is completely waterproof, so you can enjoy yourself in the shower or while taking a bath. It has 5 settings for continuous vibrations of various intensities and two pulsating options.
Ergonomic and Beginner Friendly
The toy is palm-sized and easy to control. While the tip of the toy is very soft and bends easily, it may take several tries to find the optimal pressure that ensures continuous stimulation the way you like it. However, once you find it, it gets pretty amazing.
Iroha+ Kushi In Action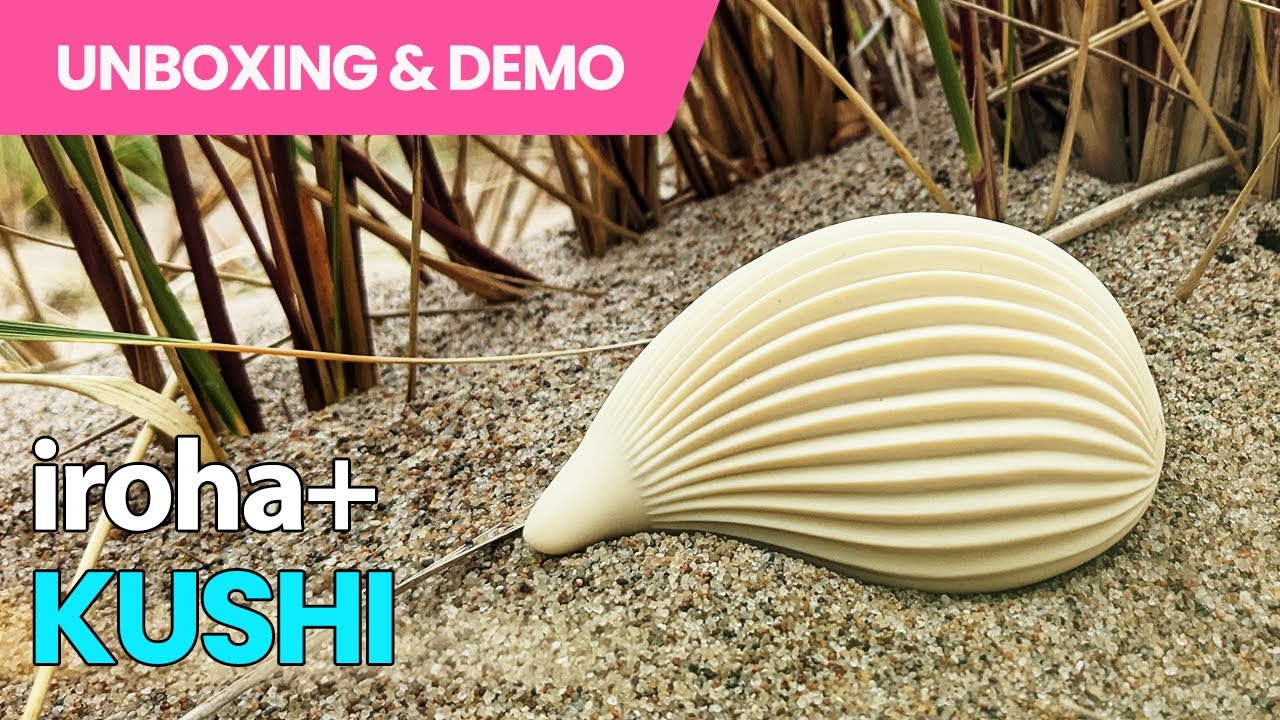 Getting Ready
Even though the Iroha+ Kushi arrived already charged, just in case, I put it to charge some more time. Sometime later, I noticed the light of the charging deck was blinking, however, the manual says nothing about what that means.
My guess was some connectivity issues. I cleared the contacts, put it to charge again and everything was fine. Once the toy was fully charged the light went off and Kushi was ready for action.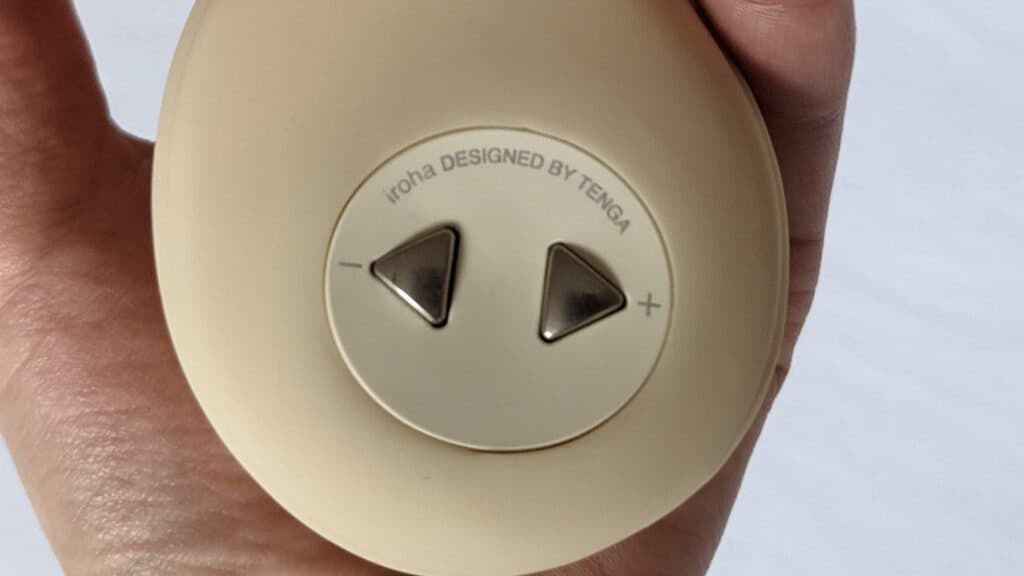 To control Kushi, you will use two buttons: (+) and (-). The (+) turns the toy on and increases intensity/switches the vibration mode. The (-) turns the toy off and decreases the intensity/switches to the previous mode. You can review the diagram below to see the modes and intensities.

Using The Iroha+ Kushi
First, I took some water-based lube and got ready to explore the toy. I am a fan of stronger vibrations, so if you are as well, most likely you will want to skip the first couple of vibration levels.
I started from the third one and it seemed to be an excellent place to start. However, if it's your first toy, start from the first level. There's a great chance that you may not even have those high levels and will find them desensitizing.
The toy is designed to have its best and most intense sensations pointed towards the tip. The tip is very soft and smushy so you will need to experiment a little to understand what level of pressure works on your body best. In various settings, the vibrations continued to be on the stronger and rumbly side – just as I like it.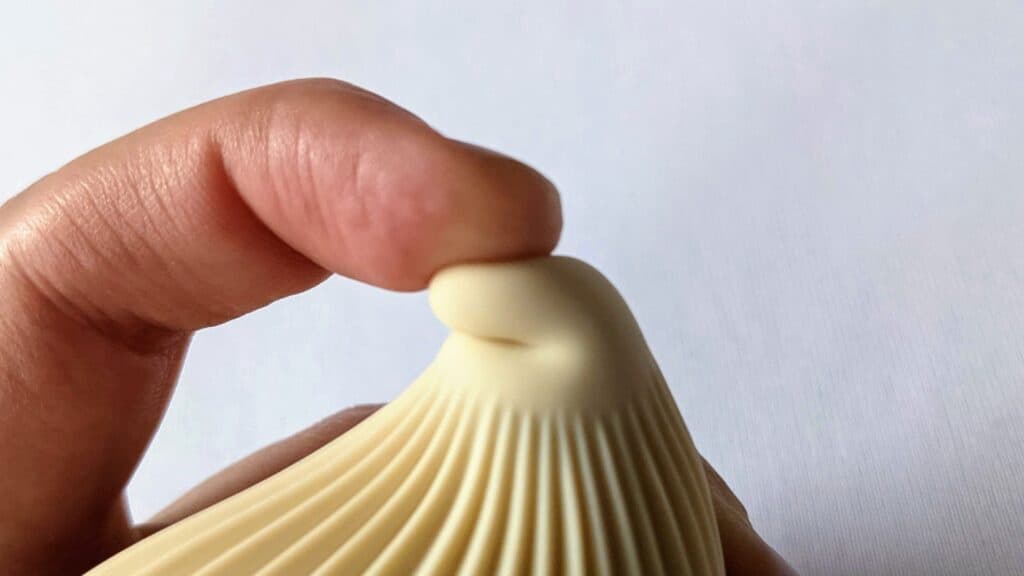 The ribs of the toy got me a little stressed, however, when you pair those up with a generous amount of water-based lube, they slide nicely against the sensitive skin of the vulva and feel pretty great. However, it works only when you stroke the toy vertically. I tried exploring the horizontal way – didn't seem right.
After experimenting with various intensities, it turned out that level 4 was my sweet spot. As much as I enjoyed the toy, occasionally I would find myself accidentally clicking the strength increase button and would end up in pulsating mode when I didn't actually want at that time.
While the controls are easy, those jumps from intense vibrations to pulsations would catch me off guard and I would lose some of the built-up sensations. Yet, Kushi is powerful enough to quickly get me back on track.
So, if you are looking for a toy that would please your eyes as well as it pleases your private parts – you may hit the jackpot with Iroha+ Kushi.
What's Inside The Iroha Kushi Package?
Here is a full list of items that you will be getting when ordering your Iroha+ Kushi:
Iroha+ Kushi vibrator
Charging case with protective cap
USB cable
User manual for an effortless start
I would strongly advise getting some water-based lube. Not only because the manufacturer suggests doing so, but because it simply feels better and the vibrator glides smoother against the skin.
Iroha Kushi Alternatives
While the Kushi design is basically the most beautiful I've seen in a vibrator, let's face it, you're getting one not to look at. It has to do something more for you. Here are some alternatives for you to consider if you feel like Kushi is not exactly right for you:
Iroha+ Tori – while I prefer the design of Kushi, shape-wise it seems that Tori could embrace the whole area of the clitoris better and give you more all-over stimulation.
Womanizer Premium 2 – unfortunately there are no Iroha products that use pleasure air or similar technology. If you are looking for some really intense things, the Womanizer Premium 2 could be the ideal choice for you.
The Verdict
Overall, the Iroha Kushi has the most beautiful design that I have seen for a vibrator. If you are looking for a quality waterproof and rechargeable toy that is discreet, it could be the right choice for you.
Order Now
The vibrations of the toy are more on the rumbly side than buzzy, even on the highest settings. That's really great as you can feel the deeper vibrations on your clitoris rather than buzzes traveling to your hand.
Once you start, it could take several tries to understand what level of pressure you should apply when using the tip of the toy but once you're there – Kushi becomes irresistible.