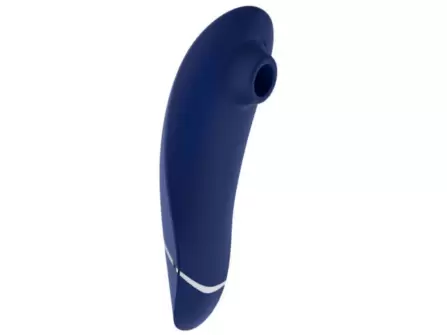 Womanizer Premium2
Overall Rating
4.93 out of 5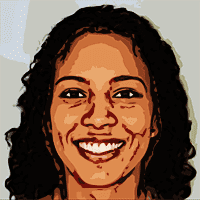 Written by
on , updated on
The Womanizer Toy
The Womanizer toy is a sex toy that is specifically designed for women's pleasure. It is one of the most popular and famous sex toys on the market and has been featured in many magazines and TV shows. The Womanizer is known for its unique design, which allows for clitoral stimulation without direct contact. This makes it a great option for women who have trouble orgasming from traditional sex. The Womanizer is also known for its strong and consistent vibrations, which can help women achieve multiple orgasms.
In this review, I will be talking about the newest Womanizer Premium 2 toy.
The Benefits Of The Womanizer Toy
Here is a detailed list of the main benefits of the worldwide famous Womanizer Premium 2 toy: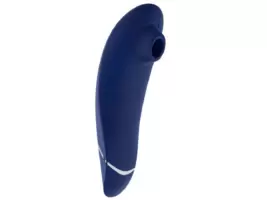 Order Now
Pleasure Air Technology
The Womanizer toy is designed for your body and features a unique innovation called Pleasure Air Technology. This technology stimulates your clitoris without direct contact, using gentle air vibrations that suck and massage at the same time to provide an unprecedented orgasmic feeling.
14 Vibration Patterns
You can choose how intense you want your next orgasm to be with just the push of a button. The intensity levels are perfectly balanced, so you can find the right setting for your every mood.
Autopilot Adventure
The autopilot function was improved via feedback from real toy testers. The toy alternates between intensity levels, so you never know what you're getting (just like when your lover is doing the job). It can be intense at times, and gentle at others – there are no two experiences that will feel the same.
Extra Stimualtion Head
Just like no two vaginas look the same, no two clitorides do as well. The Womanizer toy comes with two heads: a smaller one and a larger one. You can choose the one you like better based on your physical features or the size of the area you want the toy to focus on.
Body-Safe Materials
Womanizer produces toys that are made from high-quality, non-toxic materials. This means that you and/or your partner won't experience any unexpected skin irritations or allergies as a result of using sex toys produced by the brand. The sex toy market is still very unregulated, so you need to be careful when buying your next toy. Especially if you're not familiar with the brand that produced it. Make sure to read the label!
Easy to Use
Using this toy is very easy and requires no previous experience or knowledge. The Womanizer toy has only three buttons. One button to turn on/off the autopilot mode and two buttons to increase and decrease the intensity of the stimulation. That's it.
Long-Lasting Toy
The toy comes with a long-lasting battery and a long-lasting warranty. It's one of the few toys that can run for around 4 hours depending on the intensity you use) and comes with a warranty of 5 years. These are very good signals that your body is getting the VIP treatment and you're making a good investment.
100% Waterproof
Not only is the toy waterproof – it creates a completely new and different experience when used in water. So, don't worry about breaking it, and make sure to try it out. The toy is IPX7 waterproof, so it can basically survive a storm. Make sure to take Womanizer to your next relaxing bath!
Specifications
These are the technical specifications of the Womanizer Premium 2:
Colors: Black, Bordeaux, Gray, Blueberry, Raspberry
Run Time: 240 min
Charge Time: 120 min
Materials: Body-safe silicone, made without phthalates, BPA or latex
Weight: 141,4 g
Dimensions: 155 mm x 50 mm x 35 mm
Warranty: 5 years
As you can see, it has a long warranty, long run time and is completely body-safe.
What's Inside The Box?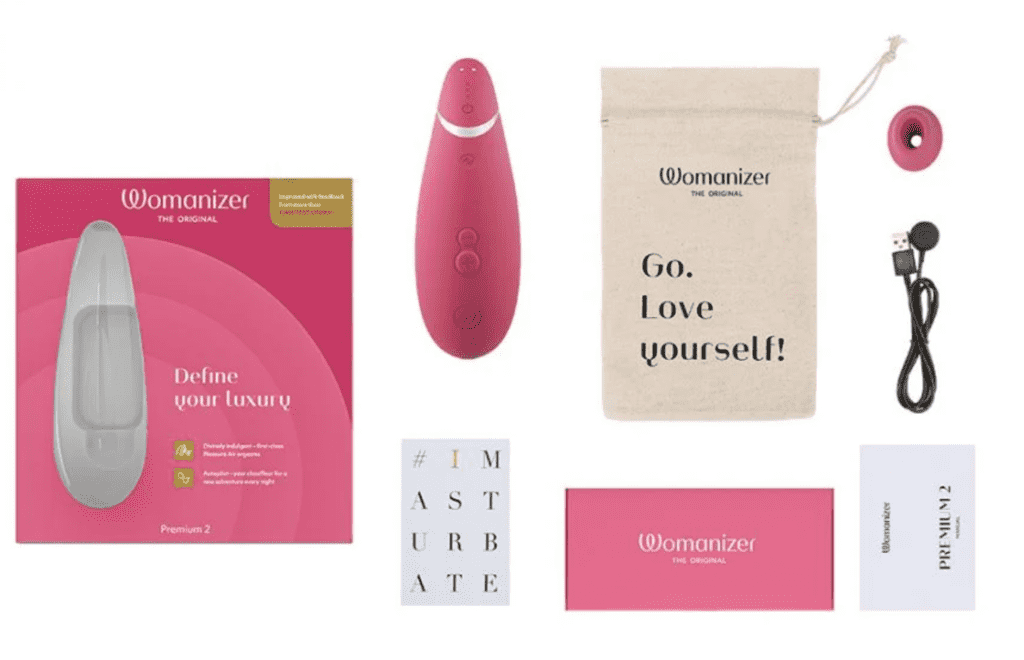 Here are all of the items that you'll be getting in the Womanizer toy Premium 2 box:
Womanizer PREMIUM 2 clitoral stimulator
USB charging cable (AC adaptor not included)
Two stimulation heads
Quick start guide
Safety instructions
Cotton storage pouch.
Make sure to let it fully charge before you start using it for the first time!
The Womanizer Toy In Action
I'll start from a spoiler – The Womanizer toy is the best clit stimulator that I ever had. When you think that you already have the best toy, they somehow find a way to improve it and make it even better. That's what happened with the Premium 2 edition.
What is the change that makes this toy so spectacular? It is the Autopilot 2.0. It really does feel like having a secret lover. Why? Because you never know what you're getting. If it was for me, I would rename it to the Lover.
When you're using a toy that has constant vibrations, you know the experience and you control it, just like you would using your fingers.
However, when your partner is pleasing you, the orgasms are different. The building up takes longer, they change technique and the tension is gone so you need to start from the beginning and so on… However, when they get you there, the orgasms are mindblowing and full of fireworks.
So, that's basically what you get from Autopilot 2.0. The only thing you need is to see it as your lover. The toy stitches between vibration and intensities. Sometimes it does a switch that makes you more excited, sometimes it ruins the whole thing. But when you finally get there – it's magical, baby.
I don't know if I need to tell more about how great it is but it comes with 14 different vibration patterns that you can use not in the lover mode. It's silent and also comes with tho heads to fit more women.
Take it to bed, use it in a bathtub – the toy is pure excellence. It's basically as close as I've gotten to experience a non-artificial-like orgasm with a toy.
Tips For Using Your Sex Toys
Here are some tips that are essential when it comes to sex toys. Might even call them rules because they're a must for a long-lasting toy that doesn't cause harm.
Start Slow and Get Used to Experiences
There's no normal when it comes to enjoying vibrators, so don't worry if it takes you a little while to get used to the sensation. Just experiment until you find a setting and style that feels good to you.
Hygiene is a Must!
You should wash your sex toys for a few reasons. First, it's important to keep them clean for your own health. Second, it will help them last longer. Third, it will make them more pleasurable to use.
Moisturize and Lubricate
Lube can help reduce friction when using sex toys, making the experience more pleasurable. It can also help keep the toy from becoming dry or sticky.
The Womanizer Toy Reviews
The Womanizer toy is famous worldwide. It was released and re-released numerous times. It's basically the same thing only a little different. Sometimes a little change is what it takes to make a great product brilliant. That is what Womaziner Premium 2 is for me. However, many more users have their opinions to share, after all, each person is different, therefore the experiences vary.
I love the autopilot!! It changes the intensity randomly and keeps me on my toes. Makes the ride last much longer and it's even more exciting.

Teddy
The small head fits me so I never thought to change the head size. I tried the larger one and it makes the sensation much softer for me which I really like because now I can enjoy the ride longer. Don't forget to play around with your toy to find what works best for you!

Petra
I've used knock-off versions of Womanizer's Pleasure Air technology, seduced by the lower price tag, but nothing compares to the real thing. And PREMIUM 2 is the best of them all. It has more intensity levels than any other toy (14!) and also has this amazing autopilot feature where the toy takes control of how powerful the vibrations are so you can just sit back and relax… brilliant!

S Müller
Honestly, yeah, PREMIUM 2 is a bit pricey for a vibrator but it's SO GOOD it's worth it! Powerful motor, quality materials, fast recharge, holds charge for ages too, 14 intensity levels so there's loads of choice whatever your mood, and 5-year warranty so they'll replace it if it ever craps out on you (unlikely). Top quality, I've persuaded 3 of my friends to get one now!

Isabella
Alternatives to The Womanizer Toy
While the Womanizer Premium 2 is a brilliant toy, there are still chances that you are looking for something slightly different. Here are some suggestions that may catch your attention:
We-Vibe Melt – this alternative also uses the Pleasure Air technology. While it has less functionality than the Womanizer 2 Premium, it is more compact therefore better suited for use during penetrative sex.
Lelo Sona 2 – a great toy by a premium manufacturer that uses similar technology to the Womanizer but is slightly different. Sona 2 is more compact and has a smaller head for stimulating the clitoris with sonic waves.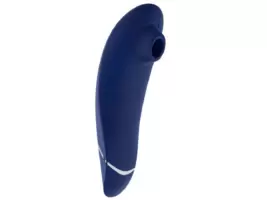 Order Now
The Verdict on The Womanizer Toy
The Womanizer toy Premium 2 edition is something a woman deserves. The updated Autopilot 2.0 version is brilliant and resembles having sex with an actual partner. The toy changes techniques and intensities to stimulate you. I mean, how more realistic can it get?
The Womanizer toy is worldwide famous for a reason and when you think the new edition reached its peak performance, they manage to surprise you and re-release it even better. I don't know what the Womanizer Premium 3 will do for me but I'm definitely curious to learn.