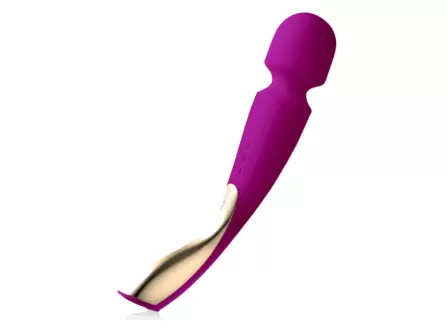 Lelo Smart Wand 2
Overall Rating
4.88 out of 5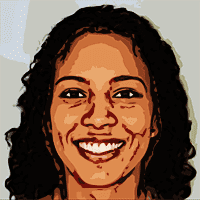 Written by
on , updated on
Lelo Smart Wand 2
Lelo Smart Wand 2 is one of the best personal massagers that I have ever encountered. Exactly, a personal massager – not a vibrator.
Or to put it in other words, all vibrators are personal massagers but not all personal massagers are only vibrators.
Even though you can give your private parts a joy ride, you can do a lot more with this toy. It can improve your physical health together with your mental health.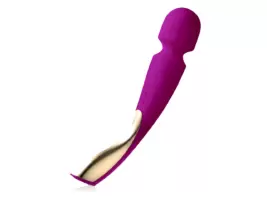 Order Now
So, if you're a person who works a desk job and doesn't do a lot of physical activities – this massager is for you. Also, if you do a lot of physical activities and often overuse your muscle, this toy is also for you.
Lelo Smart Wand Specs
Since there are more than a few versions of the Smart Wand available on the market, here I will add the specs of the two newest ones Smart Wand 2 and Smart Wand 2 Medium:
Materials: Silicone, PC, ABS
Size (large): 304 x 80 x 60 mm / 11.97 x 3.14 x 2.36 in
Size (medium): 210 x 85 x 45 mm / 8.3 x 3.3 x 1.8 in
Weight (large): 383 g / 0.84 lb
Weight (medium): 155 g / 0.34 lb
Battery (large):Li-Ion 1200/1050mA 3.7V
Battery (medium): Li-lon 520mAh 3.7V
Charging (large): 2.5h at 5.0V 750mA
Charging (medium): 2 hours at 5.0V 500mAh
User Time (large):Up to 4 hours
User time (medium): Up to 2 hours
Standby: 90 days
Frequency (large):80Hz
Frequency (medium): 60 Hz
Interface: 3-buttons
Lelo Smart Wand Benefits
Technically Lelo Smart Wand is a massager. However, there are just so many places on your body that you can actually massage. So, your imagination is your limit.
Massage to Relieve Tension
This massager is a great tool for a full-body massage at any time. If you have tight muscles at any place in your body – Lelo Smart Wand could be your new best friend. Yes, yes, it's also great for the clitoris but doesn't feel limited by only that.
Multiple Vibration Patterns
The massager comes with multiple vibration patterns. From light and soft ones to very intense ones. Even though it's Lelo and everyone thinks that it's still used only for clit stimulation – you can get a lot more out of it. Especially if you work out and get sore in the gym or spend a lot of time on your computer.
Powerful Motors
The Lelo Smart Wand comes in several sizes. Each of them has powerful motors that can help relax the muscles in the back, your neck, or wherever you feel like you have an ace. Ever since I started writing, I spend around 10 to 12 hours at the computer. This massager has been a lifesaver.
Long-Runing Time
While sex toys can run for around 2 hours, this massager can massage you for up to 4 hours straight. That's literally more than enough to give yourself a full-body massage with a happy ending.
Body-Safe Materials
Lelo uses only the highest quality materials for their sex toys. The Lelo Smart Wand is made from high-quality silicone. This silicone is super soft and feels very nice when in contact with skin. So, you don't need to worry about it causing any unexpected allergies or skin irritations. Also, it's very easy to look after.
100% Waterproof
Just like any other Lelo product, Lelo Smart Wand is fully waterproof, therefore you can have your massages in the bathtub, without any worries that you could actually break the device.
Discreet Shipping
Well, technically it's a massager, so it's not a sexual device (technically). Yet, the brand is mostly about sex toys, so the discreetness is well-appreciated.
Tips For Using Your Toy
Have you ever owned a sex toy? If yes, then most likely you already know all these things. However, if it's your first toy, you might be a little intimidated and shy to get it. Here are my essential tips for using sex toys and looking after them. Worry not – it's simple.
Always Use Lube
Lube can only make things better. Trust me. When it comes to using sex toys in places that can't lubricate themselves (clit, anus, etc.) – lube is a must to reduce friction. Not using lube can result in skin irritations, breaking toys, and other unpleasant experiences. Make sure that the lube is compatible with the toy's material.
Start Slow and Get Used to Experiences
If it's your first toy, you may need time to reach an orgasm. It could happen on the first try, however, it may not. The experience will feel unusual, so you need to ease into it and don't rush your body.
Hygiene is a Must!
Take care of your toy and it will take care of you. That's why you need to wash it after each use. Ideally before as well. Otherwise, you risk some nasty bacteria that could live in it transferring to you.
What's Inside The Box?
When you order something online, it always feels like receiving a gift. Especially if it takes at least several days for the items to arrive. Unpacking a package from Lelo always feels like that due to their chic design and luxurious boxes. Here is the full list of items that you will be getting when you order the Lelo Smart Wand 2: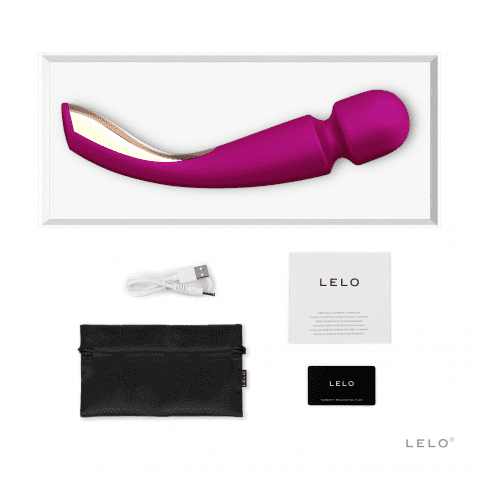 SMART WAND™ 2 of selected color (blue / pink / black) and selected size (medium / large)
USB-Charging Cord
Satin Storage Pouch (great for keeping the dust away)
Warranty Registration Card
Detailed Instruction Manual
As you can see, you're all set for your massages. However, if you wish for a smoother experience – consider getting some lubrication. The personal moisturizer from Lelo is a good choice. It's enriched with aloe vera and will keep your skin silky smooth.
Smart Wand 2 in Action
The Smart Wand 2 comes in two sizes – regular and medium. I have the regular one or the large one. Ever since the pandemic hit us, I soon noticed that my back was getting worse and worse from little movement and constantly spending time at home, often by the computer.
I exercised and it got better, however, not perfect. At that time I had my Hitachi magic wand that I used to massage myself. It would really help relieve the tension in my muscles. However, all things have an expiration date, so d my Magic Wand. After 5 years together I had to say goodbye.
That's how I gave a chance to Lelo Smart Wand 2 and never regretted the decision. First, Lelo did a lot better job at designing the toy. The vibrations are lighter than those of Magic Wand, however, it does a really good job to relax the muscles.
However, my boyfriend prefers the Magic Wand. So now we have both. And I use them both.
Lelo Smart Wand 2 is perfect for relaxing the neck and shoulders. Also, I prefer it for private pars stimulation. However, when it comes to relaxing the muscles of the butt and lower back – Hitachi Magic Wand is my go-to massager.
Lelo Smart Wand Alternatives
When it comes to listing the alternatives to the smart wands that Lelo makes – only one name comes to my mind. The all-time classic Magic Wand by Hitachi.
Magic Wand by Hitachi – there are three models of Hitachi Magic Wand, one of them is wireless. However, the other two need to be plugged in, so you can use it all much as you like. On the one side -that's a bonus, on the other side – portable devices have their own benefits. Plus it can be used when plugged in as well.
In general, the Hitachi wand gives stronger vibrations, however, when it comes to the design question – Lelo obviously did it better. Yet, the cat that you can plug it in makes the Hitachi wand a lot more long-lasting. I have both so to tell you the truth, I like looking at Lelo better yet Hitachi is used a lot more often. So, you make your decision.
Lelo Smart Wand Reviews
One man's trash is another one's treasure. Everyone knows this saying. That's why even the most praised thing in the world will still find people that absolutely hate it. That's why it's always useful to read several reviews and opinions before buying anything.
Here I collected some Lelo Smart Wand reviews from the official Lelo website. Each review is written by a verified user, therefore you know you're reading genuine feedback. I selected reviews that highlight both positive and negative aspects of the product to help you make a better-informed decision.
The positive experience with Lelo Smart Wand 2:
For me the difference is the rumble of the Lelo. Other toys buzz you to oblivion, where the Lelo coaxes you there. The rumble is almost representative of force, a more natural building climax.

– Principessa, Smart Wand 2
I did a lot of research to make sure that this was exactly what I wanted. Such an awesome experience. Definitely my new favorite toy. I love using it both with and without my partner. Thanks Lelo!

– daisyswirlz, Smart Wand 2
The negative experience with Lelo Smart Wand 2:
I'm very disappointed in this product, my original smart one is about 8 years old and the motor is starting to go so I wanted to get a second one thinking it would be just as great but sadly it's not even close it's strength is just as powerful as my 8-year-old dying one. I contacted customer service and there's nothing they can do for me obviously since I've opened it and used it highly disappointing for the price.

– Left hanging, Smart Wand 2
Disappointed there isn't a way to be refunded. I'm someone who really likes a strong vibrator but the whole end is just too big and doesn't feel good at all and is too bulky all around.

– Sara99, Smart Wand 2
Unfortunately, at the time of writing, there were no reviews for the medium-sized wand. However, the majority of buyers are very happy with their Lelo Smart Wand 2.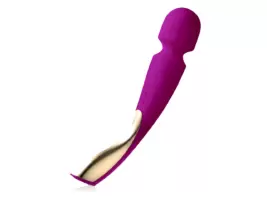 Order Now
The Verdict
While it can be a sex toy, Smart Wand 2 (Medium) is a great massager, especially if you work a desk job. I do and my neck really gets tired after the day.
If you asked me, I would go for the larger one, since it gives you more variety and the strongest vibrations actually work brilliantly on your lower back and butt cheeks. Thank you, Lelo.