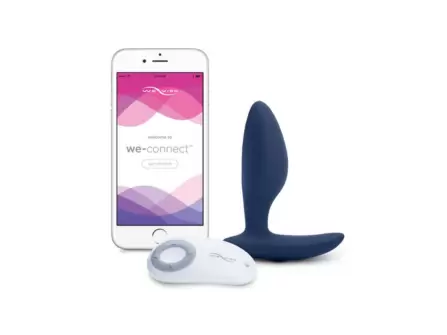 We-Vibe Ditto
Overall Rating
4.58 out of 5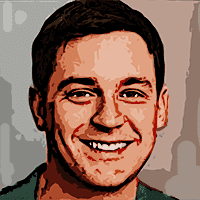 Written by
on , updated on
We-Vibe Ditto
Several weeks ago I got my hands on several We-Vibe sex toys that I was eager to try. One of them was We-Vibe Ditto. In short, We-Vibe Ditto is a small vibrating anal plug, however in reality it's an exciting multipurpose couple's sex toy that can make your moments of intimacy just that much better.
We-Vibe Ditto Benefits
When you purchase sex toys that come with a higher price tag, naturally you expect them to be high-quality and deliver many benefits that a 10$ toy simply can't offer. So, here's what you get when you invest in We-Vibe Ditto:
Body-Safe Materials
We-Vibe produces their sex toys from only the highest quality materials. Ditto is no exception. Produced from body-safe silicone and without any latex, this vibrating sex toy is phthalates and BPA-free.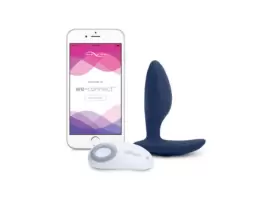 Order Now
This means that this sex toy won't cause you any unexpected skin allergies or rashes. When you choose We-Vibe products, you and your partner are in good hands.
10 Vibration Patterns
While with most sex toys manufacturers you can get around 6-8 vibration patterns, Ditto can vibrate in 10 different modes. That's an impressive amount that allows you to create a very personal experience and discover what vibration combinations work for you best.

Not only that, but you can also control the intensity of those vibrations. So, at any moment you can make the sensations more intense or you can reduce the vibrations to tease yourself longer. What I particularly like about this toy, is that there just so much to discover.
3 Ways to Control
Another thing that I like about We-Vibe Ditto is the 3 control options: using buttons on the device, via remote, or with a mobile app.
Using the controls on the device itself ensures that at any moment you can use it on its own, even if you forget the remote or the remote's battery dies.
The ability to control it via a remote makes it super convenient when you're using it together with your partner. Personally, controlling a sex toy via an app when I'm in the middle of sex is just too complicated.
However, what's complicated during sex, can benefit your long-distance relationship. Getting teased by my partner (and vice-versa) that's not here to touch me in person is super arousing. If you haven't done that – definitely try.
Waterproof
We-Vibe Ditto is fully waterproof, so you can enjoy it while taking a shower or in the bath without the worry that it could break. However, the remote isn't fully waterproof, so you'll have to control it with the buttons on the plug itself.
Long-Lasting Battery
The battery of Ditto can last you up to 2 hours of pleasure. The run time, of course, depends on the intensity and the speed you use.
Worry not, you don't need to worry about minute counting – Ditto will give you a reminder when it's low on power.
Multipurpose Use
While technically it's a vibrating butt plug, it can serve for other things as well. I offered my girlfriend to try it out, so she enjoyed it as a mini vibrator and as a stimulator for the clitoris.
In terms of using it as a vibrator, while the shape isn't ideal, at a right angle it can be fun. In terms of clitoral stimulation, it works perfectly. The only downside – it's too small to do both at the same time. However, it wasn't designed for that, so you already get more than you paid for.
Perfect For Beginners
We-Vibe Ditto works well as an introductory toy to anal games. It's small, lightweight, and easy to insert. Therefore, it works great to eliminate the fears that many men have towards anal toys.
Since you can control the intensity and the patterns easily, make sure to start slow and then adjust to your preferences. For some men, intense stimulations can be a bit overwhelming (in the beginning, at least).
Comfortable to Wear During Sex
Another thing I liked about this toy is that it's very comfortable to wear even when you're having sex. While it's a bit too small to reach the prostate, the vibrations can get you going.
Some anal toys, (especially those designed for p-spot stimulation), can be uncomfortable at certain angles and that's the last thing you want when having sex.
So, in my opinion, it's better to get a smaller toy that allows you to freely move and in this case, even forget that there's actually something inside your anus.
2-Year Warranty
Each and every product that you get from the We-Vibe website comes with a 2-year warranty. So, as a buyer, you are fully protected.
How It Works and Feels?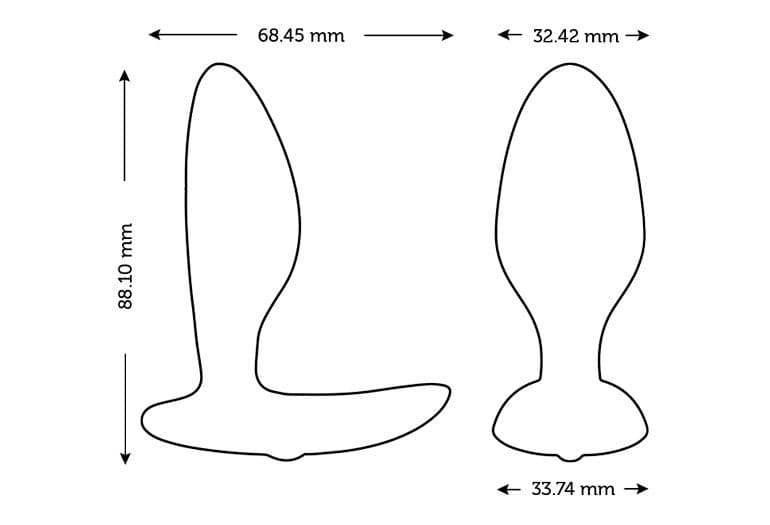 Using Ditto is very easy and doesn't require any skills. All you need to do is charge it and lubricate it properly. If you're new to anal play, remember that lube is a must, and being generous with it is always a great way to go.
Before you start, make sure to sync it with the remote or with the app (depending on your preference). The process is simple and will be explained in the manual that comes with your new butt plug.
Once the prep is done and your toy is all lubed up, find a comfortable position to put it in. For those who are new to this – one of the most comfortable positions is bending your legs to your best while lying on the side and then relaxing and slowly inserting it.
When the anal plug is in use the remote control / mobile app/buttons on the toy to make it vibrate the way you enjoy.
How We-Vibe Ditto Feels?
Ditto is only 1.3 inches wide and has an insertable length of around 3 inches, so it's perfect for beginners and those who want to be able to move around comfortably during penetrative sex.
As a butt plug, it has good vibration intensity that doesn't overwhelm you which is good for beginners. The diverse patterns can become game-changers (once you find the one that hits the sweet spot) and I particularly like how pronounced each pattern is, therefore you feel how they change.
The toy is comfortable to wear and doesn't move out of place, no matter in what position you are. Also, the lower handle of the toy touches the testicles just slightly, so the vibrations don't become overwhelming to the most sensitive part of your manhood.
Overall, if I could have had something like Ditto as my first anal toy, I would be more than satisfied.
What You Get in The Package?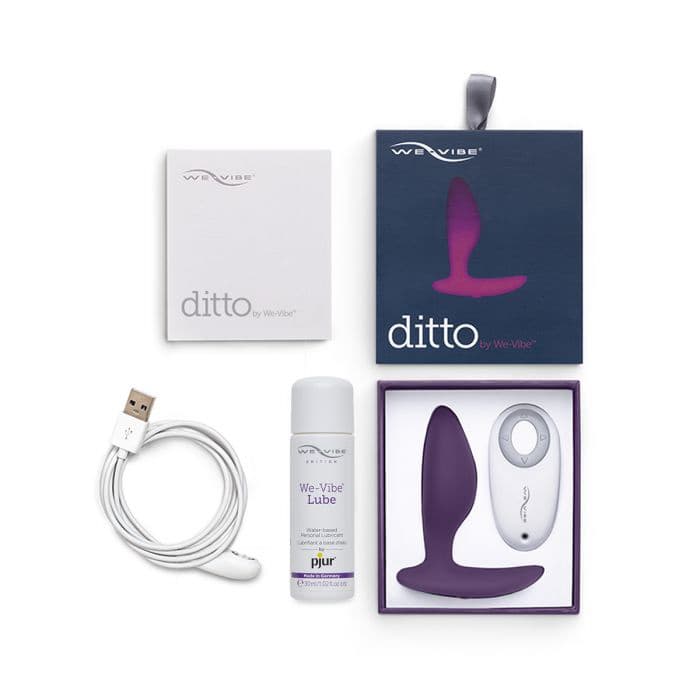 When you buy any type of item, it's always good to know what comes in the package with it. This way you know whether there are any additional items that you need to get in order to enjoy your toy.
Here is the full list of items that you get:
Ditto anal plug-in Purple or Midnight Blue
USB cable for comfortable charging via USB port. The power adapter is not included.
Wireless remote control for comfortable use of the plug
We-Vibe Lube – complementary 2 ml sample
If Ditto is going to be your first anal toy, I would like to highlight that you should get extra lube, since using anal toys requires quite a lot of it. You can order it together with your toy, or use any other water-based lube.
Downsides of Ditto
Even though Ditto is an excellent sex toy, there are always improvements that could be made. Here is my biggest downside with Ditto:
Long Charging Time
To fully charge, We-Vibe Ditto requires 90 minutes. So, it's 3/4 of its maximum running time. However, other portable vibrating sex toys come with the same issue and have lengthy charging times.
Yet, the upside is that the toy will notify you once it's low on power, so you don't need to be preoccupied about this.
Not Perfect For Advanced Users
For men who enjoy anal toys, especially prostate stimulators, Ditto could be simply not enough size-wise. However, you shouldn't confuse anal plugs with P-spot massagers as they're not the same.
We-Vibe Ditto Reviews
Just like with any purchase, people like to read reviews of others about their experiences to better understand whether the product is the right choice for them.
For your comfort, I did the research and will share several positive and negative reviews of the product that I found in various online sex toys stores and Amazon. The reviews were written by verified customers, so you know that they did actually try the product. Unfortunately, the official website doesn't publish any user reviews.
Positive Reviews:
No other word but amazing!!!!!

– Kristen B.
Recently brought this for my partner. As he just found out he likes his bum to be touched and loves using my butt plugs ! So thought i would treat him to his own. But it's so much better than just your average butt plug as vibrates viva the app or control. So i can control him from wherever i am it's grate ! Love the app toys !

– Hidden Name
Works just like described. But you have to have the phone with the toy to sync before it can be used away from each other.

– Jeff H.
What People Didn't Like:
As I'm fairly experienced with anal play this was a bit on the small side. Very easy to insert and stays in place so you can move around with it in which is good! My partner likes that he can control it from his phone so it's fun couple's toy. Vibrations could be a little stronger for the price and would be better if it was slightly bigger so could reach p spot.

– Hidden Name
This toy does not live up to its mandate. Wireless functionality unusable and the motor is very weak. The device is so small you can hardly tell if it's in. The material quality is nice though.

– Verified Amazon Customer
As you can see from both positive and negative reviews – the toy works well for less experienced users or beginners. However, people who are very into anal play find We-Vibe Ditto slightly unfulfilling.
However, what I would like to highlight is that not all vibrating anal toys are prostate massagers. So, if you are looking for a prostate massager, you can consider checking the items on this list.
The Verdict on We-Vibe Ditto
Overall, We-Vibe Ditto is a great choice for beginners to anal play. It's small enough to not get you overwhelmed and excite you about such toys.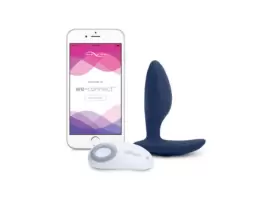 Order Now
Ditto comes with 10 different vibration patterns which can be increased or decreased, based on your preferences. The butt plug can be controlled in three ways, two of which are remote, including a mobile app. Therefore, it can be useful for long-distance couples.
Ditto is completely unisex since it's not designed to stimulate the prostate, so if you're looking for a p-spot massager, this toy isn't exactly that. Other than that, it's a great investment for your pleasure.