From Manual to Automatic: A Complete Guide to Male Masturbator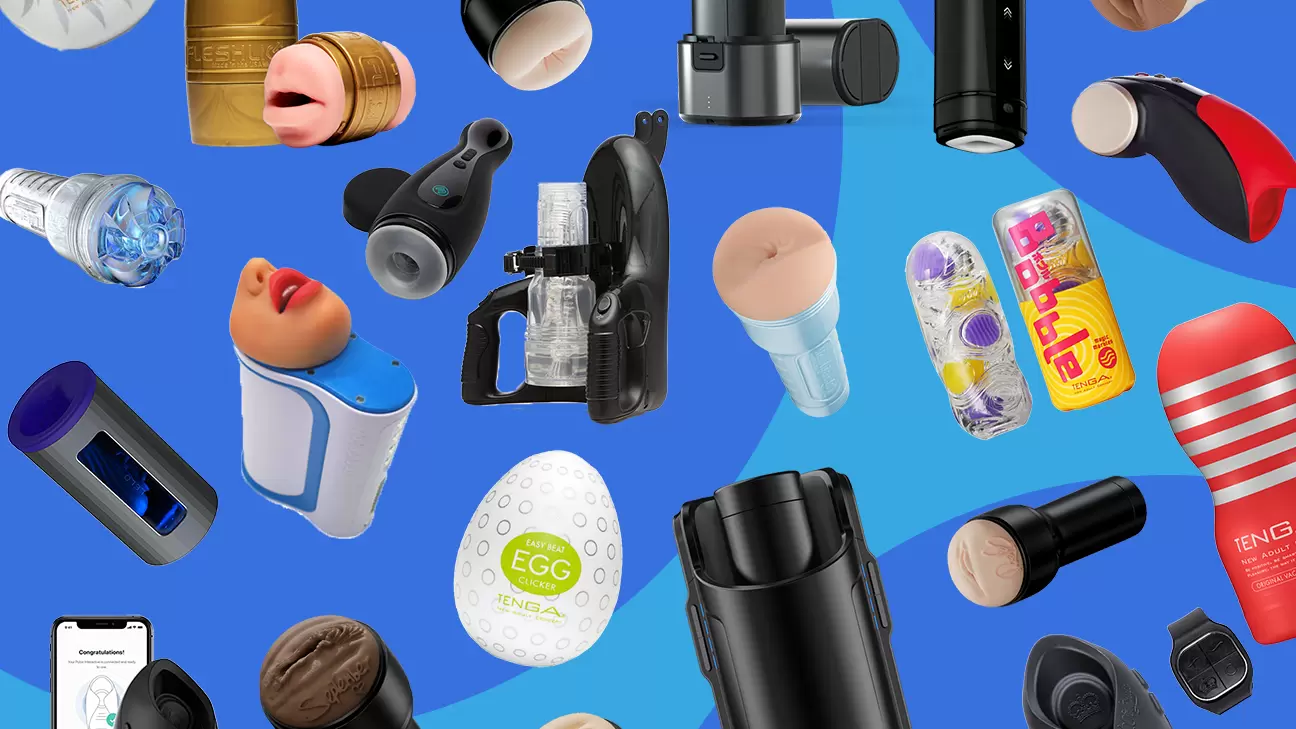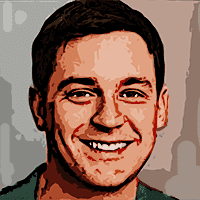 Are you looking for the perfect male masturbator, but don't know which one to choose? It can be confusing with all the options out there, but don't worry – we've got you covered!
Male masturbators vary greatly in terms of complexity and features. With my help, you'll find the ideal masturbator that fits your needs and desires.
I'll give you the scoop on the different types of male masturbators, so you can make an informed decision and start exploring new levels of pleasure!
Male Masturbator Types
Male masturbators vary greatly in terms of complexity and features.
At the most basic level, you can find pocket pussies. Those are simple handheld devices designed to provide stimulation through manual manipulation.
At the highest level are fully automated interactive masturbators, which often incorporate advanced features such as vibration, rotation and heating elements to provide more intense and pleasant stimulation.
These devices may also include interactive features such as virtual reality (VR) settings, Bluetooth connectivity and even AI-enabled functions that allow users to fully customize their experience as well as interact with people at the other end of the world.
To know the different types of male masturbators, you'll first have to know how many there are…and what they are. So, let's get into it.
Manual Strokers aka Pocket Pussies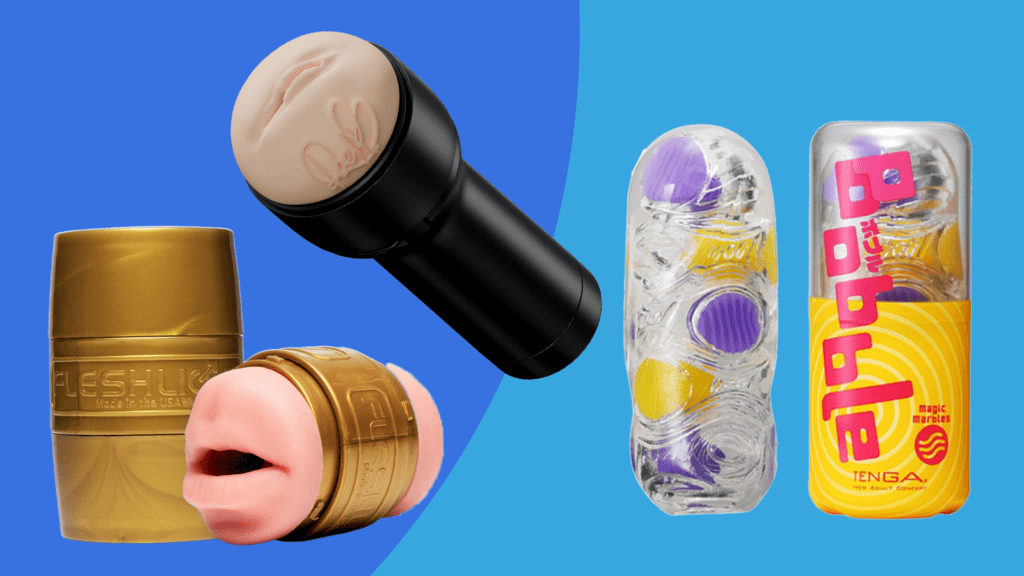 Manual penis strokers give you all the excitement and none of the stress.
These handheld massagers usually support one or several entrances, mimicking vaginal/anal/oral sex as realistically as possible. It makes you feel the pleasure of penetration without any hassles.
Usually, even well-endowed men have no problem fitting their penises inside such strokers.
Unlike automatic masturbators, with manual strokers you have the satisfaction of beating your meat as slow or fast as you like, without any other complicated button-pushing.
Vibrators for Men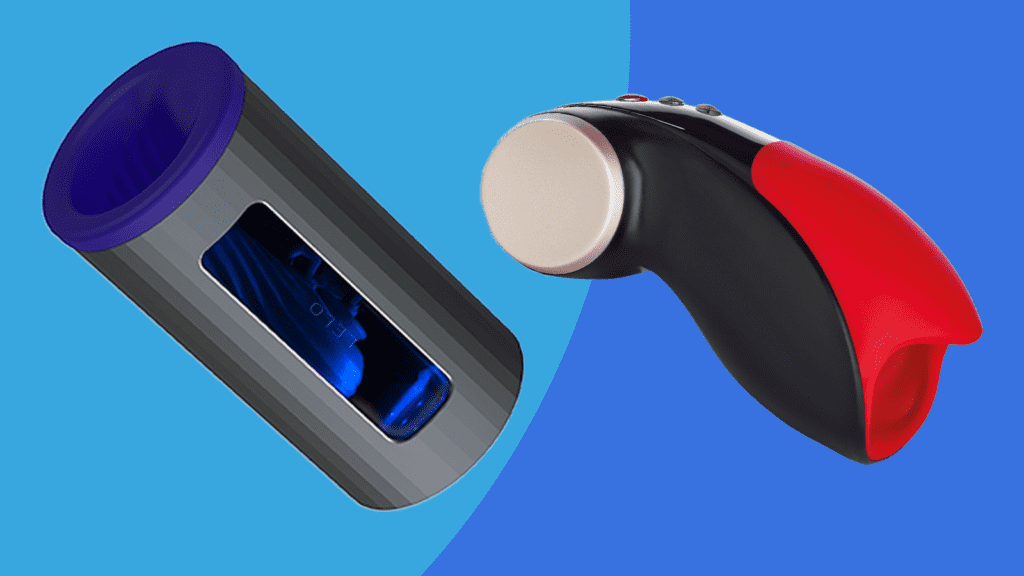 What has more motor power than a toy boat and tickles your frenulum like the horniest partner ever?
If you're thinking of vibrators, your mind went to the right thing. We are all thinking of a male masturbator that vibrates.
They come in various shapes and sizes and are built for different purposes. Some can help you stroke yourself from the penis to the perineum for a fantabulous orgasmic experience.
Some others are designed for a more localized experience for the frenulum at the tip of your penis.
Automatic Male Masturbators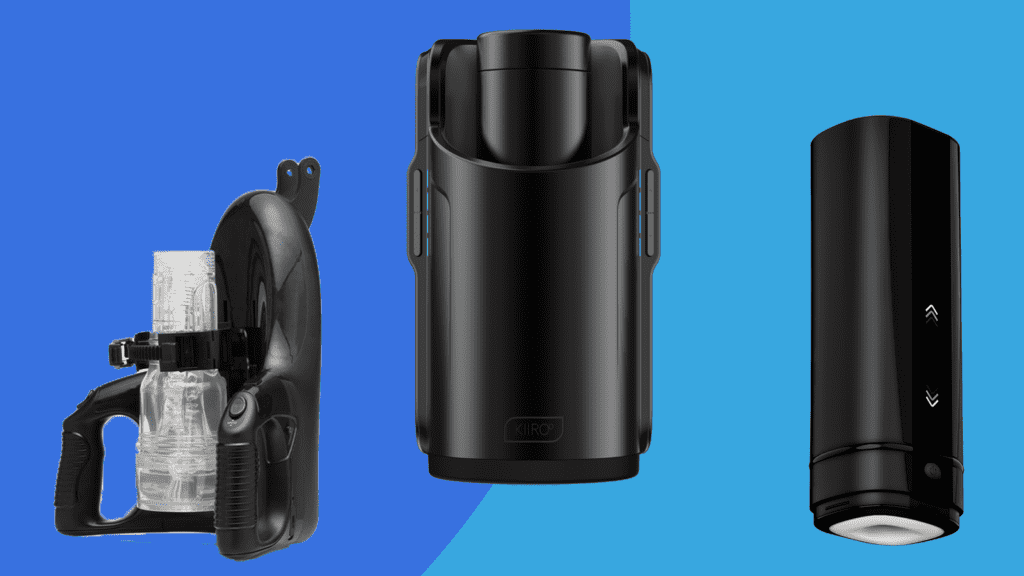 An automatic sex toy means that they can be controlled via buttons or swipes like in a smartphone and no (or very little) manual labor is required to use it.
These machines technically also are penis pouches that feature a fleshy-like material. Some of them have integrated sleeves while others have interchangeable ones.
As you probably understand, the interchangeable sleeves can be used without the automatic machine, making them a manual masturbator.
An automatic masturbator usually gives quite a lot of control over the whole experience: you can choose your speed, stoke length, intensity, squeeze strength, etc.
Some of them go as far as giving you an interactive experience where the device mimics what it sees on screen.
Which ever male masturbator you decide to go with, note that they all gel well with lubes (mainly water-based lubes) and you should never go in dry. If you want to learn more about pairing your sex toy with an appropriate lube, read this article.
Finding The Right Manual Stroker (Pocket Pussy)
Finding the right masturbator can be an intimidating and confusing process. With so many different brands and models to choose from, it's hard to know which one is right for you.
Popular & Trustworthy Brands of Male Masturbator
Here are some of the most popular, trusted, and high-quality brands on the market today.
These brands have earned their reputations through rigorous testing and quality assurance so you can be sure that whatever you purchase will meet your needs.
From ultra-realistic sensations to sleek designs, there is something for everyone out there.
So don't be afraid to explore the wide selection of masturbators available – our list will help you narrow down your choices and make an informed decision about what's best for you.
Fleshlight and Fleshjack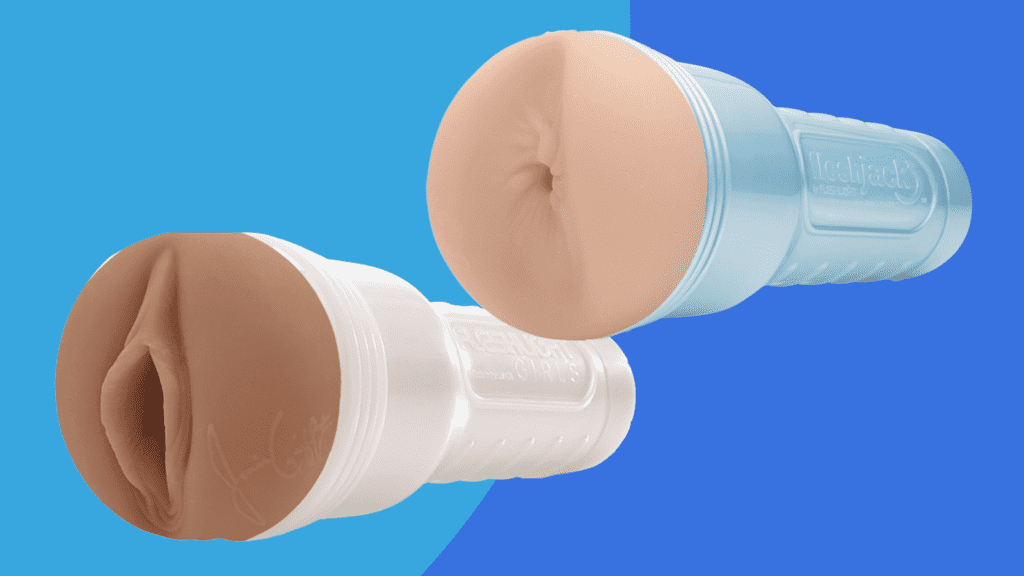 There are hardly any male sex toys that have garnered the same popularity as the Fleshlight.
Fleshlight started by selling to any males who had been bored of using their fists on those quiet afternoons.
It now offers an advanced skin-like sleeve packed up with a vaginal/anal/oral/non-anatomical entrance.
The idea thoroughly vouched for the concept of the cloak and the dagger!!! It arrived in a plain, unadorned box and was designed like a flashlight. But what does that achieve?
It led the unwary viewer to believe it was nothing but a power failure device. Isn't that a great deal of fun and convenience? Yes, that undoubtedly is, for people who want to stay discrete.
For generations, the Fleshlight designers extended their business. They refined their models to appeal to a broader audience and featured appealing orifices, much like the mouths and butts.
However, it's not been that long since Fleshlight featured designs that mainly targeted the homosexual male clientele.
Fleshjack was created and launched into the adult toy world as the ideal sex toy for homosexual guys, with variant orifices for a quirky, fun session.
Such a toy can always come out at night as an entertaining confidence booster.
For all those who have been questing to find out what it feels like to slip into a soft and silky sleeve consisting of a life-like sensation, look no further and get your Fleshjack.
Kiiroo FeelStars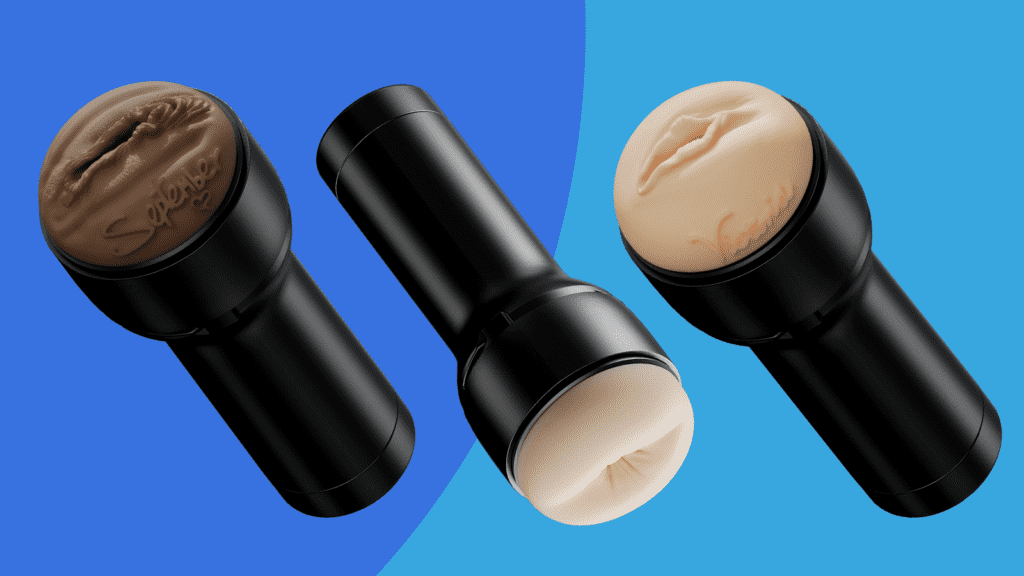 Kiiroo is an Amsterdam-based adult toy brand that was created in early 2013. The brand offers a male masturbatory product line branded as the FeelStars strokers, which is analogous to the famous Fleshlight.
As the venture started, Kiiroo wanted to step up the whole game from the traditional stroker structure, where the FeelStars and KEON (automatic stroker) entered the scene.
Kiiroo's KEON automatic stroker is their main advantage over the popular Fleshlight brand.
With Kiiroo, you can have a much more immersive and interactive experience than with a traditional automatic Fleshlight stroker that comes with a similar price range but very few features.
Tenga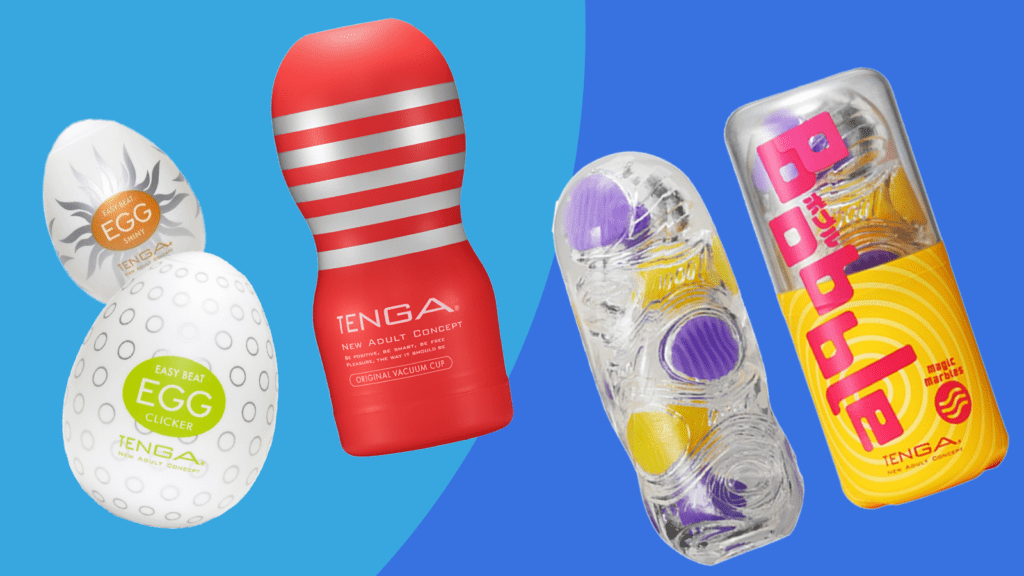 Tenga is a Japanese male sex toy manufacturer mainly concentrating on male sex toys. Hence, for all those who aren't aware, this brand is renowned for making men's sex toys with such a unique adult design.
It mainly revolves around how they don't appear like the usual sex toys and offer complete confidentiality. They all seem like masterpieces of elegant artwork, whether Tenga's masturbating eggs, the Flip Hole, or the Tenga 3D range.
Tenga ensures to elevate your masturbating activity to unimaginable heights. The brand has added a great range of variations to its stroker collection. These male masturbators comprise this pocket pussy feature of a spiraling textured exterior enclosure.
It has a suction opening on the inside sleeves that regulates the degrees of pressure. Their removable covers aid with the seating of the inner sleeve and function as operational drying supports.
These stroker toys might seem corny at first glance, but they surprise you by functioning effectively and comfortably.
Tool to Help You Find The Right Manual Stroker (Pocket Pussy)
It's normal to feel overwhelmed by all the brands and options. Especially with so many similar-looking models on the market, it can be hard to tell which one is actually good.
That's why we created an insightful tool to help you pick the best manual stroker to suit your needs.
The TechySex Compare help you find a personalized solution.
Instead of just providing the technical specifications that are available directly from the manufacturer, our website offers something different.
We've created a heatmap feature that shows how intense and stimulating different sex toys will be, allowing you to make informed decisions when purchasing.

Also, you can enter your dimensions and see your expected penetration. This way you can have a better understanding about what the toy can do for you.
Looking at such pleasure heat maps is a lot more fun and accessible than comparing the data of measurements.
Although, you can do that as well because I'm all for research! The objective is always to show sex toys in a more user-friendly and open light.
Automatic Male Masturbator: Stroker, Vibrator & Sonic Waves
Automatic masturbators are a type of male sex toy that offers users the sensation of sexual intercourse without the need for manual operation.
Instead of having to move the device up and down your private parts, these masturbators use advanced technology to provide automated stroking that mimics the sensation of penetration.
The interior of the masturbator is often made of silky and smooth materials, designed to feel flesh-like.
All you have to do is insert your penis and the toy will take care of everything else. These masturbators are designed to fill the gaps in other sex toys and provide an easy-to-use experience for all men.
How Does An Automatic Male Masturbator Work?
Automatic male masturbator is a sex toy that are specially designed to simulate the sensation of sexual penetration and orgasm.
They come in many shapes and sizes, with different features and variations meant to provide a range of experiences: strokes, vibrations and other.
They are easy to use too, as they do all the work for you – no manual work required! In addition, they can stimulate areas that your hands cannot reach which makes it even more pleasurable.
It is recommended to use lube when using these devices for a smoother experience. There's a wide variety of automatic male masturbators available, so there's sure to be one for everyone!
Automatic male masturbators are more fun also because there is so much out there to choose from! Let's go over the different types, and see some examples for ourselves, before we move any further.
Automatic Strokers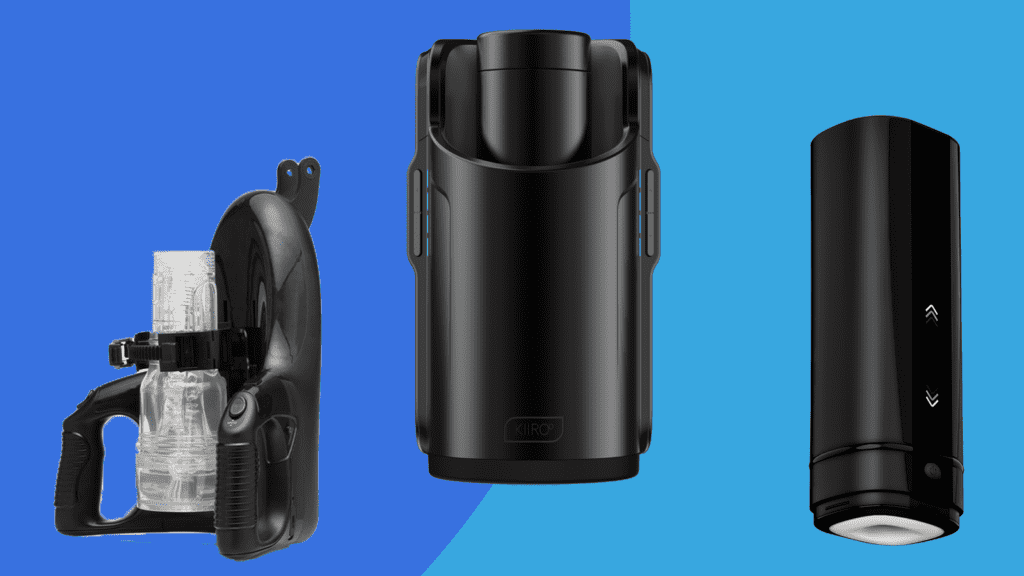 When it comes to automatic masturbators like strokers, we understand how they have fundamentally transformed the experience of pleasure in various ways. It is thereby becoming quite commonplace!
Automatic male stroking masturbators offer an easy and convenient way for men to reach orgasm without the need for manual labor.
These products come in a variety of shapes and sizes, as well as range from simple to very advanced designs.
Simple models typically feature a basic design with a single motor that works better with compact sleeves.
More advanced models come with additional features such as adjustable speeds, multiple motors, rotating beads, or other unique capabilities, including interactive experiences.
No matter which type you choose, these products are designed to provide an enjoyable experience that will give you a satisfying climax.
If you're looking for a basic stroker without any advanced features, the Fleshlight Universal Launch and Quickshot Launch are great options. For a more advanced experience, consider the Kiiroo KEON or Lovense Max 2.
While all of them are in a similar price range, KEON and Max 2 can offer the same as Launch and Handy and much more.
Vibrators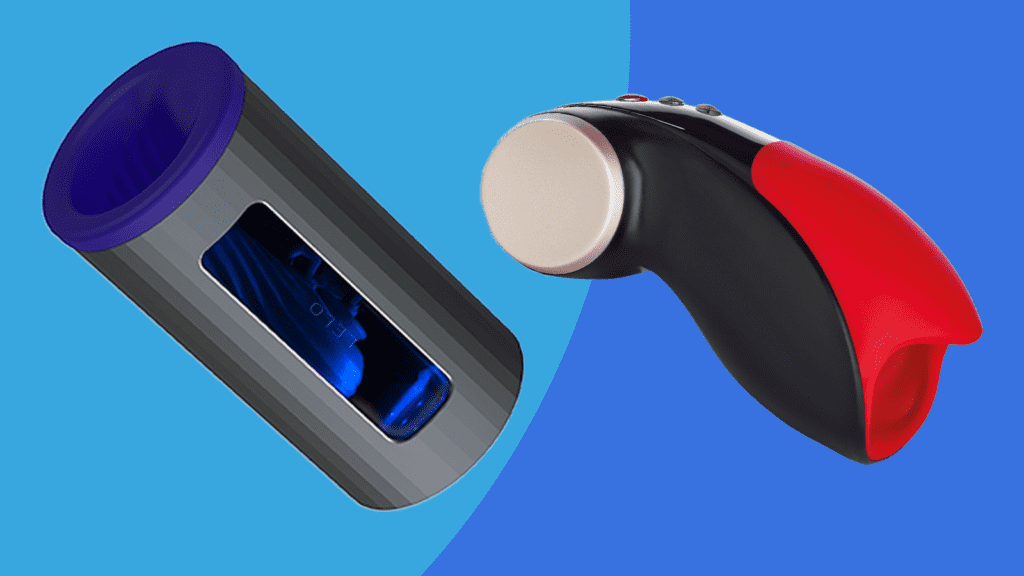 Combining creativity and elegance in a modest and compact package, vibrators give you the best of all worlds. Contemporary vibrators generate vibratory waves or impulses using power and are mainly chargeable.
Lelo delivers some of the world's most technologically advanced male sex toys. The F1S V2 is a great example of that. It's a real breakthrough for manly pleasures comprising 10 monitors and a LELO app to measure the performance.
Next in line is the Cobra Libre II, and guybrators from Hot Octopuss enthralling the intensity while delivering smooth yet booming sensations. It has a vibratory cock ring that reverberates across your sensual spots giving you a deep moan.
Blowjob Machines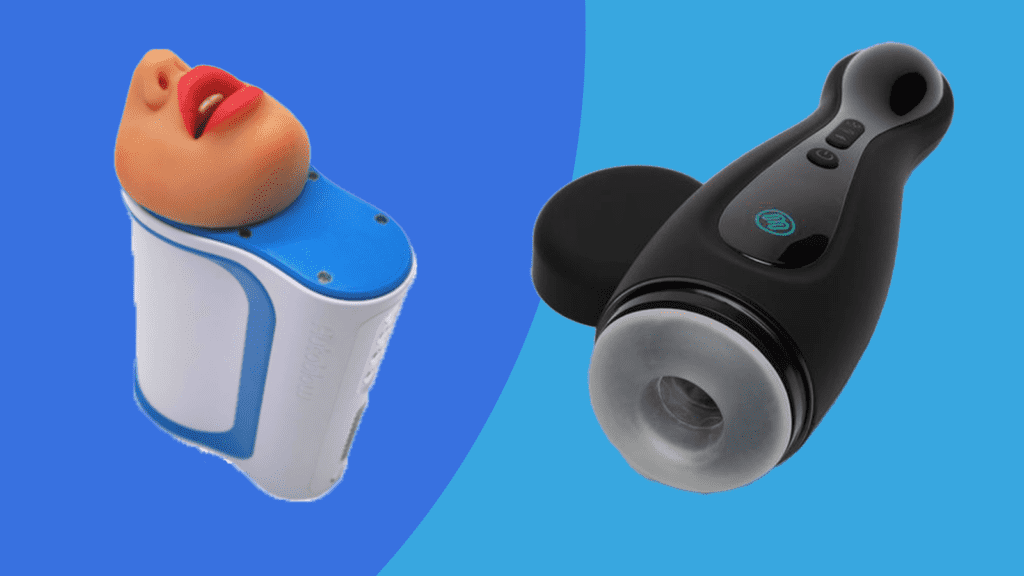 As for some men, having their spots sucked and blown is the most pleasurable sexual fantasy they may have, surpassing both vaginal and anal intercourse.
Blowjob machines vary from strokers and other male sex toys in their ability to be intended to resemble natural feeling oral sex. To put it in other words, a blowjob machine is mostly an automatic stroker, designed to mimic oral sex.
Some feature natural lips and tongues, while others are more technologically advanced and can directly connect to VR porn website visuals. Regardless of your taste, there are a plethora of genuine blowjob models available that you can explore.
They have delicate tooth-like edges, tongues, lips, and a laryngopharynx. You can gently stick your penile tip into the tube for pleasant vibrations. You can even shove further into the channel for intense deep-throat stimulation.
Sonic Wave Toys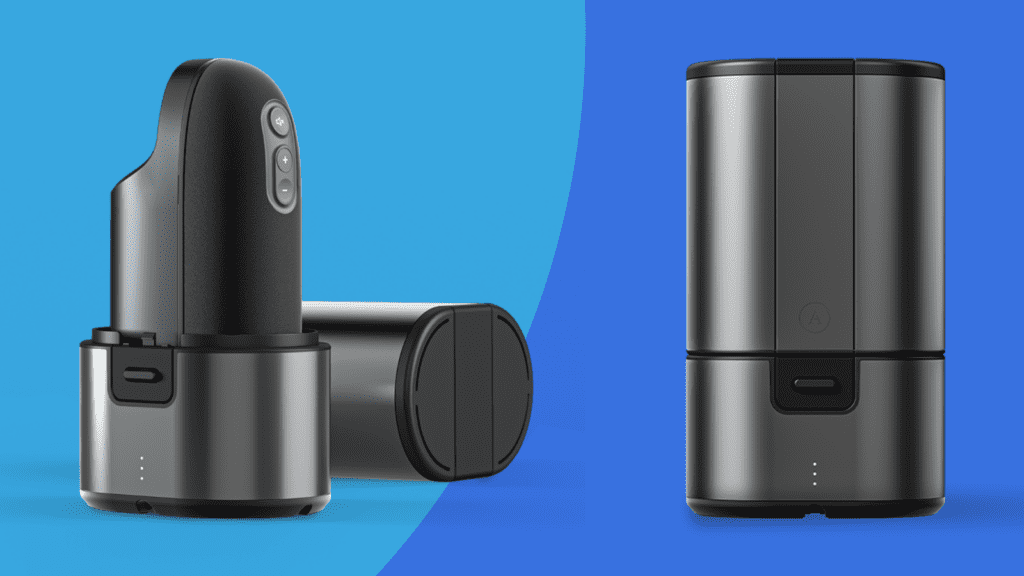 Such sonic vibrators have several quality and cost enhancements for users, such as enhanced speed, underwater vacuum, and compression efficiency.
These also come with a multi-use extendable grip, which boosts the vibrators' adaptability and practicality.
It could be used as a penis stimulator and an extension tool. Regarding strokers featuring sonic waves, there's the Arcwave Ion! There's truly nothing like this one.
Arcwave Ion is a stroking masturbatory device meant to elevate your pleasuring sensations. It contains the exclusive Pleasure Air Innovation that stimulates the region's nerve endings alongside the multiple pleasurable receptors.
Male Masturbators That Can Work on Your Flaccid Penis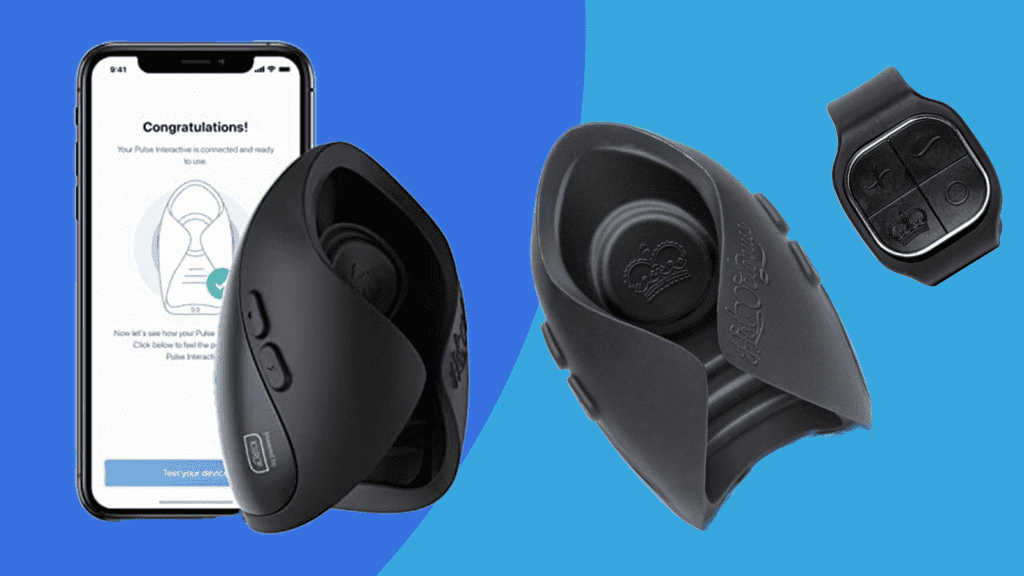 Male sex toys are available to help those experiencing sexual dysfunction.
These toys come in accurate proportions and offer improved sexual pleasure for both the user and their partner.
For men who have trouble maintaining an erection, there are automatic masturbators that use vibration, texture, and other functions to increase penile sensation.
These sex toys use powerful vibrations without requiring manual stimulation.
Also, they go well with lubricants. Hot Octopuss Pulse is an impressive male sex toy made for male enjoyment and is especially suitable for those with frequent erectile issues.
It allows users to experience a hands-free experience through advanced technology and PulsePlate Technology.
Materials Used To Make The Different Types Of Masturbators
The materials used to design or construct a sex toy or a pocket pussy are more complex and crucial than most people realize.
Like when you shop for clothes and it's hot you prefer light and breezy ones over others – you should have a preference for sex toys as well.
Materials like silicone, plastic, and rubber, commonly used to make sex toys, look different and feel different upon contact with your skin.
So, when you choose between them, make sure you are clear about what you want and how likely you are to loosen your purse strings.
Usually, it's prudent to avoid phthalates, which have been shown to induce infertility and asthma. Check this article out to know more about what to avoid.
Simply checking the packaging or online descriptions is a sure way to avoid toxic materials.
Always use skin-safe rubber, plastic, or silicone-based toys because they are easy to touch and feel and ensure little or no risks to yourself. Silicone, especially, is both phthalate and latex free.
Advanced and Fun Features Of An Automatic Male Masturbator
I've mentioned that an automatic male masturbator are different from any other kinds of male masturbators, and here's how.
Virtual Reality (VR) Compatible
Most standard male masturbators simply rub your cock or vibrate it. But with masturbators like the Kiiroo KEON, you can pair it with your standard set of VR goggles and unlock a new level of pleasure.
Forget the drab old features of regular masturbators like pocket pussy that don't pleasure you visually.
With VR goggles syncing up, you get the ultimate excitement of experiencing the pleasure, albeit virtually.
Honestly, these toys make you feel all the joys of having sex with your partner, but without a partner.
Video Sync and male masturbator
Ever heard of the possibility to mimic sex scenes on your penis via a sex toy? Some automatic male masturbators feature a video sync-up facility.
When your masturbator syncs up with the videos online, you can watch porn and get humped in your favorite position.
Heating function
Ever felt that your organ was getting cold in the conventional strokers or masturbators?
You were beating your meat, but suddenly all the pleasure and excitement seemed subdued because the sleeves somehow dampened your mood. Worry not, because the companies have heard your concern.
Automatic masturbators like the Satisfyer Men One and others like it feature a heating element that ensures when your penis is inside the masturbator is subtly heated up so that you feel complete ecstasy and nothing else.
You can even control the temperature and set it according to your preference.
Oscillating technology in a male masturbator
Some guybrators like the Pulse series of vibrators are all about good vibrations leading to excitations. They involve putting your cock (flaccid or hard) inside the small toy, and the toy's oscillating PulsePlate technology does the rest.
It delivers consistent waves of vibrations directly to the frenulum of the penis, where the head connects to the shaft. This area is sometimes known as the F-spot or simply the frenulum.
This tech and series of vibrators are exciting as they can achieve arousal in people with spinal cord injuries to experience the pleasure and excitement of intercourse.
Comparing Male Sex Toys
Ever wondered how you can compare different strokers and automatic masturbators available for men like you do with phones or anything else you need these days?
Whether you like the classic stroking or the recent automated ones, you can compare male sex toys based on different parameters of your choice on TechySex!
The TechySex Comparison Tool has become a boon for sex toy enthusiasts. It has a database of both old and new sex toys. The list has been curated by experts and features various male masturbators.
Using computer algorithms, they have created a unique tool to better understand male sex toys without the need of making it too complicated.
This tool also recognizes the value of your experiences as a forum. Every experience is valuable! Therefore, hearing out the team's input in addition to what various sex experts and genuine customers have to say is quite helpful. TechySex assorts all of that for you.