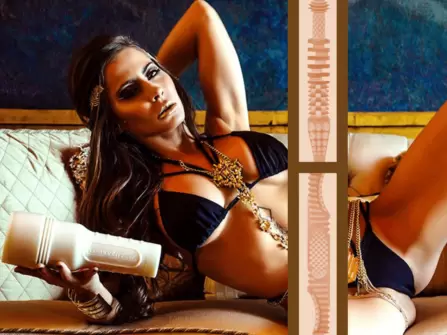 Madison Ivy
Overall Rating
3.45 out of 5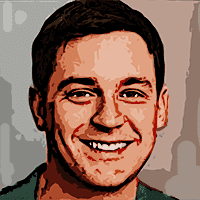 Written by
on , updated on
Madison Ivy Fleshlight
Madison Ivy is one of the best-known petite porn stars. That led to her collaboration with Fleshlight, which resulted in two Madison Ivy Fleshlight sleeves.
Each sleeve has a unique texture. The first one is called Beyond and has a vagina-like orifice that looks exactly like Madison Ivy's pussy. The second one is called Wonderland and has a butt-like orifice.
Let's see whether they're worth the hype.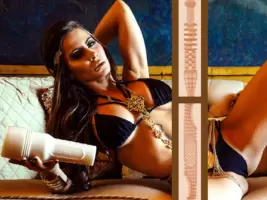 Order Now
How Madison Ivy Fleshlights Feels?
The Madison Ivy Fleshlight series has two models Beyond and Wonderland. Each of them has a unique texture that can satisfy different user needs.
Madison Ivy Beyond Fleshlight
Madison Ivy Beyond Fleshlight has a vagina-like orifice that looks exactly like the porn star's pussy. This pocket pussy has 5 chambers or, to put it in other words, 5 unique textures.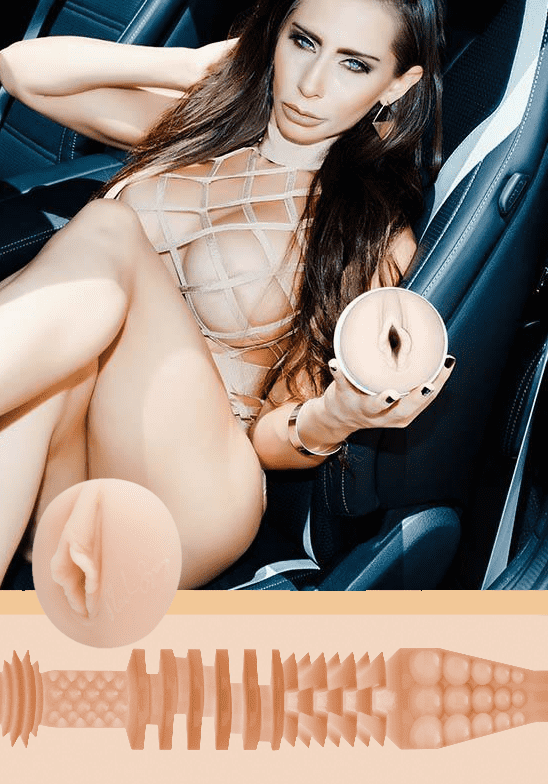 Madison Ivy Beyond Fleshlight starts with a very small chamber of less than a half-inch. It has vertical ribs and serves as the perfect introduction to the Fleshlight.
The second chamber is supper narrow and is filled with small teeth like dots. This narrow chamber opens up to the third chamber which has a texture full of vertical ribs of different heights.
The fourth chamber has a zigzag texture and is the most exciting one. When you buy a pocket pussy that's based on a tiny porn star – you expect it to be tight. So, I would recommend this pocket pussy to guys who have penises that are over 5 inches when erect.
The last chamber has a dotted texture. The sizes of the dots vary. It's a fun texture but as I said – the best is 5 to 7 inches deep.
Madison Ivy Wonderland Fleshlight
The second Madison Ivy Fleshlight is called Wonderland and has a butt-like orifice. This Fleshlight has 3 chambers.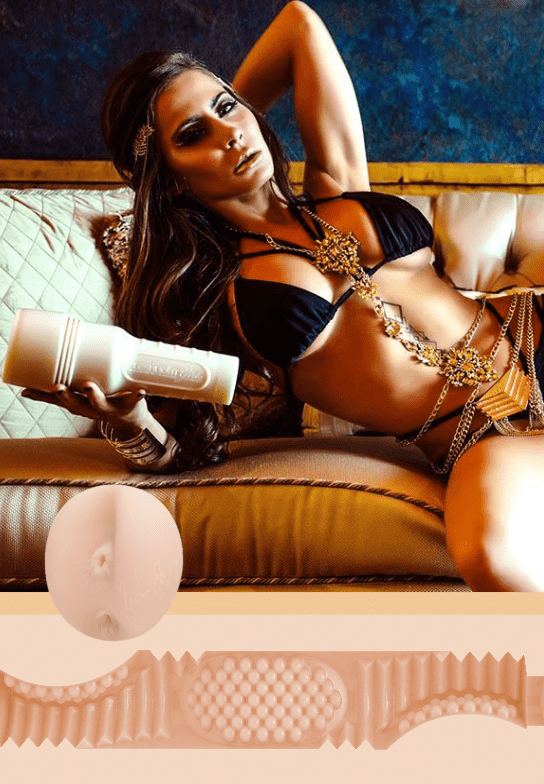 The first chamber has a vertically ribbed texture with dots on the upper side of the sleeve. The chamber widens with depth, so you'll be starting narrow.
The second chamber is dotted on the sides. The third chamber is a mirror image of the first one.
Overall, this Fleshlight offers a gentle massage that is neither too intense nor too loose. I would recommend it for dudes who enjoy taking their time.
Madison Ivy Fleshlight Benefits
Fleshlight makes their products with super high standards in mind. That way they come with numerous benefits.
Unique Sleeves
Each Fleshlight product comes with its unique sleeve texture. The Madison Ivy Fleshlight series has two models.
The first one has a vagina-like orifice that is based on Madison Ivy's pussy and the second one has a butt-like orifice.
Quality Materials
Fleshlight uses only top-quality materials to manufacture their sex toys. The SuperSkin material that is used for the sleeves is hypoallergenic and won't cause any unexpected skin irritations.
Also, SuperSkin material is as close as you can get to the real skin feel. So choosing Fleshlight means choosing luxury.
Porn Star Fantasy
Choosing a Fleshlight based on a porn star makes the whole experience a lot more exciting. Especially if you're a fan of her work.
I'm confident to tell that there's no guy in the world who never dreamed about doing it with a porn star. Now you can actually get the next best thing. And for most of us – it's as close as it will get.
Discreet Shipping and Billing
Fleshlight respects your privacy. Each and every item that you order on their website will arrive in unmarked boxes. So, no one will be able to tell what's inside without actually opening the box.
Madison Ivy Fleshlight Downsides
Even though there are numerous benefits to Madison Ivy Fleshlights, there are some downsides to them.
Very Narrow Entrance
The Beyond sleeve has a super narrow entrance, so you have to be careful with her. Otherwise, she might rip. With Wonderland, on the other hand, I had no such issues.
Not Too Intense
While Beyond is super intense when you get past the 5 inches mark, I couldn't say that about Wonderland. If you're looking for an intense sleeve – Wonderland is most likely not for you.
How Madison Ivy Fleshlight Works?
Each and every Fleshlight's pocket pussy works in the same way. So, if you have already tried one, you'll know how to treat the rest of them.
First, remember that hygiene matters and it matters a lot. So, before you do anything with your newly acquired sex toy, make sure to read my detailed guide on proper Fleshlight care.
Second, lube is a must. Not using lube can rip your Fleshlight. It can also cause skin irritations that come from the unnecessary traction caused by your skin rubbing against the sleeve.
If you remember these two essentials – you'll have a long-lasting sex toy that will bring you a lot of joy.
Everything else is up to you. Once you put your erect and lubed-up penis inside, you can stroke fast or slow, go deep or tease yourself – anything you like.
Fleshlights are very straightforward devices, so you won't have any problem with them.
Once you get used to them, you can consider upgrading them with, for example, Fleshlight Launch. This one gives you a hands-free experience.
What's Inside The Box?
Knowing what you'll find in the box helps you prepare. As I mentioned before, all your items will arrive in unmarked boxes. No one will be able to tell what you ordered without opening the box.
Here's what you will find inside:
New Beyond / Wonderland texture sleeve (based on purchase choice)
Luxurious white Fleshlight case that comes with an extended protective cover
Unique Madison Ivy Vagina / Butt orifice (based on purchase choice)
Detailed instructions for proper use and care
Make sure to get some water-based lube and don't use your Fleshlight without lube. Using it dry, can rip it easily and cause skin irritations. Water-based lube works perfectly with Fleshlights and their SuperSkin material.
Madison Ivy Fleshlight Alternatives
Currently, there are numerous Fleshlight Girls, so, of course, there are alternatives to Madison ivy Fleshlights.
If you're into MILFs, my current favorite is Lisa Ann's and her Barracuda sleeve. The sleeve lives up to the porn star's name.
If anal is what turns you on – the new Boss Level by Mia Malkova won't disappoint you.
If you're into your young hotties – check out the Elsa Jean Fleshlights.
Madison Ivy Fleshlight Reviews
Knowing what people say about a certain product helps you know what to expect from it and make better purchasing decisions.
You already know what I think, so here are some thoughts of verified users that bought either one of Madison Ivy Fleshlights via Amazon or the official Fleshlight website.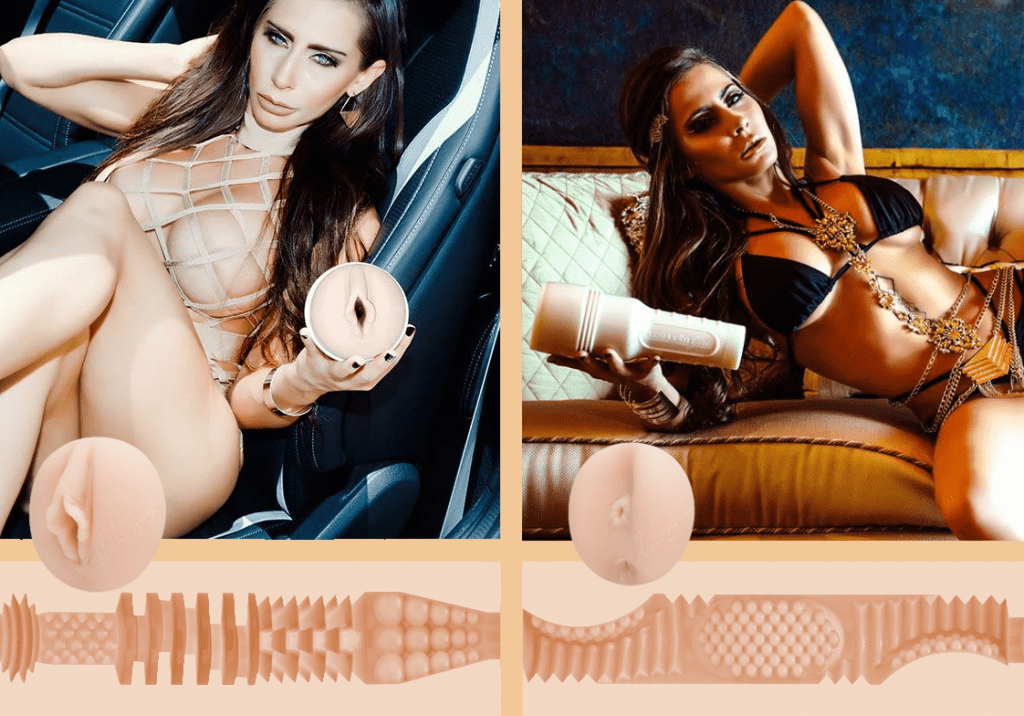 This might not be your topical review, but here goes. I don't watch porn so I have no idea who Madison Ivy is. I bought her Fleshlight because the inner texture had such good reviews. My sweet wife and I have personally owned two Pink Lady originals over the past 8 years and I always found myself sore and rather chaffed after using it. It didn't feel real to me and always left me disappointed. But this is much different than the originals. The texture is amazing! It truly does live up to all the hype. I don't care about how it looks on the outside – I'm sure Madison is a sweet girl, but my concentration is on my wife. This is just something to occasionally spice up the bedroom. So far, it's lived up to our expectations!

– Wilberforce24
This is the 3rd sleeve I have bought from you and they keep coming with small holes in them , so when you go to clean it and run water though it it blows up like a water balloon. This is caused by a small hole on the inside chamber that was caused when making it.

– Jeff B.
I've used cheaper off brand toys before and even a realistic Doggystyle toy and flesh light is just so much better than everything else I've used. It can be a pain to clean it sometimes but every other toy I've used was either harder to clean or ended up tearing at the opening and these are just so well made I don't think I'll try anything else. I went on the official website and bought this plus her anal sleeve and i can't even decide which one I like more. If you're wondering whether or not to get this, you're not gonna find anything else that's better. If you think it's too big, they have the quick shot which is also a really nice toy if you and your SO want to experiment during oral

– Kenny
I must say I felt a little uneasy when the young postal woman handed it to me while I was out in the garage. LOL. Very high quality materials. I love the feel and watching Madison's V lips slide across my helmet. Definitely need to by the shower holder for more fun

– Peter F.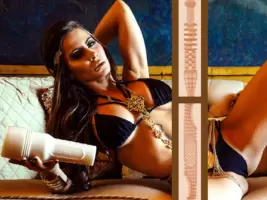 Order Now
The Verdict
Overall, Madison Ivy Fleshlights are neither too good, nor too bad. I would recommend Wonderland for guys who enjoy taking it slow.
On the other hand, the Beyond sleeve is more intense and tight. As I mentioned before, the real magic starts when you surpass the 5 inches mark. So, if you can do that – you will enjoy her as well.