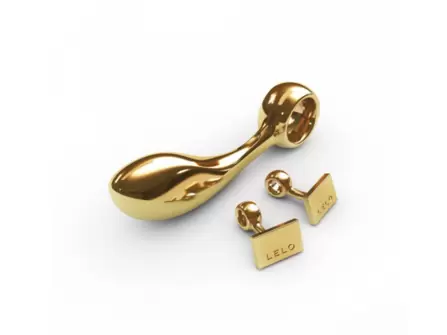 Lelo Earl
Overall Rating
4.33 out of 5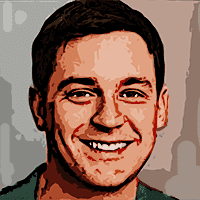 Written by
on , updated on
LELO EARL Review
Sex toys are all about exclusivity, luxury and you don't care about the price tag? If your answer is yes – LELO EARL is something you're looking for to add to your collection.
Currently, EARL is among several most exclusive sex toys available on the official LELO website. However, it's the only 24k gold sex toy, designed for men.
LELO EARL comes in 2 models, one is made from 24k gold and, at the time of writing, costs $2,590. The cheaper option is made from stainless steel and costs a relatively smaller amount – $1,590.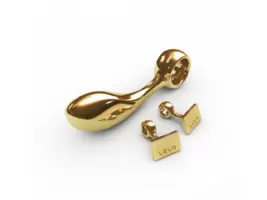 Order Now
Even though it's made from pure gold, it's more than gold that you're getting. If the item comes from LELO, gold or not, you're in for some serious pleasure. So, let's see what LELO EARL has to offer.
LELO EARL Benefits
Naturally, when you're getting a luxurious item, you expect a lot from it. After all, you are paying for it. So, let's see in detail what you can expect from a 24k gold prostate massager:
Luxury and Exclusivity
Well, LELO EARL is actually the sex toy you would like to brag about. Maybe not to everyone but at least to your partner(s). Owning a 24k gold prostate massager screams luxury and makes a solid statement about your financial status. As, it is obvious that an average Joe couldn't afford a toy like that.
Naturally, such sex toys aren't mass-produced, so you won't get LELO EARL in 3-5 days as you would get a regular prostate massager. You'll have to wait for around 30 days for this exclusive item to arrive.
Top-Quality Materials
You can be sure that all of the materials used for both toys are completely safe and are of the highest quality. So, it doesn't matter whether you choose the 24k gold option or the stainless steel one – you're getting the best items on the market.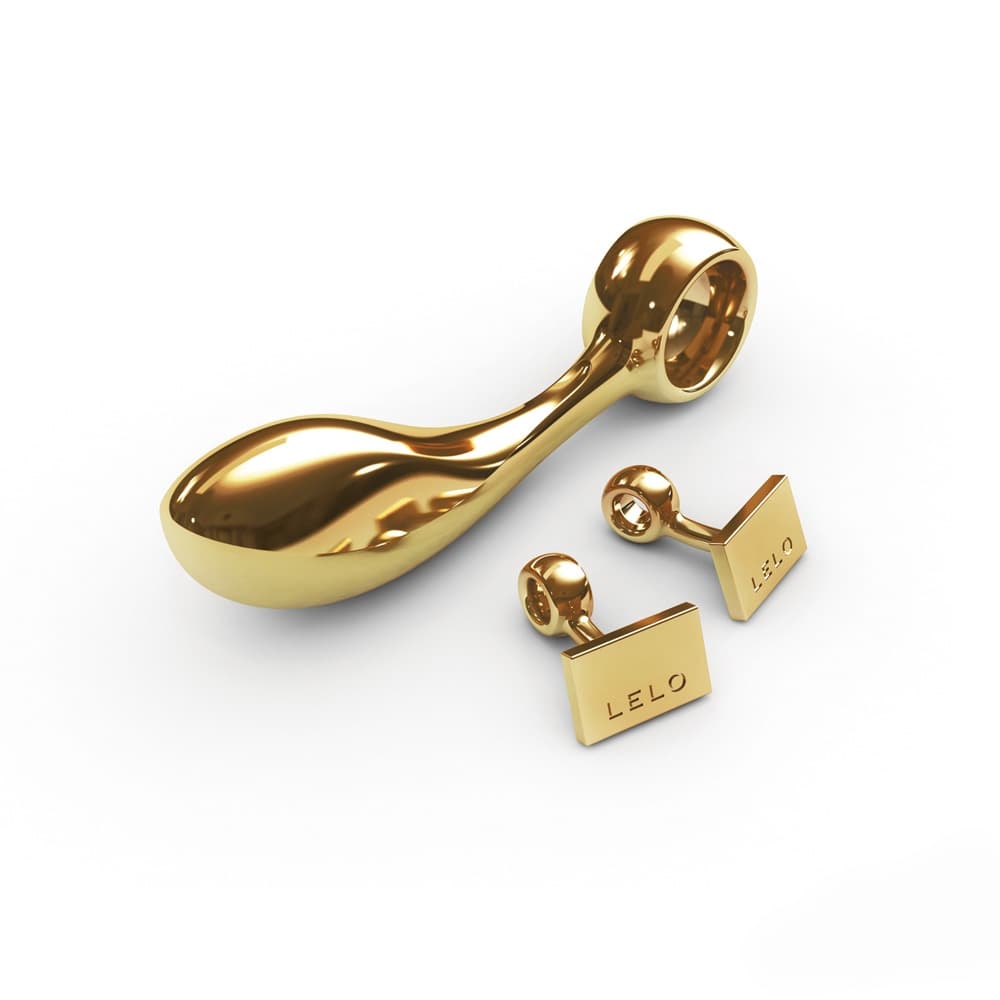 Pleasure For Men and Women
Even though it's advertised as a prostate massager for men, it's actually a lot more. LELO EARL has an ideal shape that will work with stimulating the G-spot to bring pleasure to your female partner.
However, if you're planning to use it for G-spot and P-spot stimulation as well, be very mindful about the proper hygiene of the sex toy. Otherwise, it could have sad consequences for your or your partner's health.
Ergonomic Design
LELO EARL is ideally shaped for the human anatomy and can easily reach P-spot as well as the G-spot from many angles.
At the end of the non-insertable side, LELO EARL has a ring-shaped handle. This handle is perfect for couple's play as well as solo stimulation.
Having the ring-shaped handle gives you full control over the depth, speed, and angle at which you want to use EARL.
Hot and Cold
Another great thing about LELO EARL is that it's temperature-sensitive. So, if you find some warm or cold sensations more arousing, you can adjust their temperature according to your needs.
EARL can be warmed up between your hands or cooled down in the refrigerator. However, you should never place it anywhere where the temperature is below 2 degrees Centigrade.
Using it at such a low temperature can be harmful to you and your partner, as well as for EARL himself.
Discreet Shipping
Even though you'll enjoy bragging about it to your significant other, I doubt that you'll want the whole world to know about it. So, worry not.
As always, LELO will keep your sex life private and you'll get your items discreetly packed.
Using and Taking Care of LELO EARL
LELO EARL is not a vibrating prostate massager, so there's not a lot to talk about in terms of how it works. However, I believe it would still be useful to know how to take care of it properly, as well as some useful tips and tricks.
The washing part. Use warm water and antibacterial soap to wash LELO EARL and immediately dry it with a lint-free towel. Never use cleansers that contain alcohol, petrol, or acetone.
The storage part. Keep it away from sunlight, dust, and other materials. The best option for proper storage is the luxurious box that EARL arrives in.
The lube choice. The ideal lube choice for LELO EARL is a water-based one. Never use it with essential oils or massage oils.
What to avoid. Besides the things to avoid listed above, be sure to keep it away from high heat and temperature below 2 degrees Centigrade.
Enhancing sensations. Use hot/cold sensations for extra pleasure.
Overall, using and taking care of LELO EARL is simple. However, o ensure the longevity of your prostate massager be sure to read the detailed instruction manual that will arrive along with EARL.
Also, keep in mind that when it comes to insertable sex toys, hygiene is super important. Keeping your toys clean means keeping you and your partner away from sad consequences that can occur due to poor hygiene.
If you want to read more about how to properly use LELO EARL, you can read their instruction manual that is available online by clicking this link.
However, this manual could be outdated. At the time of writing, it says that EARL is made from 18k gold, while the website clearly states 24k.
What's Included in The Package?
Unpacking a sex toy is always exciting. However, unpacking a luxurious device like LELO EARL is even more thrilling. Once your sex toy is ready for you, here is what you will get in the delivery box: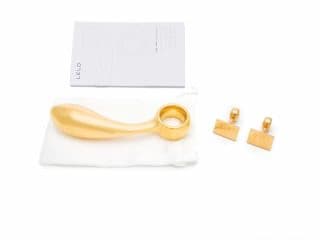 EARL™ Massager (stainless steel or gold)
Luxurious Wooden presentation box, ideal for storage
Satin storage pouch that is handy when traveling
Warranty registration card
Detailed instruction manual for proper use and care
Matching cuff links
Well, the matching cuff links are a nice touch to the sex toy. However, the only problem I have with them is the LELO branding on them. As expensive as they are, I certainly wouldn't feel like it's the best accessory for a business meeting. Unless I work in the sex industry. Then they're absolutely perfect to show off your status.
As you can see from the full list of items that you get with LELO EARL, the only thing that is missing is the lube. Even though it will take time to get your new prostate massager, be sure to order some water-based lube upfront.
LELO EARL Downsides
Even though it's an exclusive and luxurious prostate massager made from top-quality materials, LELO EARL does have a couple of downsides that are pretty obvious:
The Price
Naturally, as I mentioned in the beginning, LELO EARL does come with a steeper price tag. However – you always pay for luxury items and pay for them a lot. EARL is not an exception.
So, if exclusive sex toys are not for you – EARL probably isn't as well. However, LELO EARL can be purchased with a payment plan where the full price is paid over a period of 4 months in equally split shares.
Long Wait Time
Even though you don't have to sign up for a two-year waiting listing, LELO EARL won't arrive at your doorstep in several weeks.
Since these prostate massagers are exclusive and only produced on-demand, you will have to be patient. The average waiting time for LELO EARL is around 30 days.
LELO EARL Alternatives
Naturally, there aren't many 24k gold prostate massagers, so the best alternatives to LELO EARL that I can offer are made from cheaper materials that are still of very high quality.
However, if you want to stay classy and have a luxurious item, I would recommend you to consider some cheaper prostate massagers that are also produced by LELO.
If you want a vibrating prostate massager that would stimulate your p-spot from both sides, take a look at LELO LOKI WAVE.
If you want a similar treatment that LOKI WAVE can offer you but with the bonus of using the remote control, LELO HUGO should be on top of your list.
Both of them cost just a little above $200, however they're totally worth the money.
Overall Verdict
Overall, LELO EARL is an exclusive pure 24k gold item that really shows off your status, especially to your partner. It is obvious that this sex toy is not for the average Joe. LELO EARL is for successful men only and I'm sure you're one of them.
So, if you're in for luxury and exclusivity – LELO EARL could be your dream sex toy. It shows your status and can be an incredible gift to your partner that really shows how much you love him.
If you're ordering it as a gift, you will have to wait for 30 days for it to arrive! So, keep that in mind.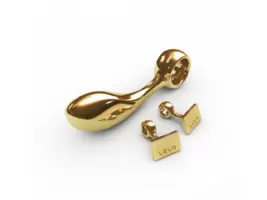 Order Now
Ready to order? Visit LELO today and order your exclusive sex toy now!