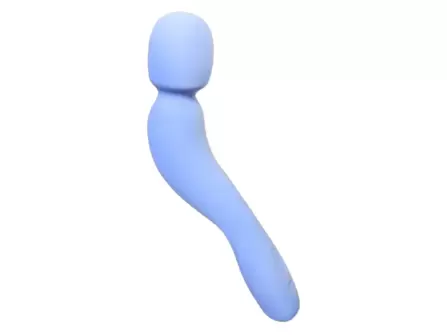 Dame Com
Overall Rating
4.58 out of 5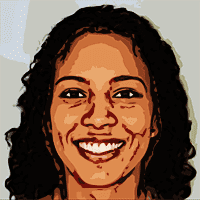 Written by
on , updated on
Dame Com
The Dame Com wand vibrator is a great choice for anyone looking for a powerful and versatile vibrator. Its unique design means that it can be used only for external stimulation, making it a great option for those who like a versatile device that works as a massager as well. The Com wand is also rechargeable and waterproof, making it a great choice for anyone who wants to use it in the shower or bath.
The Benefits Of Dame Com
Here are the main benefits of choosing the Dame Com wand vibrator.
Ergonomic Shape
The Dame Com has s very ergonomic design which makes the toy super easy to use. Everything about the toy is very intuitive. It works as a multipurpose massager that can actually help you relieve the tension in your neck and back.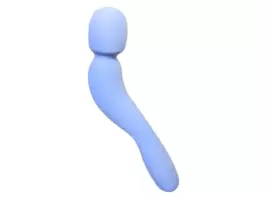 Order Now
Versatile Stimulation
While it's technically a wand vibrator, it is not designed for internal stimulation. However, you can use it to stimulate the clitoris. Naturally the same applies to using it on your other erogenous zones.
Body-Safe Materials
Dame uses only the highest quality materials to manufacture their toys. Since the sex toy market is still very unregulated, reading the label is very important. Especially if you encounter a brand that you're not familiar with. This toy is made from medical-grade silicone. It's the highest quality silicone available. It's hypoallergenic therefore won't cause you and your partner any skin irritations or allergies.
Easy to Use
All Dame toys are very intuitive and simple to use. They don't require any previous knowledge or expertise. The same applies to Dame Com.
Couples-Friendly
While it's a wand massager, you can still use it as a stimulator for the clitoris during penetrative sex. Having a helping hand during penetrative sex makes life a lot easier for women who have difficulty reaching orgasms solely through penetration. This way you and your partner can focus on each other more while the toy does part of the job.
100% Waterproof
This wand vibrator is completely waterproof. This means that cleaning is going to be super easy and won't require a lot of effort. Also, you can take the toy with you to the shower for a relaxing massage.
Specifications
Here are the technical specs of Dame Com:
Medical Grade Silicone and Waterproof Design
5 Intensity Levels x 5 Pattern Modes
10.5" L x 1.75" W x 3.5" D
Run time: 1 hr at highest settings, longer if used on lower
Charge Time to Full Battery: 2.5hrs via Magnetic USB Charger
3 Year Warranty
As you can see, it is waterproof has a great run-time, and has numerous patterns for you to enjoy.
What's Inside The Box?
Here is a full list of items that you will be getting with your Dame Com vibrator:
Com vibrator
Magnetic USB charging cable
Storage bag to protect from dust
Detailed user manual
The only thing you can get extra is lube. Lube is used to reduce friction and make the whole experience smoother. As you know the clitoris is not self-lubricating, just like most of your body parts, therefore, lube is very helpful. However, don't use silicone-based ones, they don't work well with toys that are made from silicone. Choose a water-based one.
Dame Com In Action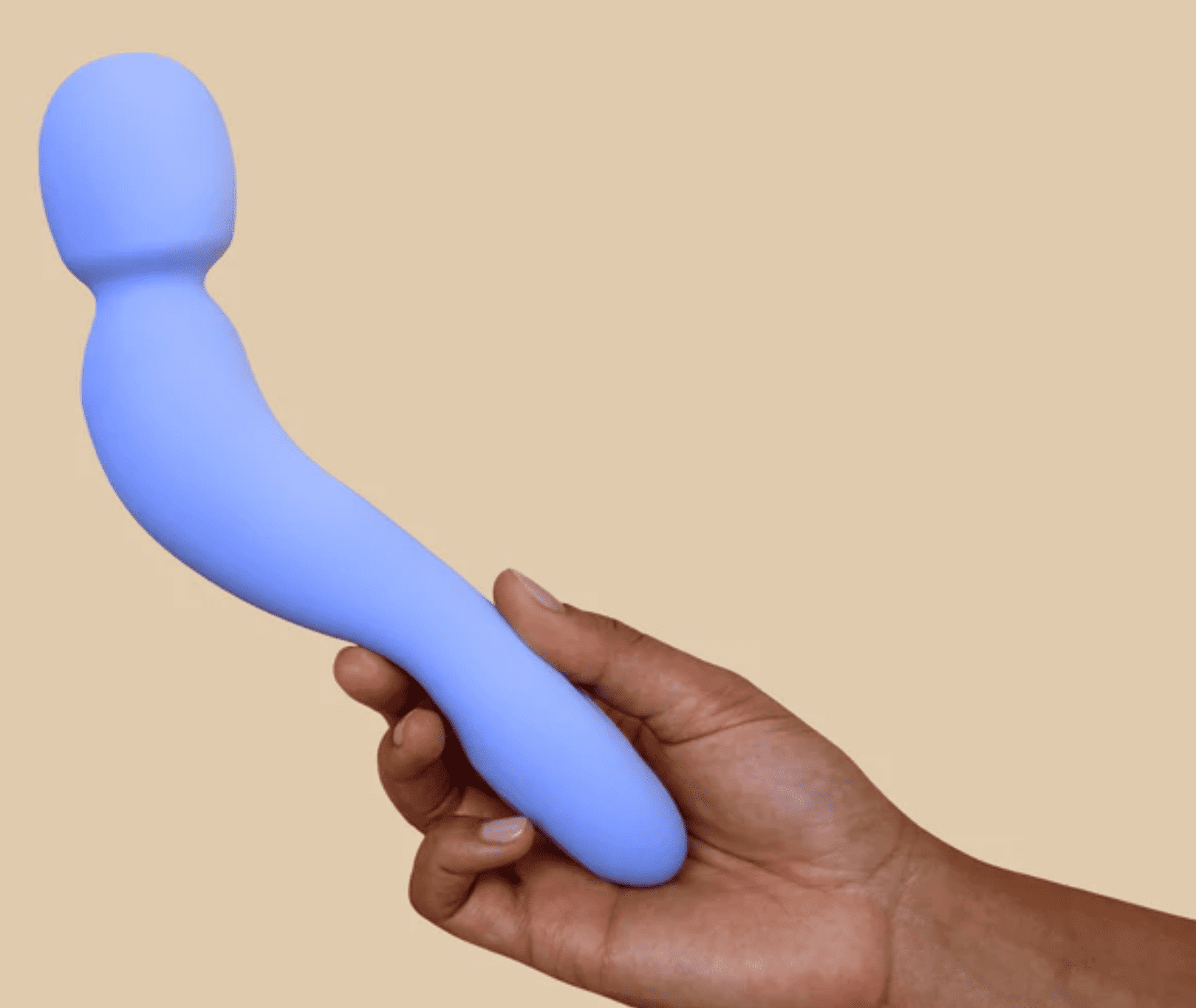 The Dame Com has a very ergonomic shape. It's comfortable to hold in almost any position. Also, compared to its alternatives it's pretty lightweight and doesn't get your arm tired fast.
The vibrations of this toy are strong and rumbly, therefore you feel the depth of the sensations rather than those buzzy ones that you only feel on the surface.
The Dame Com wand is also waterproof so you can have a massage in the bathtub. The toy is not loud so it won't catch anyone's attention.
The controls of the toy are easy and require no previous knowledge. The massages the wand can give you are relaxing and intense. However, whether you're giving a massage to your back or your clit, it may take some time to actually get used to those sensations.
The Dame Com is not as intense as the Hitachi Magic Wand, however, it's strong enough for a relaxing massage. When it comes to the stimulation of the clitoris, the performance is excellent. However, I suggest starting on the lowest settings because if you start on high settings, that may feel painful on the clitoris.
Tips For Using Your Sex Toys
Start Slow and Get Used to Experiences
Vibrator, internal or external may feel weird if you've never experienced one. Why? Well, there is no one answer to this question as different women will have different preferences when it comes to stimulation of their private parts. However, some tips that may help include experimenting with different techniques and speeds, focusing on the most sensitive areas, and using lubrication to reduce friction.
Hygiene is a Must!
If you don't clean your sex toys, they can become covered in bacteria, which can lead to infection. If you share your toys with others, you can also spread bacteria and other infections.
Moisturize and Lubricate
Lube is really important for clitoris stimulation because it helps the clitoris stay lubricated, which makes it more sensitive to stimulation. Massaging your clitoris and other erogenous zones is important because it can lead to sexual arousal and pleasure. Lubrication helps reduce friction and makes it more comfortable. It can also help increase the likelihood of orgasm.
Dame Com Reviews
You already know about my experience with Dame Com. Now, let's see in more detail what others are saying about it. Here you will find some Dame Com reviews, written by verified users on the official Dame website. I hand-picked the experiences of people who encountered the good and the bad of the product.
Definitely super strong vibration, it's only my second external vibrator so while I dont have a lot to base it off of, I personally love it! For me, I unfortunately discovered that i get off more to pressure, suction, and motion rather than vibration, but my partner LOVES it!
Very great for edging, the multiple settings is really fun to experiment with. Also, the ergonomic bend and light divot between the head and the body of the vibrator gives a lot of freedom in how you can hold it, as well as unique positions that you cant normally get with a traditional hitachi.
Also, I havent yet, but the size and way it bends makes it seem quite easy to tie tightly to the body of your sub, if that's something youre into ;).
Overall, While it isnt a game-changer for /me/ personally, thats just how my body works, and it is still amazing stimulation for me and my partners during sex or masturbation. Do give this a shot if you've been thinking about it for a while, it's definitely a worth-while purchase!

Skyler F.
Com was my first vibrator and I love it! I love the different power and patterns settings . I ended up buying another one on the site but I enjoy this one the best, mostly because of the curved handle and the fact that it is larger and focuses on the external areas. I have the most intense orgasms and am so happy with my purchase! Super easy to charge, clean, and store away.

Alicia C.
Color was fabulous, like a beautiful spring flower! Vibrations were on point, I love the levels of increased vibrations and the different settings (though I love to go full steam with just steady vibrating). I think the curve of the wand was so key, both for solo play and partner sex. Amazing toy with awesome range of activities!!

Carolina K.
I bought the Com with somewhat realistic expectations in my head…I've owned and used a Le Wand for years now, but recently lost the cord and decided to try something similar with hopes that it would be just as good. There are pros and cons to the Com when compared with the Le Wand…The Com is much sleeker, more lightweight, and waterproof…it's ergonomic shape makes for a better experience in my opinion.
The only con that's even worth mentioning, is that if you're experienced with a different wand like the Le Wand, it's hard to match the intense 'heavy' vibrations. I think it has to do with the weight of the device. That's the only reason I'm giving the Com 4 stars instead of 5. I think wand users come to expect the deeper vibrations. All in all, I'm super pleased with the Com. It's comfy, convenient, and LOVE that it's waterproof too!

Erika H.
Alternatives to Dame Com
Dame Com is a great sex toy if it matches your needs. However, there's a chance that you might be looking for something just a little bit different. Here are some alternatives to consider, if you feel like there might be something better for you.
Lelo Smart Wand 2 – a wand massager that is stronger than the Dame Com but not as intense as the Hitachi Magic Wand can get. Lelo Smart Wand also comes with a very sexy and attractive design.
Hitachi Magic Wand – technically it's a personal massager, however, it has some special rumbly settings that made it a worldwide famous stimulator for the clitoris. So if clitoral action is your primary interest (along with a relaxing back massage), this could be the toy for you.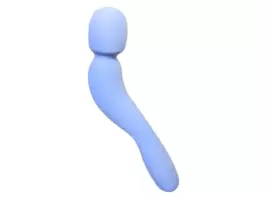 Order Now
The Verdict on Dame Com
Overall, Dame Com is a great wand massager that is lightweight and has an ergonomic shape. It provides deep rumbly vibrations which are excellent for relaxing your muscles as well as exciting your private parts.
So, if you are looking for a rechargeable and waterproof wand massager to stimulate your most sensitive parts as well as those that feel the tensest – Dame Com is the toy to check out.