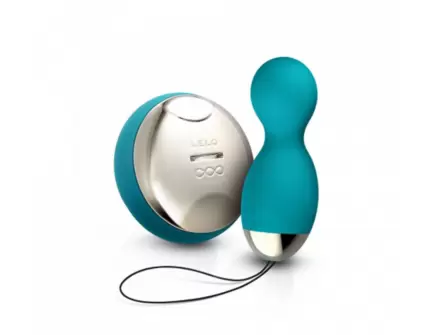 Lelo Hula Beads
Overall Rating
4.58 out of 5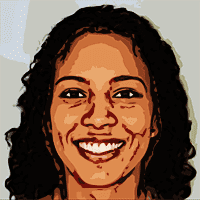 Written by
on , updated on
Lelo Hula Beads
Have you ever imagined small balls rotating inside you and step by step leading you to an intense climax? If you have, Lelo Hula Beads can help you fulfill this fantasy.
The Lelo Hula Beads are controlled via a wireless controller, so they can become the perfect couple's toy that you and your partner may have been looking for.
Let's start exploring these exciting Hula Beads from the benefits they come with.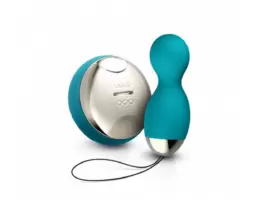 Order Now
The Benefits Of Lelo Hula Beads
Lelo Hula Beads come with numerous benefits that other sex toys can't offer you. However, they also have benefits that other sex toys can't offer.
8 Vibration Patterns
Lelo Hula Beads come with 8 vibration patterns. This amount of vibrating patterns is very common for Lelo sex toys and is perfect enough to find your groove and reach climaxes beyond your imagination.
Rotations and Vibrations
Lelo Hula Beads is not your regular mini vibrator. The balls inside the sex toy actually rotate and give your G-spot a new kind of experience. Personally, currently, I don't know another sex toy that can do what these beads do.
Body-Safe Materials
Lelo uses only the highest quality materials to produce their sex toys. So, you and your private parts are always in good hands. Silicone and ABS plastic are body-safe and won't cause any unexpected skin irritations or allergies.
Remote Controller
Lelo Hula Beads come with a classy-looking remote controller that you can use to control the beds yourself or give the controller to your partner so that they could be in charge of teasing as well as pleasing you.
Easy to Use
Using the beads is very simple. The remote controller that is in charge of how the beads work comes with a three-button interface. Two of those buttons will allow you to adjust the vibration intensity by increasing or decreasing them. The button in the middle allows jumping between vibration patterns.
Couple-Friendly
Since the toy has a remote controller, it's perfect for couples' play. Just imagine one partner having the beads inside their vagina and the other one teasing her in a restaurant (let's say). Such experiences do lead to very passionate sex. I know in my case that's completely true.
Fully Waterproof
Lelo Hula Beads are completely waterproof. So, you can use them wherever you like: in the shower while taking a bath or even a swim in the pool. Waterproof toys make taking care of them super effortless since you don't need to worry about water making damage to them.
The Specs
Here are the main technical characteristics of Lelo Hula Beads. Pay special attention to the size and use the time to know whether it's the right toy for you.
Materials: ABS Plastic / Silicone
Finish: Glossy / Matte
Size: 98 X 38 X 37 mm / 3.9 x 1.5 x 1.5in.
Insertable Length: 80mm / 3.1 in.
Weight: 67g / 2.4oz.
Battery: Li-Ion 3.7v 200mAh
Charging: 2 h at 5.0 V 200 mAh
User Time: 1.5hrs
Standby: Up to 90 days
Frequency: 125 Hz
Wireless Range: 12 meters
Max. Noise Level: 50dB
Interface: Single Button
Contents: Wall Charger, Storage Pouch, 1-Year Warranty
What's Inside The Box?
Unpacking Lelo products always feels like a mini celebration. Their packaging is very chic and makes you feel special each time you get a toy. Here is everything that you will be getting when you order Lelo Hula Beads: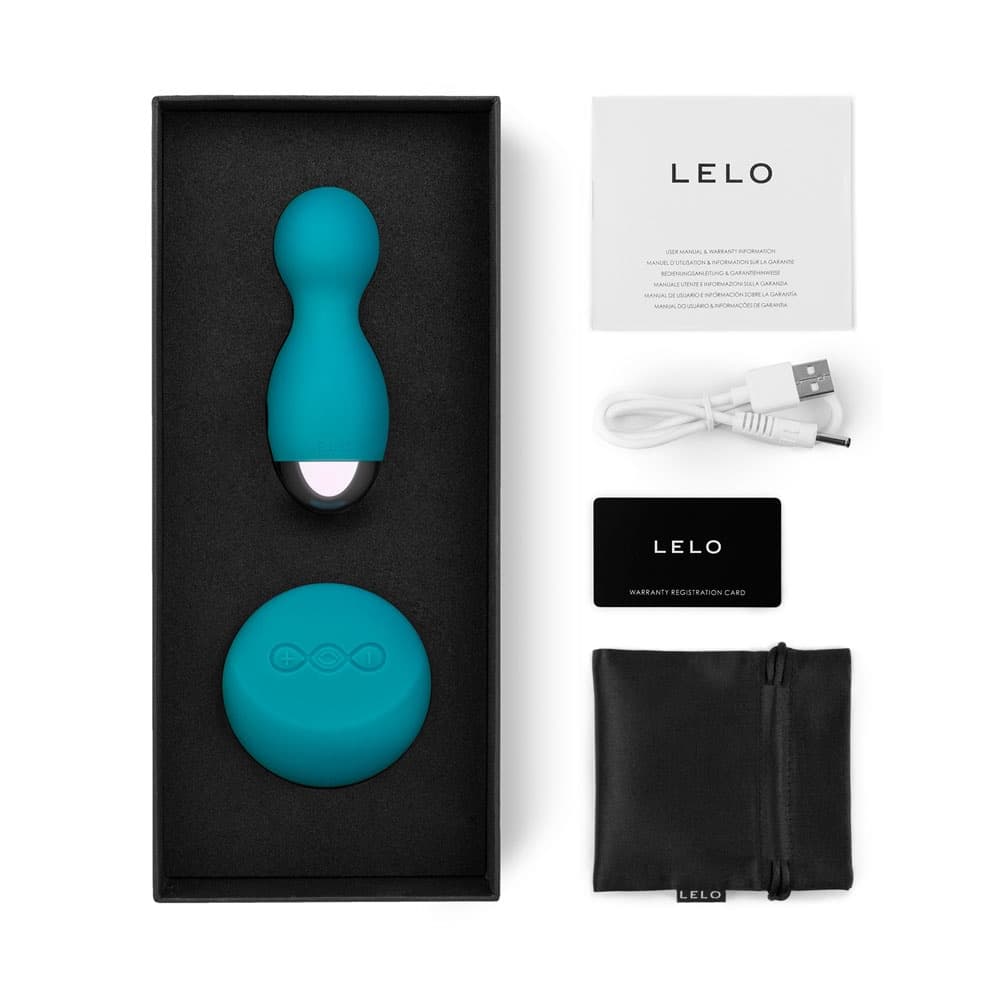 HULA Beads™ massager
Wireless Remote Controller
USB-Charging Cord
Satin Storage Pouch
Warranty Registration Card
Detailed Instruction Manual
2 x AAA batteries for Remote
Personally, I would recommend you to get some lube. Lubrication makes things glide in easier and overall is more fun. Even though the vagina is self-lubricating and does not require lube, your clit can't do that for itself.
Lelo Hula Beads in Action
When I tried the Hula Beads alone, without additional stimulation, and without involving my partner the experience was a bit disappointing.
First, the beads were not strong enough to satisfy me and it felt like they are stimulating me in slightly wrong places. It felt like they were close but not completely right. So, after 30 minutes of position adjusting, I simply gave up and helped the beads finish the job.
However, when I tried it together with my partner – it was a completely different story. First, the mood was completely different. Since I didn't have control, I just had to give in.
We went for dinner while I was wearing it, and after 15 minutes of eating – I couldn't wait to rip his clothes off. I don't know if it's the excitement of doing something slightly naughty in public, or the partner having all the control, or all the teasing. Maybe everything combined?
So, long story short, we didn't order dessert and had a crazy night.
Tips For Using Your Sex Toys
Here are some useful tips that will help you have a good experience with sex toys.
Always Use Lube
Lube is super important when playing with sex toys. It's the key ingredient that ties the whole experience together. Especially if you are using a sex toy on a place of your body that is not self-lubricating like the clitoris is. If you don't use lube, there will be a lot of friction, and friction causes skin irritation, even bruising. You know how sensitive your private parts are, so be gentle with them.
Don't Rush – Ease Into It
Don't focus on the orgasm, focus on the experience. Many people who buy sex toys often expect their minds to be blown by an out-of-this-world orgasm. However, it's better to not have such hopes. Each person is different and their experiences are different, so don't create an image in your mind of how the toys should work before you try them.
Hygiene is a Must!
Proper washing and storage of sex toys are essential. The use of dirty sex toys can be harmful to your health as they can be infected with microorganisms and bacteria that can cause infections. So don't be lazy and take care of your sex toys. They will pay you back later.
Lelo Hula Beads Reviews
It's pretty tricky to order things online. For me at least. Especially if they're not something that costs 10 dollars. So, it's always useful to do your research and collect information. This way, you will have realistic expectations of the product.
Reading reviews is an important part of that. Since everyone is different, each of us has a different experience. So, I selected some reviews from the official website of Lelo that highlight both, the positive and the negative aspects of Lelo Hula Beads.
Reviews, highlighting positive aspects of Lelo Hula Beads
Love everything about it. Love the look and love what it does. Also, it's waterproof. Easy to use anywhere. Be careful though using it outside, the controller can be noisy but it adds to the fun.

The insertion of it is easy. Variation of vibration styles make this toy unique. Orgasm, every time I use it! Can't recommend it enough.

-eapi
I bought this to add to my set of options for when I have female partners come over (you can never have too many ways for them to enjoy themselves). It has not disappointed, the motion is different from many types of vibrators and other toys, though very similar to the Ida. New sensations equal new enjoyments. I haven't used the remote control at any distance, so I can't speak to that. As for the toy itself, Lelo continues to excel.

-Michael B.
Reviews, highlighting negative aspects of Lelo Hula Beads
The beads move around, a bit loudly, the remote movement thing takes an effort to get used to. Having to put too much thought into it really isn't my vibe…no pun intended. Might be cool for couples who like playing with tech but not for me

– DawnTee
I was so excited to try this toy out but unfortunately it did not meet my expectations, especially given it's price tag. It lacks enough power to reach full climax but does feel good in conjunction with other stimulation. Like other reviewers, the short distance of range and loud control vibrations make this less than discreet for play away from home. Overall, disappointing.

-GirlyButch
Alternatives to Hula Beads
Lelo Hula Beads are an irreplaceable toy for me. However, you're not me and there's always a chance that you're looking for something quite different. Here are some great alternatives to Lelo Hula beads that I'm pretty sure you will like.
Lelo Lyla 2 – if you are looking for an internal vibrator and don't want anything too strong, you can consider Lelo Lyla 2 as an alternative. It's smaller than the Hula Beads and the vibrations a less intense. Also, it doesn't rotate inside your body to hit the G-spot. Lyla 2 still comes with a remote controller, so you can play together with your partner, or alone – whichever you prefer.
Lelo Smart Bead – if you're looking for a personal trainer rather than a vibrator for foreplay – Lelo Smart Bead is designed for exactly that. If you're not sure why exactly you need to train your pelvic muscles, let me tell you that just like any muscle in your body, without training and with age, they become flimsier and less effective. So, if you don't train your pelvic muscles, your vagina may become loose.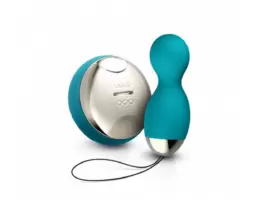 Order Now
The Verdict on Lelo Hula Beads
Overall, Lelo Hula Beads is a good toy for foreplay. You can wear them and give the control to your partner. That is super sexy and I'm pretty sure that it will make you so horny that you will rip off the clothes of your partner once you're home.
However, if you consider getting the Hula Beads instead of a vibrator, it may come short in power to satisfy you. So, in such a case, better consider some alternatives.