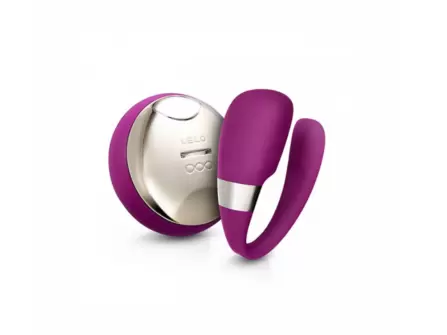 Lelo Tiani 3
Overall Rating
4.7 out of 5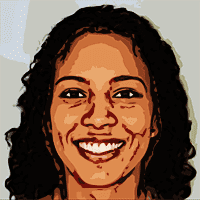 Written by
on , updated on
Lelo Tiani 3
Lelo Tiani 3 is a powerful and versatile couples' toy that could seriously spice up your sex life.
Designed to be worn during penetrative sex, Tiani 3 aims to make sex effortless for you and your partner.
Let's see whether it's the right toy for your couple's play.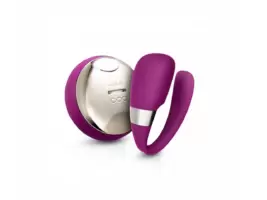 Order Now
Lelo Tiani 3 Specs
Here you will find the main specifications of Lelo Tiani 3. Make sure to check out the insertable length. It helps better understand how deep the device can go:
Toy Made From: FDA-approved body-safe silicone/ABS
Size: 3.1 x 1.8 x 1.3in. / 78 x 44.5 x 32 mm
Insertable Length: 3.1in. / 78.2mm
Interface: 1-Button + remote
Weight: 1.5oz. / 42g
Use Time: up to 2 hours
Charging: 2h at 5.0 V 70mA
Max. Noise Level: 50dB
Frequency: 125 Hz
Wireless Range: Up to 12m / 39ft
Lelo Tiani 3 Benefits
Lelo Tiani 3 is an exciting couple's sex toy that can bring pleasure during solo use as well. Here are some of the main benefits of owning a Lelo Tiani 3.
Dual Stimulation
Hitting the G-spot with a penis can get tricky. In some cases even impossible. Having troubles in their sex life can get frustrating for many couples. That's why having a helping hand at the moment of intimacy can seriously reduce the stress you're under and let you concentrate on each other.
8 Vibration Patterns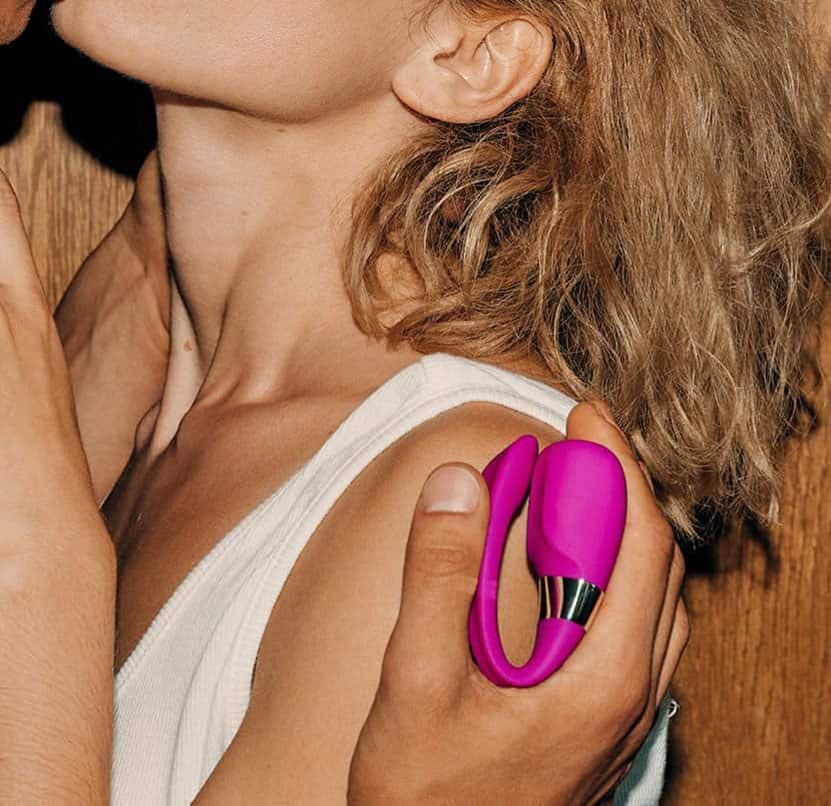 Since we have the G-spot covered, what about the clit? Worry not Lelo Tiani 3 will take care of the little fellow as well. The vibrator comes with 8 vibration patterns that will seriously stimulate the clit and bring orgasmic experiences.
Long-Runing Time
Even though the vibrations are strong, the battery the toy relies on is even stronger. Lelo Tiani 3 can please you for up to two hours, so it's great for those couples who enjoy taking it ultra slow. Or those who recover and are ready for round two immediately. The run time depends of course on the intensity of the vibrations you choose.
Body-Safe Materials
Lelo uses only high-quality and body-safe materials to produce their sex toys. Lelo Tiani 3 is made from top-class silicone. Silicone is super soft and hypoallergenic. This means that you won't experience any unexpected skin irritations or allergies.
Remote Control
Being able to control Lelo Tiani 3 from a distance is one of the best things about it. Just imagine yourself having incredible sex and about to orgasm yet you feel like you need a little bit more vibrations. You just hit a button on the remote. If you hand to manually adjust it, there is a chance that you could lose the orgasm moment.
100% Waterproof
Lelo makes water-friendly toys. So, you don't need to worry about splashing any water on it. Also, it could make your romantic baths with your partner that much more exciting. After all, how can you say no to sex in a bathtub? I know that I can't.
Discreet Shipping
Lelo values your privacy. That's why they pack all of your ordered toys in plain carton boxes that don't have unnecessary identification markers. Your privacy is respected with Lelo.
Tips For Using Your Toy
I like to share my essential tips for using sex toys with everyone who asks me. Since you're reading this review – I'll assume that you asked me. If it's your first sex toy – make sure to read them all. From what people write to me, I know that they tend to get intimidated by sex toys before trying out the first one. Let me help you reduce the overthinking.
Always Use Lube
Lube reduces friction to a minimum. This means that it protects your skin from irritation or bruising and the toy from ripping when they rub against each other. That's why when you're using your sex toys for playing with your anal cavity, your clit, or other body parts that are not self-lubricating – it's a must to have a lubricant.
Don't Rush – Ease Into It
Don't have expectations. The first time you're using a sex toy, it may be an odd experience, therefore, no one is guaranteed an orgasm. So, relax and enjoy the experience, the fireworks will come.
Hygiene is a Must!
When it comes to sex toys, proper hygiene is a must, not a choice. If you don't wash your sex toys properly (as the manufacturer suggests), they'll start to accumulate dirt and bacteria that can get transferred to you when you're using the toy. So, stay clean and safe!
What's Inside The Box?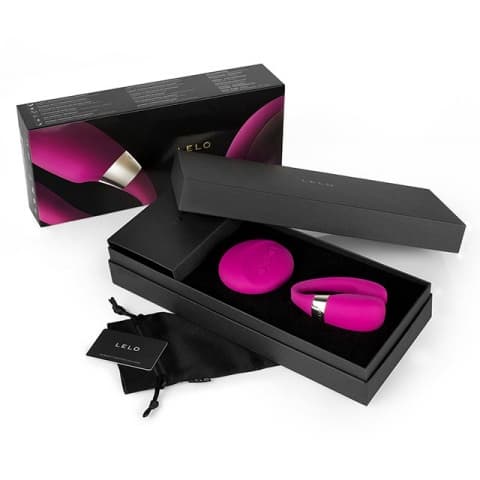 Whatever you order from Lelo arrives packed like some sort of luxurious gift or accessory. I really like how much they invested in the packaging. They really do make sex toys feel fancy. Here's the full list of items you will get when ordering Lelo Tiani 3:
TIANI™ 3
Wireless Remote Controller
USB-Charging Cord
Satin Storage Pouch
Warranty Registration Card
Detailed Instruction Manual
2xAAA batteries for Remote
As you can see, they got you covered from A to Z. However, if you want some experience some more extra smooth gliding – some high-quality lube is always a good choice.
Lelo Tiani 3 in Action
Lelo Tiani 3 is my favorite couples' sex toy that Lelo has created (so far).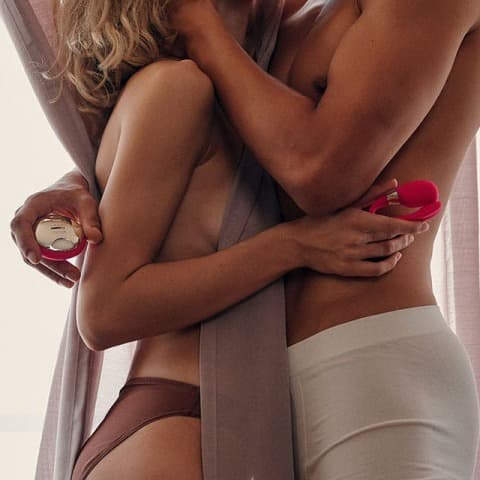 The toy works well in all positions we tried so far and does not move out of place. The head of the masturbator designed to stimulate the clit is wide, therefore slight movements won't cause you any loss of stimulation.
The inner handle has enough length to reach your g-spot and gently stimulate it. However, don't get confused, the inner handle does not vibrate. Yet, I didn't find it necessary, since the rubbing up and down the movements during sex cause was more than enough.
Lelo Tiani 3 Alternatives
Overall, Lelo Tiani 3 is my top pick when it comes to couples' toys of such type. However, what's best for me, does not necessarily mean that it's the best choice for you as well. That's why I made a shortlist of alternatives to Tiani 3, also available from Lelo. Check out and see whether any of them catches your attention.
Lelo Noa – if you liked Tiani 3, you may like Noa as well. Lelo Noa is a simpler version of Lelo Tiani. It doesn't have the remote control option, however comes with an around 60 dollars lower price tag. When it comes to the device itself, the part designed to stimulate the clitoris also has a different and more narrow head. So, for me personally, it would sometimes miss the spot.
Lelo Ida – if you're looking for a couple's toy that's less about the clit and is more about the G-spot, consider getting Lelo Ida. The handle that goes inside the vagina has a wider hear and actually rotates inside which helps to hit the G-spot from various angles. However, there's a downside to this toy. If you have a clitoris that's anatomically higher it may not reach it for proper stimulation since the outer handle is pretty short. So, better measure first.
Lelo Tara – if you liked what Ida has to offer, yet don't need the whole remote control option – consider Tara. It's basically the same device, minus the remote. And, of course, Tara is cheaper.
Lelo Tiani 3 Reviews
While some people praise a product, others might not like it at all. You already know about my experience with Lelo Tiani 3, so I believe it would be useful to see what other people are talking about it.
Here I collected some Lelo Tiani 3 reviews, written by verified users on the official Lelo website. The reviews I selected to highlight both positive as well as negative aspects the users noticed. Knowing these details will help you make a better-informed decision.
The negative experience with Lelo Tiani 3:
Wasn't the best…we were not impressed. A bit difficult to use and painful once in. We are opting for another couples toy

– Cali couple
The bend (between the internal and external portions) is too narrow and causes pain during rubbing during sex. There is no vibrator in the internal portions and vibrations are overall weak compared to competitors e.g. wevibe. The produce looks nice but this is all it has going for it. Finally, it should be noted that the items are shipped with 'LELO' and 'personal massager' on the box, so not discrete. My contact to customer services about this was not fruitful.

-Mr.l.
Thought this would be a lot of fun to try with my partner but a) it doesn't stay in place and b) the vibrations aren't strong enough for me. Also, the part that vibrates is a little too high up to hit the right spot when inserted. My partner didn't feel any vibrations either. I thought the part that goes inside also vibrated but that wasn't the case.

– Emeles
The positive experience with Lelo Tiani 3:
I've been thinking about getting something for awhile and I'm really glad I did! Solo time is fantastic now. I'm super excited to try it with my FWB. Plus it comes with a cute black bag.

– Liz O.
My boyfriend bought this for me about 2 weeks ago & I can't put it down. We've used it together multiple times & loved it & I've used it alone as well. Definitely recommend especially with the remote that also vibrates.

– sexkitten728
I have a very high sex drive and bought this as an added benefit for my boyfriend and I. Lawd lemme tell you, this thing literally gets me off in less than five minutes! As for the "quietness" I would have to argue that! I def don't think we could use this in public on the setting I like without others hearing it.

– Cheeksbryant
As you can see, for some it was mind-blowing, however, for others, it was below expectations. In some cases, the device was simply anatomically wrong. However, some expected the toy to do things that it doesn't (vibrate inside). So, to avoid such not-too-accurate expectations, as I mentioned before is to read about what you are buying!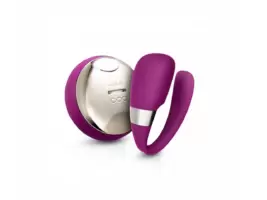 Order Now
The Verdict on Lelo Tiani 3
Overall Lelo Tiani 3 is among my favorites when it comes to couples' sex toys from Lelo. It's comfortable to wear, and stays in place when you're in various positions.
The remote control adds an extra kinkiness to the whole play since you can give control to your partner. Also, it's brilliant for solo play. So, if you're looking for the best couple's toy that Lelo offers – in my opinion, you just found it.