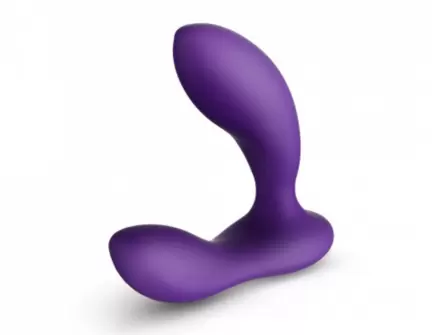 Lelo Bruno
Overall Rating
4.58 out of 5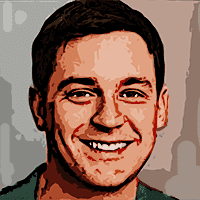 Written by
on , updated on
LELO BRUNO Review
It doesn't matter whether you're male or female, LELO BRUNO has a lot to offer. Even though it's originally a male masturbator, some reviews online suggested that it could be pleasurable for the ladies as well. Turns out the LELO BRUNO reviews weren't wrong and both sexes can benefit from this prostate stimulator.
Since most of my readers are men, in this LELO BRUNO I'll be talking mostly about how men can benefit from this prostate massager. However, I'll add some info on how you can pleasure your lady friend with it as well.
BRUNO is yet another top-quality product designed by LELO, who fairly earned their name as one of the top sex toys manufacturer in the market.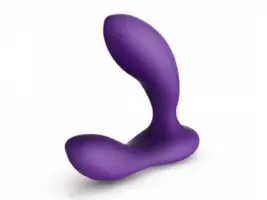 Order Now
So, let's see in-detail what LELO BRUNO can offer you.
LELO BRUNO Benefits
It doesn't matter what product we're talking about, the benefits is always the most exciting part to read about. So, without any further ado, let's see what LELO BRUNO can offer you.
6 Intense Vibration Patterns
LELO BRUNO is not your simple prostate massager that offers only one type and boring vibrations. LELO BRUNO can offer 6 different vibration patterns that I am sure you will enjoy. Below I'll give you a short description of each, so you would know that you're getting yourself into:
1st pattern features a constant and powerful vibration with no interruptions'
2nd pattern will give you and interruption-free low vibration
3rd pattern will allow you to experience some movement back and forth in a regular rhythm
4th pattern is pulse-like, so vibrations will be followed by short pauses
5th pattern is similar to fourth only the vibrations are longer-length
6th pattern is random, so you'll get a surprise variation of vibrations each time.
As you can see LELO BRUNO has a lot to offer, so it's completely up to you to discover your favorite rhythm. Mine turned out to be the 6th pattern, as I enjoy surprises.
2-Way Stimulation
If you're the type of guy that enjoys double stimulation on your p-spot, BRUNO could be the prostate massager that you're looking for.
Having 3.4in insertable length makes BRUNO optimal for reaching the prostate without any discomfort of it being too big if you're a beginner.
The outer handle of LELO BRUNO is comfortably shaped and you'll have no problems reaching your prostate from both sides at the same time.
There are many double prostate massager manufacturers that fail in creating a sex toy that matches the male anatomy. Be sure LELO is not the case.
Beginner-Friendly
Since the insertable length is 3.4 inches and the widest part of it is 1.1 inches, this prostate massager is completely suitable for beginners.
However, if it's your first prostate massager and you've never had anything bigger than a finger up your butt, be sure to warm yourself up with a finger before you actually put in the massager.
This way your rectum muscles will be more relaxed and you'll eliminate the unnecessary traction. Of course, be sure to use lube – it's a must!
Ergonomic Design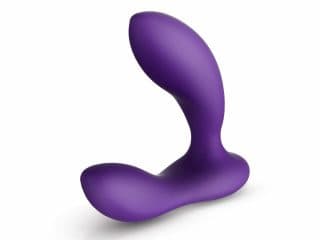 LELO always has the human anatomy in mind when creating their sex toys. BRUNO – is no different. Getting a double prostate massager fit right is quite a challenge and LELO came out on top.
It's not only super ergonomic, it's also made from medical-grade silicone that's skin safe and feels super silky smooth against your skin. You'll immediately understand what I'm talking about once you have your LELO BRUNO in your own hand.
100% Waterproof
I'm the type of guy who enjoys taking pleasure in the shower. So, if you're like me – great news, BRUNO is completely waterproof.
However, keep in mind that even if you use it in water, you still need to use lube. As I mentioned before, anal sex toys only work well when they're generously lubed up, otherwise, you're getting yourself into one painful experience.
1-Year Warranty + 10 Year Guarantee
With LELO you get only the best treatment. Once you get your LELO BRUNO, be sure to register it on their official website. This way, you'll be entitled to a 1-year warranty, which means that your device will be replaced with a new one in case something unexpected happens.
Also for another 9 years, you'll be guaranteed a 50% discount on a new sex toy, in case your device breaks.
Fully Rechargeable
LELO BRUNO is fully rechargeable via USB. So, there is no need to buy any batteries.
However, the charging time is usually around 2 hours. Technically the battery lasts for 2 hours as well. However, it depends on how you use it. The stronger the vibrations – the faster it will die.
For me personally, it lasts more than 2 hours, yet I recharge it after every couple of uses, just to be sure that LELO BRUNO doesn't die on me when I'm about to cum.
Discreet Shipping
Privacy is highly valued by LELO. You can be sure that each and every item that you purchase directly from them will come in unmarked boxes. No one will be able to tell what you actually ordered and from where. So, get it delivered to any place you like without worrying that someone will find out about your sex life.
How LELO BRUNO Works and Feels?
LELO BRUNO is a very simple-to-use device, so if you've already used anything similar, you can skip directly to the part about how it feels.
However, if it's your first prostate massager, here's a short 3-step tutorial to get you started with BRUNO:
1st Step: Unboxing BRUNO and Charging
Naturally, the first thing you need to do when LELO BRUNO arrives is unpack it. Then you need to wash LELO BRUNO and fully charge it. The charging will take around 2 hours. Once you have BRUNO clean and charged proceed with step 2.
Despite your sex toy being brand new – be sure to wash it. I always recommend that to everyone and most manufacturers do it as well. So, don't skip this step. Actually, wash your sex toys before and after EACH use.
2nd Step: Lube Up and Control LELO BRUNO
First, generously lube up LELO BRUNO. When I say generously – I mean it. Before you put it in your butt, you can familiarize yourself with its controls. Since it has only one button control, it's pretty easy, to use it. Simply click the button to switch the pre-programmed vibration patterns.
Once you're familiar with the controls, you can start using BRUNO. However, if you're not very experienced with prostate massagers, get yourself excited and relaxed.
Dong this will help your butt muscles relax and you will feel a lot less traction when putting BRUNO in. Also, you can play with your finger first before you start playing with the sex toys.
Once you're ready, slowly put your lubed-up LELO BRUNO in. Once it's in position, turn it on to explore the different vibrations. In no time, you'll feel your orgasm arriving!
3rd Step: Cleaning and Maintenance
LELO BRUNO is fully waterproof – so it's easy to take care of it. Warm water and hypoallergenic soap is completely enough. However, be sure to do a good job washing it properly, after all – it's been in your anus.
Besides keeping your toy clean, the only thing you need to take care of is keeping it charged. To store it properly is easy as well, LELO BRUNO comes with a dark silky pouch.
How LELO BRUNO Feels?
Since it's made from medical-grade silicone, LELO BRUNO feels silky smooth in your hands and up your butt.
Putting it inside won't be a problem for experienced users, however, even though BRUNO is not super big, I would still recommend you to start with your fingers to help your anal muscles relax. Despite that, LELO BRUNO is perfectly beginner-friendly.
Even though BRUNO has only one control button, it could still benefit from a remote control, similar to LELO HUGO. Somehow, the double stimulators are better to control from a distance.
In terms of vibrations, the 6 different patterns are completely enough for a double prostate massager. Since I like surprises, the random mode is my favorite, however, the other 5 work nice as well. Personally, I would enjoy it more if I could also control the intensity. Yet, if you're a beginner – 6 levels are enough.
As always, LELO did an outstanding job in terms of BRUNO shape. It perfectly reaches every part it should, without causing any discomfort or any need to put yourself in a specific position.
What's in The LELO BRUNO Package?
Knowing what's included in the package is useful. This way you know whether you need to buy any additional items, or whether you need to simply sit back, relax and wait for your parcel to arrive.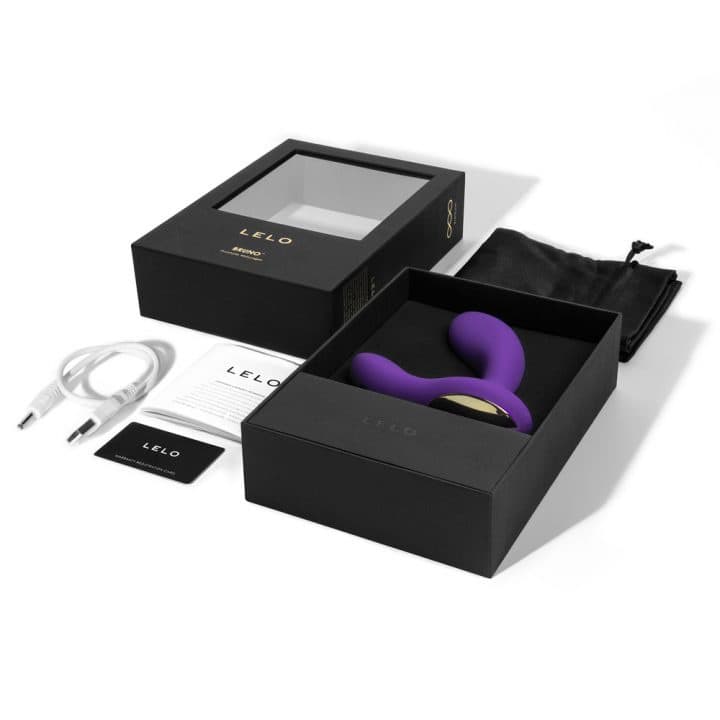 So, here's what you'll get with your LELO BRUNO order:
LELO BRUNO prostate massager
?USB-charging cord
Satin storage pouch
Warranty registration card
Detailed instruction manual
As you can see from the list above, the only thing that's missing is lube. Water-based lube works perfectly with LELO BRUNO and any other sex toy.
If you're not very familiar with lubes, let me tell you a little secret. Water-based lube works with any kind of sex toy material. So, in case you prefer other types, just get the water-based one.
However, if you're considering getting a different type of lube, make sure it's compatible with this sex toy.
LELO BRUNO Downsides
Even though LELO BRUNO comes with a lot of benefits, there are several downsides to it that could encourage you to look into its alternatives.
Could Be Too Small For Pros
Since BRUNO is mid-sized, it's perfect for most men. However, if you're a prostate massager enthusiast and enjoy the really big ones, it could be too small for you.
No Remote Control Option
I personally enjoy the prostate massagers that offer double penetration at once to be remote controlled. Even though most men won't find any issue in using it, for me it was a downside.
Alternatives to LELO BRUNO
Today the sex toy market is full of many excellent prostate massagers. So, if you feel like LELO BRUNO is not exactly what you're looking for, take a look at these alternatives I gathered for you.
If you're looking for something bigger – take a look at LOKI and LOKI WAVE. LOKI is an excellent choice for those who want a bigger prostate stimulator and wants the p-spot to be only stimulated from the inside.
However, if you want a bigger prostate massager with double stimulation – take a look at LOKI WAVE.
However, if you feel like BRUNO has the right size and the only thing that's missing is the remote control option – LELO HUGO is the prostate massager for you. Actually, it's one of my favorites as well.
The Verdict
Now that you've read all about the LELO BRUNO – time for the verdict.
As always, LELO made a top-notch sex toy that will suit most men's needs. BRUNO is mid-sized, so it is completely beginner-friendly and six different vibration modes should cover your needs.
However, if you're the type of guy that's looking for a bigger sex toy or one that has a remote, check out the alternatives that I've listed above.
So, if you feel like LELO BRUNO is the prostate massager that you're looking for, be sure to get it directly from the manufacturer and benefit from all the warranties that come along with it.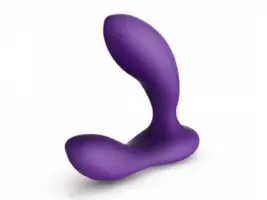 Order Now
P.S.: Don't forget to register your BRUNO online, once it arrives.