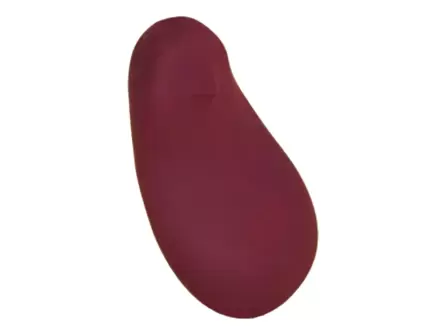 Dame Pom
Overall Rating
4.45 out of 5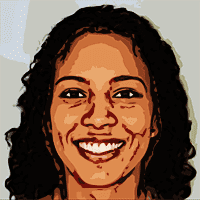 Written by
on , updated on
Dame Pom
The Dame Pom is a unique clitoris massager that is designed to provide targeted stimulation. The massager is made from a soft, flexible material that contours to the body, making it comfortable to use. The massager also has a powerful motor that delivers intense vibrations. The Dame Pom is a great choice for anyone looking for a clitoris massager that is both comfortable and powerful.
The Benefits Of Dame Pom
Here is a detailed list of the benefits that you will be getting together with Dame Pom clitoral vibrator.
5 Patterns + 5 Intensities
This vibrator has 5 different vibration patterns and 5 intensities to choose from, giving you a total of 25 different modes to choose from. You may find the one for you, or you may find a new one each day.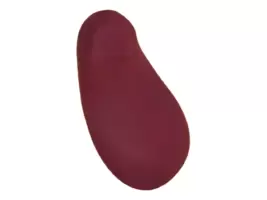 Order Now
Flexible Body
Dame Pom is bean-shaped and has a flexible body that can easily be adjusted to your anatomy. This means the toy will fit nearly any woman and leave no areas untouched.
Body-Safe Materials
The sex toys produced by Dame are made from only the highest quality materials, including medical-grade silicone. This silicone is the highest class available and is 100% hypoallergenic, meaning that you and your partner will be protected from any unexpected skin irritations or allergies.
Easy to Use
Pom is just as easy to use as other Dame products and doesn't require any expertise or knowledge to get started. The controls are very intuitive, so you just need to try them out to see how the toy works.
Couple-Friendly
The Dame Pom can be used for solo play or during sex with a partner. The extra stimulation to the clitoris can help women who have difficulty orgasming from penetration alone. With the toy doing some of the work, you and your partner can focus on each other.
100% Waterproof
This vibrator is great for use in the shower or bathtub as it is completely waterproof. So, if you enjoy taking long hot baths, you might start enjoying them a little bit more.
Specifications
Here are the technical specs of Dame Pom:
Made from Medical Grade Silicone and fully Waterproof
5 Intensity Levels x 5 Pattern Modes
3.25" x 2.2" x 1.2"
Run time: 1 hr at highest settings and Charge Time to full: 2 hrs
3 Year Warranty
Magnetic USB Rechargeable
The toy is completely body-safe, has a pretty long warranty, and has many vibration patterns for you to enjoy.
What's Inside The Box?
Here is a full list of items that you will be getting with your Dame Pom vibrator:
Pom vibrator
A magnetic USB charging cable
A storage bag to keep the toy away from dust
Detailed user manual for quick start
While the vagina is self-lubricating, a helping hand for the clitoris never hurts. That's why having some lube never hurts. On the contrary, it helps to reduce friction and make the whole experience smoother. However, don't use silicone-based lube with the toy.
Dame Pom In Action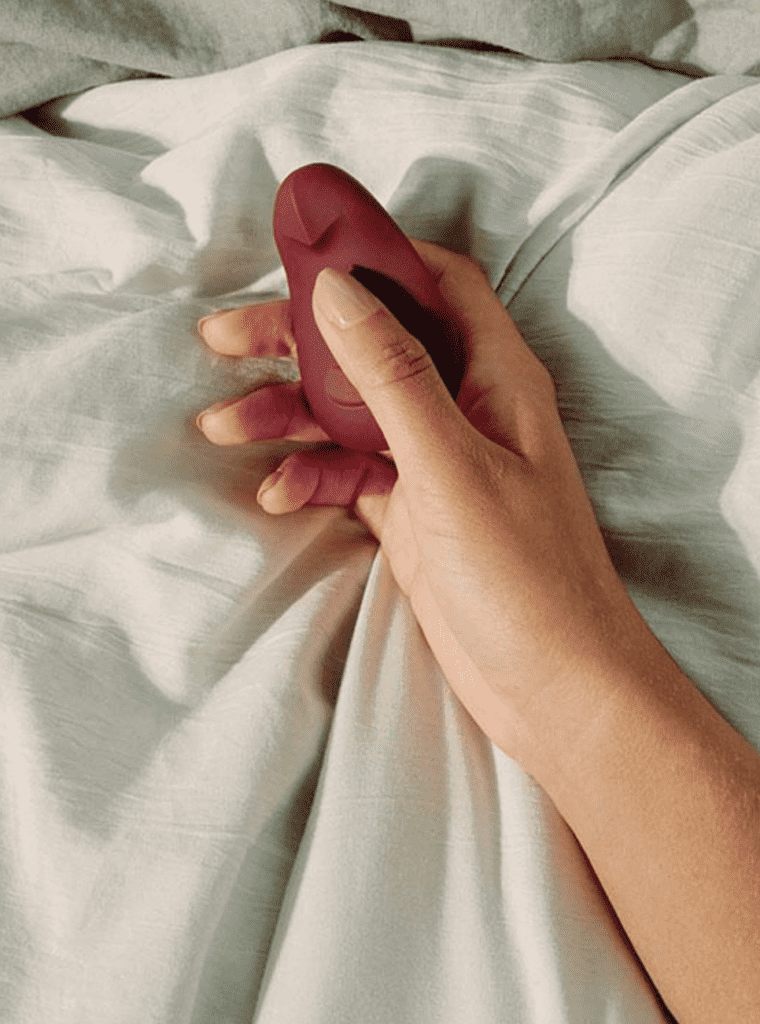 The Dame Pom is a small, multi-speed vibrator with a unique shape that's specifically designed for stimulation of the clitoris. The vibrator has a bulbous tip that's slightly curved, making it easy to target the tip of the clit. The body of the vibrator is relatively thin, making it easy to maneuver around.
I was really excited to try out the Dame Pom vibrator, and it did not disappoint! The vibrator is small and discreet, making it easy to carry around in my purse.
When it comes to using it, start by using your fingers to guide it into position. Once in position, press the button on the base of the vibrator to turn it on. Apply pressure and/or movement as desired. To increase the intensity or switch between vibration patterns, press the buttons on the toy again.
The vibration is strong and very pleasurable, and the different settings allow me to customize my experience. I would definitely recommend this vibrator to anyone looking for a strong, portable vibrator.
Tips For Using Your Sex Toys
Get Used to Experiences
There are a few reasons why the first vibrator might feel weird. It could be because it's a new sensation, or because the vibrator is different from other types of stimulation that you're used to. It's also possible that the vibrator is too strong or too weak, depending on your preferences. If the vibrator feels too intense, try using it in a lower setting. If it's not intense enough, try a higher setting. Experiment until you find a setting that feels good for you.
Hygiene
Cleaning sex toys is important for several reasons. First, it helps to prevent the spread of bacteria and other organisms that can cause infections. Second, it can help to prolong the life of your sex toys. Third, it can make them more pleasurable to use. Finally, it can give you peace of mind knowing that your toys are clean and safe.
Using Lube
Friction makes using sex toys bad because it can cause the toy to break or wear down over time. It can also cause discomfort for the person using the toy. To fix this, you can use a water-based lubricant on the toy to reduce friction.
Dame Pom Reviews
I have already told you what my experience with Dame Pom was. However, every person is different therefore, no two experiences, especially when they're this intimate, are ever the same. Here I selected some Dame Pom reviews, written by verified users on the official website. The reviews highlight the good and the not-so-good aspects of the toy. This way you will know better what to expect from it.
I love the silky feel of the silicone in my hand and how small and discreet this vibrator is. As vibrators go, it's very quiet. It even comes in its own silk pouch. I find the shape a little awkward though. I guess I'm used to a wand shape and find that it doesn't fit against the clit in the way I want. Seems like it should have a harder knob at the end. Anyway, I bought this to try with my partner as it seems like this could easily fit between us, but I haven't had the chance to try it with him yet. Maybe this will be a more exciting toy to use while with him.

Lina T.
I was really excited to try out the Pom, but after using it about 3 times, I found it very hard to adjust the settings. Additionally, it wasn't powerful enough for me to reach orgasm. It feels great and looks great and is very quiet, but I'm finding that toys that use a usb charging system just aren't powerful enough.

Caroline S.
Let me start by saying this: this is a nice little vibe. BUT, there are some serious design flaws, namely having the buttons for changing intensity situated right where you hold the vibe, which means I'm constantly surprising myself (sometimes welcome, sometimes not!) when I accidentally push the button mid-session.

Also, I had to get a replacement within the first month of having this product. It simply kicked the bucket and randomly stopped working, only turning on sometimes and randomly changing settings when it was on. Dame was responsive and helpful but asked me to do about 30 minutes of trouble shooting before sending a replacement product. For $100, the vibe should be a reliable product and any issues should be handled by their tech folks, not the customer.

That said, I do like this product and especially appreciate the vibration frequency; so many products on the market use high frequency vibrations that are too intense, but not this one.

Amelia W.
WOW!!!!!! I mean- This product is just next level. After using it for the first time and having the most insane orgasm in my life, I had to pause for a second! LOL! It is so convenient and easy to use. Super easy to use during sex as well! Life changing. Worth every penny.

Lauryn D.
Alternatives to Dame Pom
Dame Pom is a fun and flexible vibrator for your clitoris. However, it's not one-of-a-kind. Here are some alternatives to Pom, if it's not exactly what you're looking for.
Lelo Nea 2 – this vibrator has a similar shape, however, is not flexible. Yet, the shape is very well thought out and rests against the clitoris brilliantly.
We-Vibe Touch X – slightly larger but perfectly fits in your palm for a comfortable pleasure for the clitoris. Intense vibrations and soft touch for maximum pleasure.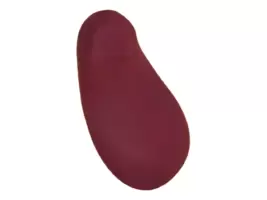 Order Now
The Verdict on Dame Pom
The Dame Pom is a small but mighty vibrator that packs a punch! It's perfect for on-the-go pleasure and can easily be slipped into your purse or pocket. The Pom is made of smooth silicone and has a tapered tip that is perfect for pinpoint stimulation.
The vibrator has 5 different vibration modes to choose from, so you can find the perfect setting for you. The Dame Pom is also waterproof, making it perfect for use in the shower or bath. This vibrator is a great option for anyone looking for a small, powerful vibrator that can go anywhere with you!