We-Vibe Touch X
Overall Rating
4.58 out of 5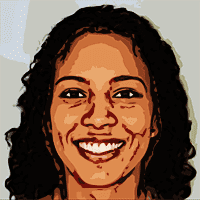 Written by
on , updated on
We-Vibe Touch X
The We-Vibe Touch X clitoral stimulator has a unique shape that is specifically designed to fit the contours of the human body. This makes it possible for the user to receive targeted stimulation to the specific areas that they desire. The We-Vibe Touch X is also made from body-safe materials and is 100% waterproof, making it a versatile and convenient option for those who want to enjoy clitoral stimulation in any setting.
We-Vibe Touch X is a clitoral stimulator that can be used solo or during sex. It has seven vibration modes, each with different intensities, and is made of body-safe silicone.
The Benefits Of We-Vibe Touch X
Here is a short list of the main benefits that you're getting when choosing We-Vibe Touch X: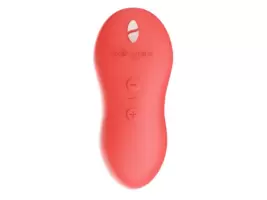 Order Now
8 Intensity Levels and 7 Patterns
The sex toy has 8 intensity levels and 7 different vibration patterns, each designed for different experiences. This gives you a total of 56 options to please yourself with the toy. This is great for those who want to explore their body further and learn new things about themselves. 7 patterns for seven days of the week? Personally, I sure do like how that sounds.
Comfort Grip
Made from high-quality silicone, the We-Vibe Touch X fits perfectly into your palm and offers a very comfortable grip. Even at the sweatiest moments, there's a very low chance that the toy will slip and you'll lose contact. That's why it's a great choice that lets you focus on pleasure solely.
Body-Safe Materials
The sex toy market doesn't have many regulations, which means that there are still plenty of toys that contain harmful substances. This could cause harm to your body, so it's important to be careful when choosing your toys and only buy from reputable brands. We-Vibe is one of them. This manufacturer actually cares about their customers' health. That's why you can be sure that in their toys, you'll only find high-quality and body-safe materials.
Easy to Use
The We-Vibe Touch X is very simple to use; you don't need any special skills. It operates the same way as most We-Vibe toys – with the help of only 3 buttons. When it is charged and ready for action, you will only need to know the location of those buttons that will do all the work. There are two buttons to control the speed: (+) to increase and (-) to decrease. The button between the two (~) jumps between the patterns. That is it!
Couples-Friendly
Even though it doesn't have a remote control option, this toy can benefit your relationship and your sex life. Especially if you have trouble experiencing orgasms solely through penetrative sex. The toy focuses on stimulating your clitoris while your partner and you can relax and focus on the intimacy between you too.
100% Waterproof
The toy is completely waterproof so a relaxing orgasm in the shower is always an option. You can use it in a bathtub or jacuzzi too, wherever you feel most comfortable.
Specifications
Here are the technical characteristics of the We-Vibe Touch X:
Colors: Crave Coral, Green Velvet​
Battery: USB rechargeable lithium ion battery ​
Run Time: Up to 2 hours​
Charge Time: 90 minutes​
Materials: ABS, body-safe silicone, free from phthalates and BPA and made without latex ​
Dimensions: 10,22 cm x 4,33 cm x 3,43 cm​
Warranty: Two years​
Long warranty, long-lasting battery, and body-safe!
What's Inside The Box?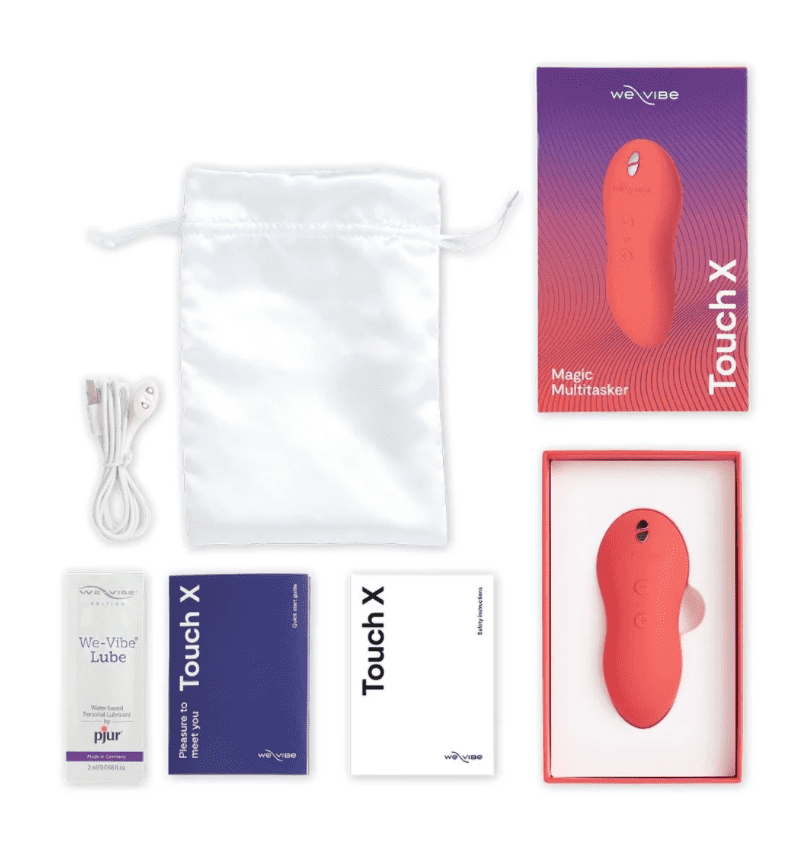 Here is a full list of items that you will find inside the box of We-Vibe Touch X:
We-Vibe Touch X Clitoral Mini Vibrator​ in Crave Coral or Green Velvet color
USB charging cable ​
Quick start guide​
Storage bag​
We-Vibe Lube made by pjur® 2 ml sample​
As you can see, all that is left is to charge the toy. However, I would recommend getting some extra lube to help your clitoris get a smoother experience.
We-Vibe Touch X In Action
Sometimes adding a little more power is enough to make a decent toy great. That's exactly what happened with We-Vibe Touch when it became Touch X.
The shape of the toy is great for reaching various erogenous zones, starting from the nipples, massaging the belly, thighs, and finally reaching the clitoris.
Since the head of the toy is slightly curved, it works great when it comes to hugging various parts of the body. The rumbly vibration the toy produces is a great way to build up tension in all of the sensitive body parts.
As you probably already know, usually the longer road and the bigger build-up to the orgasm is, the more intense the orgasm is. So, if you have time on your hands – go slow and play with yourself. However, if you're in a rush, go straight for the prize.
There are many power options for you to explore and enjoy. It's a good vibrator however, it's not as good as those that use sonic waves or pleasure air technology. Yet, these simple clit vibrators are a good addition to penetrative sex. This way you and your partner can focus more on what you're feeling and your intimacy while the toy gives a helping hand.
The regular vibrator (not the ones that work contactless) is a better addition to penetrative sex, in my opinion. When you have contact it's easier to navigate the toy without seeing it and you feel where it is. However, contactless toys are more exciting when you have your solo time and your only focus is your private parts.
Overall, it's a good vibrator that can bring additional spice to your sex life. It's a great way to get additional stimulation during penetrative sex and take the tension f you and your partner.
Tips For Using Your Sex Toys
Sex toys are not complicated. However, if you are a first-time buyer, there are a few things you need to know about them. It will make your life a lot easier.
Start Slow and Get Used to Experiences
It's not uncommon for a vibrator to feel weird at first. Especially for a first-time user. This is because the vagina is a sensitive area and the vibrator's vibrations can be intense. It's important to start with the lowest setting and work your way up. If the vibrator is still too intense, try using it on your clitoris instead.
Moisturize and Lubricate
There are many benefits to using lube with sex toys. Lube can help reduce friction and provide a more pleasurable experience. It can also help to extend the life of your sex toys by reducing wear and tear.
Hygiene is a Must!
Some benefits of cleaning sex toys include:
Extending the life of the toy
Reducing the spread of bacteria and other microbes
Preventing skin irritation or infections
Maintaining hygiene
We-Vibe Touch X Reviews
The more you know about a product, the better you can evaluate if it matches your expectations. You already know about my experience with We-Vibe Touch X , so now you can learn a little more about from several reviews made by verified buyers:
I had the previous version of the Touch that sadly bit the dust after years of loyal service. I decided to upgrade to this new version the Touch X and let me tell you they knocked it out of the park with this one! A marked improvement in every way in terms of power, and still in that same design that I originally fell in love with.

Morgan G.
This is a great foreplay toy. Perfect to arouse myself with. Works great on the clit and nipples. It's very easy to hold and place it where you want. The vibrations are rummmmbly. I give it to my partner to tease me during foreplay and it's so much fun!

Monica Se
I found it. So intense and yet so small. really impressive

Kelly
Alternatives to We-Vibe Touch X
The We-Vibe Touch X is a fun toy that most women will surely enjoy. However, if you feel like you're looking for something slightly different, here are some suggestions:
Lelo Nea 2 – shaped like a bean, the Lelo Nea 2 vibrator for the clitoris is super feminine and ultra discreet. Also, works well on stimulating various erogenous zones. Could be a perfect travel companion.
Lelo Lily 2 – another ultra-feminine and slightly bean-shaped toy that actually is scented. The scents vary from chocolate to roses, so there's a good chance you'll find something arousing for you and your partner. While Lily 2 has a better grip, if you're not a fan of scented sex toys – Nea 2 is stronger and overall better (for me, at least).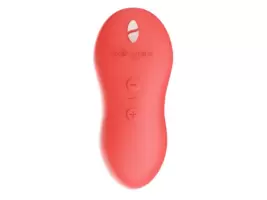 Order Now
The Verdict on We-Vibe Touch X
Overall, the We-Vibe Touch X is a good vibrator for the clitoris and your other sensitive body parts. It's a good toy for foreplay and fun to use during penetrative sex to give extra attention to the clitoris.
I always recommend such toys for women who have difficulty reaching an orgasm solely through penetrative sex. This way you and your partner can focus solely on each other while the toy does part of the job for you. The toy has a long-running time (up to 2 hours) so when fully charged it should be enough for foreplay as well as during sex.