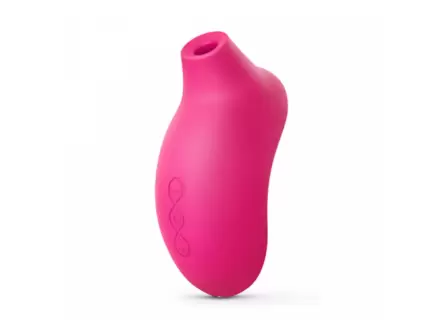 Lelo Sona 2
Overall Rating
4.43 out of 5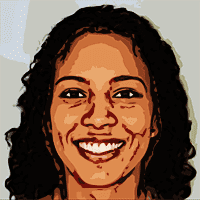 Written by
on , updated on
Lelo Sona 2
Sona is back and now she's better, stronger, and more diverse. The re-release of Sona, better known as Lelo Sona 2 is mind-blowing and you deserve to know why.
If you're one of those women who love the stimulation of the clitoris and it's a must to reach an orgasm, Lelo Sona 2 could be the toy that you are looking for.
So, let's review step by step what's so special about Lelo Sona 2 and why it's something you need on your nightstand.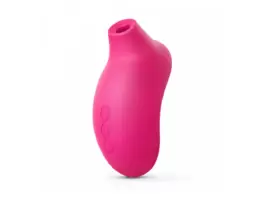 Order Now
The Benefits Of Lelo Sona 2
Lelo Sona 2 comes with numerous benefits. Some of these benefits are common for most Lelo toys. However, there are some, that you'll be getting only with this toy or very few others.
12 Vibration Patterns
Most Lelo toys have 8 vibration patterns. However, Lelo Sona 2, just like Sona 2 Cruise has 12. If you ever owned a similar toy, you already know that you simply can't have too many vibrations going on.
Softer Vibrations
The 2nd edition of Sona happened after Lelo worked a lot on customers' feedback and came up with ways to resolve issues that most women were facing. One of the common things reported was that Sona has vibrations that were too strong. Worry not, Sona 2 didn't lose its power, only the waves became softer.
Body-Safe Materials
Lelo uses only the highest quality, body-safe materials to manufacture its products. Lelo Sona 2 is made from silicone and ABS plastic. Both materials are body-safe, non-porous, and won't cause any unexpected skin irritations or allergies to you or your partner if you use the toy during a couple's play.
Easy to Use
Even though Lelo Sona 2 is a complex device, the toy is very simple to use. It comes with a three-button interface that is not flush with the surface. This means that you don't need to see the buttons to know what they are doing and whether you're pressing the correct one. Two of the buttons are designed to increase or decrease the intensity of the vibrations and the third button in the middle allows you to comfortably turn the vibrator on and off, as well as jump between the 12 vibration patterns.
Completely Waterproof
Just like most Lelo toys, Sona 2 is fully waterproof. this means that you can take the toy to the shower, or use it in the bathtub – wherever you prefer. Having waterproof toys also makes it super easy to look after them, since you don't need to worry about water splashes when cleaning them.
Specifications
Here are all the technical details of Lelo Sona 2. Take a look at how wide the mouth of the clitoris massager is. You can be sure that it will enrobe your most sensitive area fully.
Made from: ABS Plastic / Silicone
Mouth width: 23 mm
Size: 99 x 87 x 56 mm
Weight: 116g
User Time: Up to 1h
Interface: 3-button interface, 12 modes
Battery: Li-Ion 530mA 3.7V
Charging: 2h at 5.0V 400mA
Frequency: 120Hz
Max. Noise Level: 50dB
How Lelo Sona 2 Feels?
When you put Sona 2 against the clitoris, you will immediately notice that the new mouth is good for covering the entire area. When you turn it on, I can't lie, the toy immediately feels good.
You can actually feel how much more than the head of your clitoris is involved and there's action going on on deeper levels. Sona 2 has 8 vibration levels, however, if you have a very sensitive clitoris there's a good chance that around level 4 you'll feel like you're having enough stimulation.
Contrary to traditional vibrations, sonic waves do hit you stronger, so there's a place where it can be too much. Also, compared to traditional vibrating toys, which usually hit the tip of the clitoris and hit it directly, it took me more time to reach an orgasm. Yet, it was a more intense one.
Sona 2 vs Sona 2 Cruise vs Sona
Sona 2 and Sona 2 Cruise are identical looks-wise. however, the first edition has a smaller mouth which is not very comfortable and requires extra effort.
The first edition of Sona is weaker, however, it's still perfectly enough to reach an orgasm. Sona 2 and Sona 2 Cruise have similar strengths. The only huge difference you'll notice will be in the lightest setting. Then Sona 2 will feel weaker. However, the higher you go, the more similar they are.
When it comes to noise – the Cruise version is a lot louder. Is it worth it? Well, it's for you to decide. For me personally, cruise control wasn't a must. Still, if you want the top-of-the-line product – get the Cruise edition.
What's Inside The Box?
It's always fun to unpack a sex toy. It doesn't matter whether it's the first sex toy you get or the hundredth – Lelo makes each experience very special. Here are the items that arrive together with your Lelo Sona 2 in a very VERY sexy and sleek black box: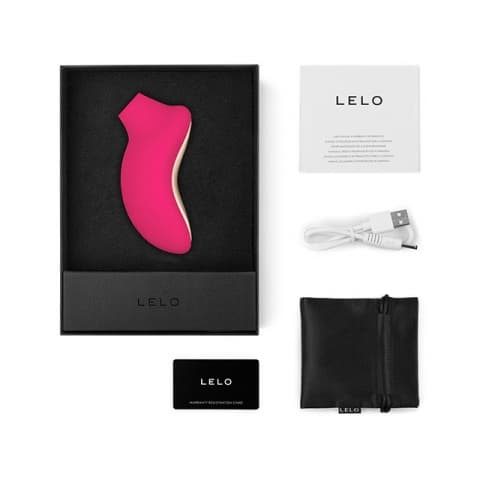 SONA™ 2
USB-Charging Cord
Satin Storage Pouch
Warranty Registration Card
Detailed Instruction Manual
If you plan to use your toys on parts that are not delf-lubricating – you need to get a lubricant. Otherwise, you will experience a lot of friction which is not something you want during your intimate play.
Tips For Your Sex Toys
If it's the first sex toy that you're getting, it's important to know some basic rules that help to look after your sex toys and keep them in good condition. Also, first, the sex toy can be tricky, so don't worry, I have you covered.
Start Slow and Get Used to Experiences
Getting the first sex toy can be a little intimidating. Even getting a new type of sex toy can be. So, the main thing is not to have expectations about having an orgasm in 1 minute and fireworks. At first, using the toy may seem a little strange and you will need to relax and ease into the whole thing. So, don't focus on the orgasm – it will come, focus on the experience.
Moisturize and Lubricate
Be careful of lubrication when using sex toys in places where you do not lubricate yourself. It doesn't matter if you are in a self-lubricating place or if you use a lubricant. Lubricants reduce the friction that occurs when two dry objects rub against each other. Such friction can cause skin damage that is as small as skin irritation or as large as a bruise.
Clean, clean, clean!
Take good care of your sex toys. This will help to keep them in good condition and fresh as new. After all, a dirty sex toy near or inside your body is the last thing that you could ever want. A dirty sex toy could cause an unpleasant infection that could interfere with your sex life and daily life as well. So, better to keep them clean than deal with the consequences.
Lelo Sona 2 Reviews
Online shopping is tricky. Especially since you can't actually touch the product and properly evaluate its size, shape, and how the product actually feels.
So, whether you're shopping for clothes, furniture, or sex toys – you still need to do your research. A very important part of that is reading reviews. You already know what my experience with Lelo Sona 2 was.
Now, it's time to learn what other verified buyers of the product have to say. I selected reviews that highlight both, the positive and the negative traits of the product, to give you a realistic understanding.
Reviews, highlighting positive aspects of Lelo Sona 2
The power behind this little thing is amazing. I always have to start at the lowest setting because it's INTENSE. That being said, it's not as quiet as I thought it would be. It can get just a loud as a regular vibrator, so that's the only reason I didn't give 5 stars. However, it's given me the best orgasms I've ever experienced and the subtle suction that it creates is something I never knew I needed!

-Nessa
Bought this for my wife and she is very happy with it. Her orgasm is more intense with this than it has been with standard vibrators. Her only complaints are that it can make loud noises at times (she admits this is when it is the most intense and provides a suction like feeling) and that the buttons aren't as sensitive as she would like. Overall, she definitely recommends buying it and will continue to buy more if your products in the future.

-Mattu
Reviews, highlighting negative aspects of Lelo Sona 2
This was my first foray into Lelo products after having read rave reviews. I was looking for something on the small side that could be used with a partner or by myself. I did my research And chose the SONA 2 and it is very pretty in design. However I think I may be one of the few who was disappointed in the performance. I found the multitude of settings to be mostly annoying and distracting and overall, I thought the vibrations were weak. And I did fully charge it the few times I tried it. It may just be me but I am disappointed in my first experience with one of these products, especially for the price.

-InvalidUser01
I bought this and was expecting the same with my Sona from a year ago. The tip looked thicker but what really frustrated me was that it would turn off by itself even when I charged it fully.

-Frustrated User2
Alternatives to Sona 2
After reaching this point of the review, you should probably have a pretty good idea whether Lelo Sona 2 is the sex toy that you are looking for. If you feel like it's not the one, and wish to look into some alternatives, consider these:
Sona 2 Cruise – while in most cases Sona 2 Cruise is similar to Sona 2, it has an additional advantage – cruise control. This means that the vibrator is better at controlling stimulation when the toy is pressed against the clitoris and gives a more intense stimulation. However, it's louder than Sona 2, also, comes with a higher price tag of approx 30 dollars.
Lelo Ora 3 – if you're someone who enjoys oral sex, you should definitely consider Lelo Ora 3. The vibrator has a small nodule that makes quick movements that mimic oral sex. It's a very exciting unique toy. However, it comes with a higher price tag than Sona 2.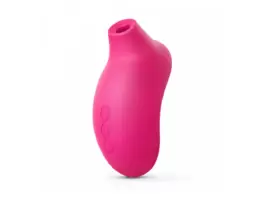 Order Now
The Verdict on Lelo Sona 2
Overall, Lelo Sona 2 is one of the top sex toys for your clitoris that Lelo has produced. While it's certainly not a silent one, it's more silent than the cruise version.
However, the toy really does hit you on multiple levels and you can feel the sonic pulsations deeper inside you. All in all, it's a very good toy for beginners as well as advanced users.