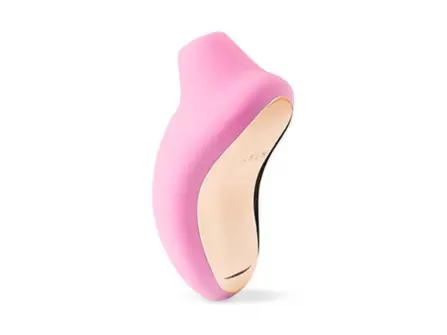 Lelo Sona 2 Cruise
Overall Rating
4.73 out of 5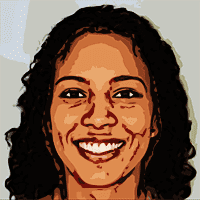 Written by
on , updated on
Lelo Sona 2 Cruise
Lelo Sona 2 Cruise is a new and better version of the first Sona Cruise edition. According to Lelo's website, this clit stimulator resolves the most frequently encountered problem with sonic wave toys – a temporary decrease in power.
Many sonic wave toys use their power when in direct contact with the body and the person using it feels like the vibrations became less intense. However, the new Lelo Sona 2 Cruise is designed to absorb part of those vibrations and redirect them back to the clit when the device is pressed against rather than used from a slight distance.
So, without any further ado, let's see what makes Lelo Sona 2 Cruise so special and whether it could be the right toy for you.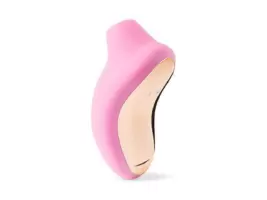 Order Now
The Benefits Of Sona 2 Cruise
Here are the main benefits that come with Lelo Sona 2 Cruise. Some of them are common for all Lelo products, and some you'll get only together with this toy.
More Sonic Waves
Lelo Sona 2 Cruise will give you more sonic waves. Especially when the toy is pressed against your body. They used special technology to redirect some of the waves back to your body, instead of losing them. So, when you press the toy stronger against your body, you won't feel the loss of power.
12 Vibration Patterns
Lelo Sona 2 Cruise comes with 12 vibration patterns, while most similar products from Lelo have only 8. Sona 2 Cruise will offer some new and unique sensations that no other toy can.
Body-Safe Materials
Lelo uses only high-quality and body-safe materials to produce their sex toys. This means that you won't experience any unexpected skin allergies or irritations while using the toy. In this particular case, Lelo Sona 2 Cruise is made from silicone and ABS plastic. Both materials are non-porous, therefore don't have those microscopic pores on their surface that are ideal for dust and dirt to accumulate.
Easy to Use
Even though Lelo Sona 2 Cruise is a complex device, it's actually very simple to use it. The toy has a three-button interface that is not flush with the surface, so just by using your grip, you'll be able to navigate.
When it comes to the three buttons, two of them are designed to control the intensity and increase or reduce it. The third button is used to jump between vibration modes.
Completely Waterproof
Just like most Lelo toys, Sona 2 Cruise is fully waterproof. This means that you can use it in the shower or bathtub without the need of worrying about breaking it. However, it's suggested by Lelo (on their official website) that the experience is better in a dry environment using a water-based lube. I'll tell you my experience later in the review.
The Specifications
Here are the technical details of the Lelo Sona 2 Cruise. Make sure to notice how wide the mouth of the clitoris is. It's perfect for covering the entire sensitive area.
Mouth width: 23 mm
Made from: ABS Plastic / Silicone
Size: 99 x 87 x 56 mm
Interface: 3 button interface, 12 modes
Weight: 116g
User Time:Up to 1h
Battery: Li-Ion 530mA 3.7V
Charging: 2h at 5.0V 400mA
Standby: Up to 90 days
Frequency: 120Hz
Max. Noise Level: 50dB
How Sona 2 Cruise Feels?
When you first place Lelo Sona 2 Cruise against your clitoris, you immediately feel how well designed the mouth is for embracing the clitoris area.
Once you turn on the toy you'll notice that it's a little noisy. However, if you don't mind the sounds, don't worry.
Just from the lowest vibration settings, you can feel that the waves hit you on a deeper level. Since there is no direct rubbing against your skin, it took me longer to build up the sensations. However, they felt a lot more intense.
Personally, I couldn't go for maximum settings. No matter how aroused I was, 5-6-7 were my maximums and level 8 would always feel slightly hurty. So, even if your clitoris is not the super-sensitive kind, the toy should make your toes curl.
Sona 2 vs Sona 2 Cruise vs Sona
Sona 2 and Sona 2 Cruise have the same appearance. However, the first edition of the toy has a small mouth, due to that it is not very comfortable and requires extra effort when adjusting.
When it comes to noise, the cruise version is much louder. Is it worth the effort? Well, that's your decision. Personally, speed control wasn't mandatory. If you still need the finest products, get the Cruise edition.
The first issue of Sona is weaker, but still perfect enough to reach orgasm. Sona 2 and Sona 2 Cruises have similar strengths. The only major difference you will see is in the lightest modes. Sona 2 feels noticeably weaker. However, the higher you go, the higher the similarity.
What's Inside The Box?
Unpacking Lelo feels like unpacking an expensive electronics device or a luxurious accessory from a designer, rather than getting a regular sex toy. Every detail from the box to the toy itself is well thought out. As soon as you get your first toy from them, you'll understand what I'm talking about.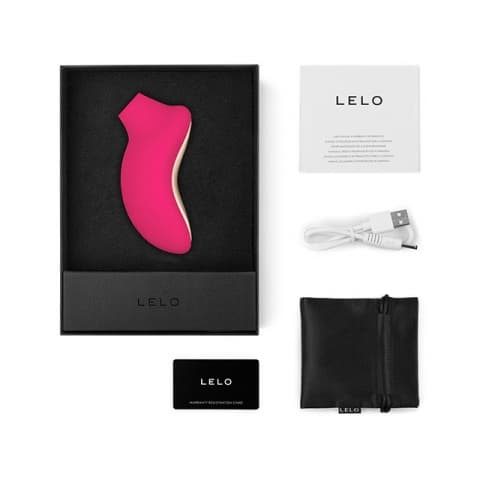 SONA™ 2 Cruise
USB-Charging Cord
Satin Storage Pouch
Warranty Registration Card
Detailed Instruction Manual
When you play with your toys in places that are not self-lubricating, you need to use lube. So, if you don't have any, make sure to get them before your toys arrive. Lube helps reduce friction and protects your skin from irritations and bruises.
Tips For Using Your Sex Toys
Here are my essential tips for using sex toys, including Lelo Sona 2.
Always Use Lube
Using sex toys in places that are not self-lubricating requires you to take care of the lubing up part. Also using lube in places that are self-lubricating won't hurt. Lube reduces friction that appears when two dry objects are rubbing against each other. Such rubbing can cause damage to your skin that can be as little as skin irritation or as big as a bruise.
Don't Rush – Ease Into It
Purchasing your first sex toy can be a little intimidating. Even buying a new kind of sex toy can be. The most important thing is that you do not expect to reach orgasm within 1 minute and mind-blowing fireworks within 30 seconds. At first, using the toy may seem a little strange and you need to relax and slowly ease into the whole thing. So do not focus on the orgasm – the fireworks will come, focus on the experience.
Hygiene is a Must!
Washing and properly storing your sex toys is a must. Using dirty sex toys can be harmful to your health as they can be full of various microorganisms and bacteria that could cause infection So, don't be lazy and take care of your sex toys. They will later take care of you.
Lelo Sona 2 Cruise Reviews
You already know what my experience with Lelo Sona Cruise was. However, I'm not the only person in the world. So, there are many people out there who had different as well as similar experiences to mine.
Here I handpicked some positive as well as negative reviews of Lelo Sona Cruise, published by verified users on the official Lelo website. This way you will know that you are reading genuine experiences from people who actually tried the product.
Reviews, highlighting positive aspects of Sona Cruise:
Pretty nice, had a lot of fun with the SONA 2 Cruise, but sometimes (1 time out of 2) when I turn it on, there's no possibilities to lower the intensity of the vibrations. So I need to turn it off and try again to adjust it… A lil annoying, maybe is it a technical problem with mine ?

-CloudySky
I absolutely LOVE the feel of this toy. It's amazing, BUT I unfortunately have to switch over to the old fashion hand method for the big O since personally my lady bits can't handle the power of this machine. Still my favourite toy ever and worth it though!

-Bails123
Reviews, highlighting negative aspects of Sona Cruise:
I have purchased Lelo products in the past because of their high quality. However, I am not vibing with this model. I find it noisy and I am not enjoying the automatic intensity change. It is difficult to control as the intensity changes frequently or sometimes it just stops. Considering the high price, I am disappointed.

-Ash88
I received my Sona 2 and have been trying over the course of a week. I had one small orgasm but really it took forever. I was thinking more of a sucking or vibration that mimicked the motion of the tongue but it's more like a regular vibrator except your clit is inside the hole. Maybe I'm just not made to have the same experience. Very disappointing because I spent so much money and probably should have gone for something more of a dual toy inside and out. Lesson learned. It is well crafted though. Good quality but not for me.

-Anonymous
Alternatives to Sona 2 Cruise
While Lelo Sona Cruise is a worldwide bestseller and is the toy many women desire, there's no harm in looking at what else is out there, right? Here are some great alternatives to Lelo Sona 2 Cruise that could catch your attention.
Lelo Sona 2 – visually the toys are the same. Sensation wise you'll feel the biggest difference when the vibrator runs on the lowest settings. However, it does not have cruise control. Yet, comes with an around 30 dollar smaller price tag.
Lelo Ora 3 – If you enjoy oral sex, you should definitely consider Lelo Ora 3. The vibrator has small nodules and moves quickly, mimicking oral sex. This is a very exciting and unique toy. However, it is more expensive than Sona 2.
The Verdict on Lelo Sona 2 Cruise
Overall, Lelo Sona 2 Cruise is one of the best products for clitoris stimulation that Lelo produced.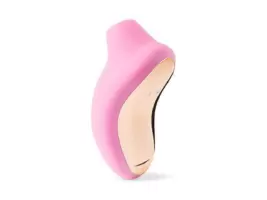 Order Now
However, the toy is pretty noisy, so if it's something that discourages you, Lelo Sona 2 is a lot quieter but doesn't have the cruise control option.
Yet, whether you're a beginner or already have tried more than a few sex toys, Sona 2 Cruise still has a lot to offer for you.