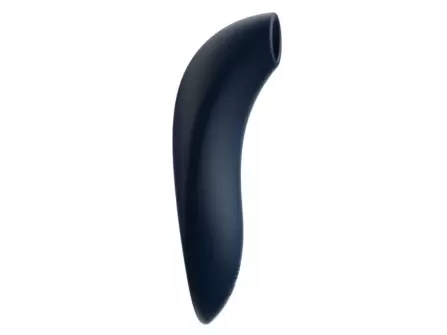 We-Vibe Melt
Overall Rating
4.68 out of 5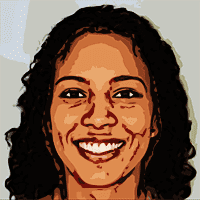 Written by
on , updated on
We-Vibe Melt
The We-Vibe Melt is a clitoral stimulator with pleasure air technology. This unique stimulator uses gentle pulses of air to massage the clitoris, resulting in a more intense and pleasurable experience. The Melt is made from body-safe silicone and is 100% waterproof, making it perfect for use in the bath or shower. The We-Vibe Melt is a great way to add some extra excitement to your next solo session or to spice up your sex life with your partner.
The Benefits Of We-Vibe Melt
Here are the main benefits of We-Vibe Melt for you to enjoy:
Pleasure Air Technology
The We-Vibe Melt sex toy comes with unique pleasure air technology. What's so special about it? Well, it allows you to stimulate your clitoris without actually having direct contact with it. Just imagine some gentle suction accompanied with light suction entertaining your lady parts. Sounds great, doesn't it?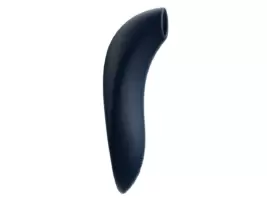 Order Now
App-Controled Play
The we-Connect app is a special app created by We-Vibe to give you the possibility of controlling your devices from a distance. This allows more versatility for the toy and turns it into a brilliant couple's toy, especially if you're in a long-distance relationship because your partner can control it for you.
Body-Safe Materials
We-Vibe produces toys that are made only from high-quality materials that are not harmful to your body. This means you and/or your partner won't experience any unexpected skin irritations or allergies. The lack of sex toy regulations means that there are still a lot of toys on the market that contain harmful substances. This could cause harm to your body, so it is very important to be careful when choosing your toys and only buy from reputable brands that care about their customers' wellbeing.
Easy to Use
Using the We-VIbe Melt sex toy is very easy and doesn't require any previous knowledge or experience. The toy has only two buttons marked with (+) to turn it on and increase the intensity and (-) to turn the toy off or decrease the intensity. That's it!
Couples-Friendly
Since the toy can be controlled via a mobile app, it's long-distance and not long-distance friendly. If you're in a long-distance relationship, your partner can control the toy from any place in the world. As long as they have an internet connection and the app, of course. Also, the toy can be used during penetrative sex. While the toy stimulates the clitoris, you and your partner can relax and focus more on your sensations and intimacy. Such toys are very useful if you have difficulty experiencing orgasms solely through penetrative sex.
100% Waterproof
May sound surprising but this toy is actually fully waterproof. Using it in water creates a whole new level of experience but more on that later. If you choose this toy, you can be sure that you can take it together with you to the shower or bathtub as it won't break.
Specifications
These are the technical specification of the toy.
Battery: USB rechargeable lithium ion battery
Run Time: Up to 120 minutes
Charge Time: Up to 90 minutes
Materials: Body-safe silicone – free from phthalates and BPA and made without latex
Dimensions: 217mm x 85mm x 39mm
Warranty: Two year
As you can see, it has a long warranty, long run time and is completely body-safe.
What's Inside The Box?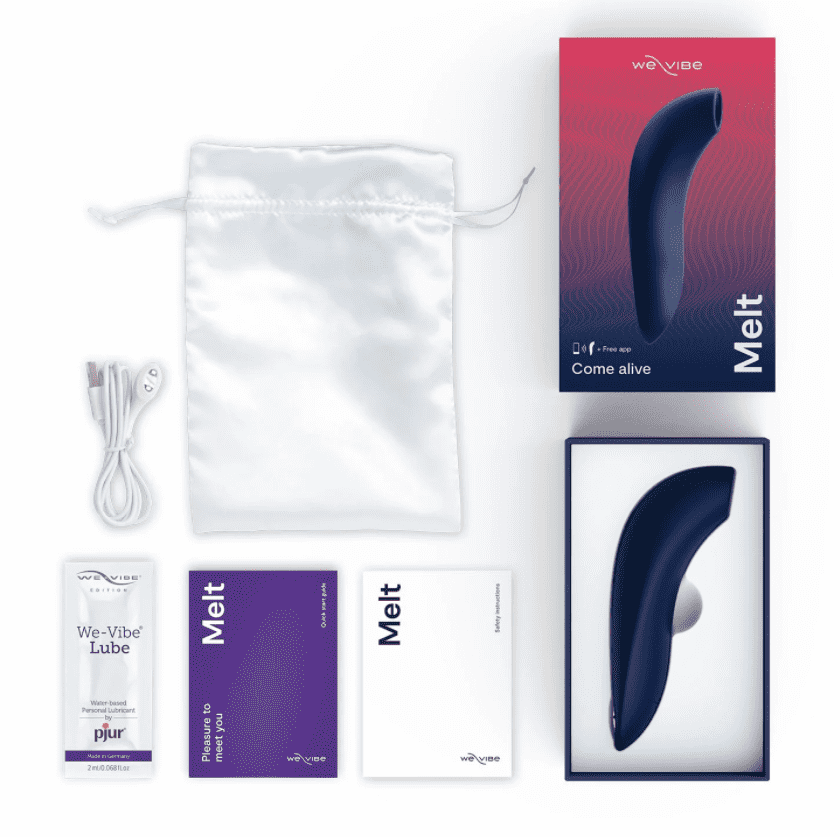 Here are the items that you'll find in the We-Vibe Nova 2 box:
We-Vibe Nova 2 Rabbit vibrator
Magnetic USB charging cable to charge Nova via any USB port or USB power adapter (not included)
Silky bag For storage and travel
Illustrated, multi-language instruction manual
We-Vibe® Lube made by pjur® 2ml sample
As you can see, you're all set for your fun! However, consider getting extra lube.
We-Vibe Melt In Action
The We-Vibe melt caught my attention when I noticed that it uses Pleasure Air technology. If you're familiar with the worldwide famous Womanizer toy – it's the same technology. Both We-Vibe and Womanizer come from the same manufacturer, so no surprise here.
So what makes these toys different? The shape and functionalities. Since the Womanizer is constantly updated and re-released, there are versions more advanced and less advanced than the We-Vibe Melt.
Overall, Melt is smaller, therefore better suited for clitoris stimulation when you're playing with your partner. Such a toy can be a game-changer for any woman who needs a lot of stimulation to climax.
First, the benefit that Pleasure Air gives you is the all-around clitoris stimulation without any direct contact. So, if you have the numbness that vibrating toys often cause, the no contact ones are actually a huge upgrade.
Is the Melt the best vibrator with Pleasure Air technology? It depends. If it's only for couples play – it's the most comfortable to hold in hand when more stuff is going on. If you're looking for a toy that is the best for solo play – the new Womanizer Premium 2 is mind-blowing.
So, did the We-Vibe Melt make me melt? Yes, indeed. Overall, good but not the best.
Tips For Using Your Sex Toys
If you are a first-time sex toy buyer, there is a chance that you may have some questions. However, there is nothing to worry about. When it comes to the technicalities of using and storing the toy – a respectable manufacturer has you covered with a detailed manual, just like We-Vibe does. However, there are some things they don't tell or do not put emphasis on.
Start Slow and Get Used to Experiences
There could be a few reasons why your first vibrator may feel weird. It could be that you're not used to the sensation of vibration, or it could be that the vibrator is not a good fit for your body. If you're not sure why it feels weird, try using it with a different type of lube or experimenting with different settings.
Hygiene is a Must!
There are a few key reasons why using hygienic sex toys is so important. First and foremost, it helps to prevent the spread of infection. Using clean sex toys helps to ensure that any bacteria or viruses present on the toys will not be transferred to other people or surfaces. Additionally, it minimizes the risk of developing an allergic reaction to a particular material. Finally, it helps to extend the lifespan of your sex toys by preventing them from becoming contaminated with dirt and debris.
Moisturize and Lubricate
Lube is a brilliant invention. It doesn't matter that the vagina is self-lubricating, sometimes she's simply not moist enough to fully eliminate the friction and give you a smooth experience. That's perfectly fine. Especially since now, we have lube to help us. Not only that, there are specialty lubes that provide heating and cooling sensations, which can lift your pleasure to new heights.
We-Vibe Melt Reviews
The more you learn about a product before you like it, the more likely you'll buy something you enjoy using. That's why learning the experiences of other people with the same product is very useful. Here are some reviews of the We-Vibe Nova 2 written by verified buyers. Here's what they are saying:
When I first saw the Nova I thought it was smaller than what I imagined. But the vibrations are so powerful. You can bend it anyway you like to make it fit and it will just take you to a different dimension.

Darcy
I can bend it to fit inside me comfortably and place the edge right on my clit. Even a milimeter matters with rabbits and this hits the mark!

tatii
I've tried a lot of these double-action vibes in the past but the nova2 is the best yet. I love the very deep and rumbly vibrations in both the internal and clitoral massage bits. Unlike other toys, this one doesn't buzz, it resonates deep within for a way more satisfying sensation than I've had with other toys in the past. Like I don't usually leave reviews for a sex toy, but this one is so damn good I just had to let it be known that if there's one rabbit vibrator you can get, make it this one.

alyx
Every time gets us to orgasam. Really quiet. Fun in bathtub

AB
Alternatives to We-Vibe Melt
The We-Vibe Melt is an excellent toy, however, there is a chance that you are looking for something slightly different. Here are some of my favorite alternatives to Melt by We-Vibe:
Sona 2 Cruise – if you are looking for some sonic waves for remote stimulation of the clitoris, a great alternative is the Sona 2 Cruise which has a cruise control feature that works together with your body's signals.
Womanizer Premium 2 – a worldwide bestseller that keeps on getting re-released. The Premium 2 version is the best I've experienced (so far). The toy has an autopilot mode that randomly selects vibrations and their strength to constantly surprise you.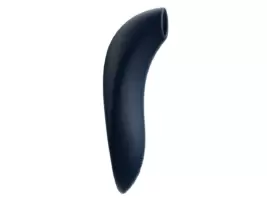 Order Now
The Verdict on We-Vibe Melt
The We-Vibe Melt is a good vibrator. It's not the BEST I had for clitoris stimulation but it comes close. Anything that uses the Pleasure Air technology can't be bad. The only problem is, devices with this technology (Womanizer) get re-released better and surpass the previous version.
So, this toy is great, but the Womanizer Premium 2 is my current winner for solo pleasure. Yet, We_Vibe Melt is more comfortable during sex with my partner. Overall, there's no big difference. So, it's your decision to make.