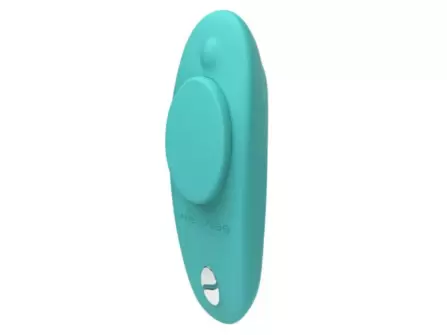 We-Vibe Moxie
Overall Rating
4.1 out of 5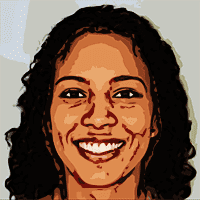 Written by
on , updated on
We-Vibe Moxie
The We-Vibe Moxie is a wearable vibrator that can be worn under clothes for discreet pleasure on the go. It is small and discreet and can be worn under clothes. It can be controlled with a remote, or with the We-Vibe app. The app allows you to control the vibration intensity and patterns, and to create custom vibration patterns.
This little vibrator has a powerful motor that delivers intense vibrations, and its small size means it can be easily hidden away. The Moxie is also waterproof, making it perfect for use in the shower or bath.
The Benefits Of We-Vibe Moxie
Here are the main benefits that come with We-Vibe Moxie: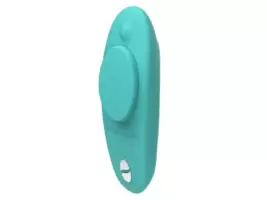 Order Now
Sits Comfortably in Panties
This toy has a perfect contoured shape made from smooth, body-safe silicone. It has a slip-proof magnet that keeps it in place so it stays exactly where you want it without the unnecessary risk of moving out of place. You can wear it in public or in private. It's great to set the tone with your lover for the night.
App-Controled Play + Remote
Not only can you control the sex toy with the We-Connect app, but it also comes with a remote controller. If you're not familiar with the app, in short, it's a special app that allows you (or your partner) to fully control the sex toy through your smartphone. When it comes to the remote controller – you can keep it to yourself or give it to your partner. It's a great way to tease one another before a romantic night.
10 Vibration Patterns
The We-Vibe Moxie sex toy comes with 10 unique vibration patterns that you can navigate through. The toy is designed to stimulate the clitoris and get you in the mood. To be completely honest, you may actually reach orgasm if you wear it long enough and it manages to hit the right notes.
Body-Safe Materials
We-Vibe produces their toys only from body-safe materials. This means that you and/or your partner won't experience any unexpected skin irritations or allergies. Even though it's the 21st century, no one seems to care about the sex toy market and it's still very unregulated. Therefore, only get your toys from reputable manufacturers that actually care about your health. If you're not familiar with the manufacturer, always read the label and make sure to Google the materials if you're not familiar with them.
Easy to Use
You can control the toy via an app or with a remote controller. Both ways work well and there is no previous knowledge or experience required. The remote controller comes with four buttons with arrows. The arrows pointing to the sides are used to change vibration patterns and the arrows pointing up/down can be used to increase/decrease the stimulation. That's it!
Couples-Friendly
Since the toy can be controlled several ways from a distance – it's a great couple's toy, even if you're in a long-distance relationship. Your partner can control the toy wherever they are, as long they have the app and internet access. If you're not in a long-distance relationship, you can still come up with ways to incorporate the toy into your sex life, like tease one another in a restaurant and see if you'll stay for dessert.
100% Waterproof
Fully waterproof, the toy can be taken to shower and even a bathtub. It won't break and you'll benefit from more than just relaxing warm water. Use it alone, let your partner tease you – the imagination is your only limit.
Specifications
Here are the technical details of Moxie.
Battery: USB rechargeable lithium polymer battery
Run Time: Up to 2 hours
Charge Time: 90 minutes
Materials: Body-safe silicone — free from phthalates and BPA and made without latex
Dimensions: 92 mm x 64.3 mm x 35.75 mm
Warranty: Two years
As you can see, it's small, has a long run time, and is completely body-safe.
What's Inside The Box?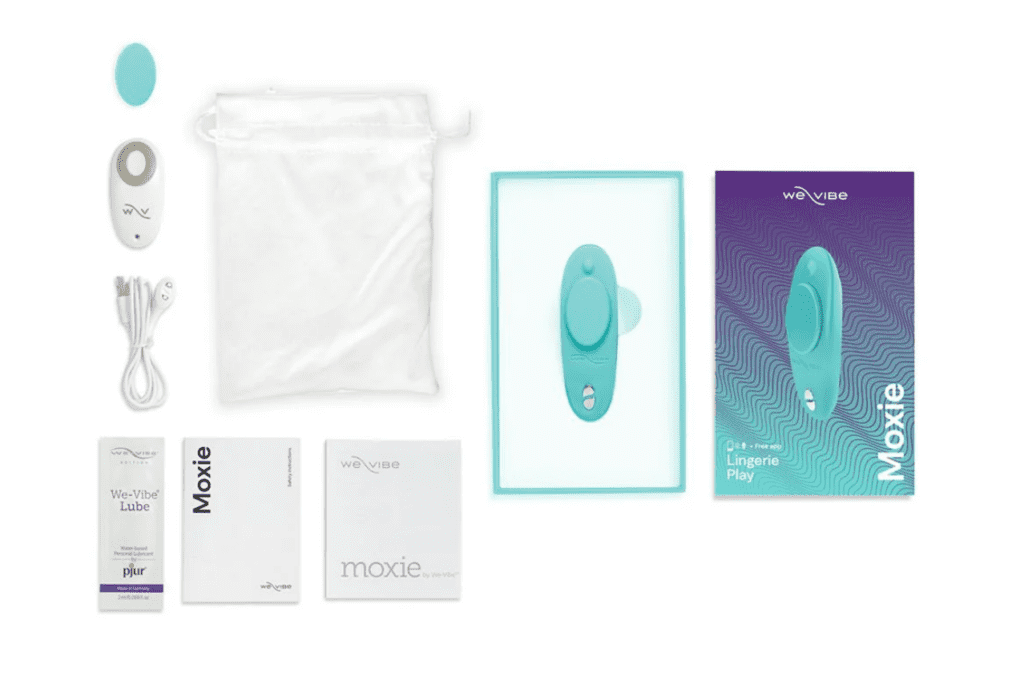 Here is a full list of items that you're getting when ordering Moxie:
We-Vibe Moxie wearable clitoral vibrator, color aqua
Magnetic clip replacement
USB cable power adapter not included
Quick-start user guide
Wireless remote control
We-Vibe Lube™— made by pjur® 2ml sample
Silky-storage pouch for convenient storage and travel
As you can see, you have everything you need to enjoy the toy. Don't forget to charge it, of course.
We-Vibe Moxie In Action
If you read my previous reviews, you know that I'm not a fan of wearing sex toys in public. As discreet as they are, part of me still feels like everyone around me knows my secret (even though they don't).
Still, testing is testing, so Moxie and I took some trips outside.
Note: if you get a sex toy that can be used outside, make sure to test it before indoors. The toy can turn out to be too intense and you may end up withing from pleasure in places where you don't really want to show your O face.
Now, back to Moxie. Attaching and adjusting the toy to your panties with the magnet is easy, so no problems here. 90% of the time the toy stays in place. However, while I was wearing it, I had to make a quick run to cross the street. Unfortunately, it was too intense for the toy to stay in place. The upside – I was wearing trousers so I don't lose the magnet on the street. Phew. So, if you decide to wear it outside – don't run around.
The toy itself is good for teasing, sometimes even too good, if you know what I mean. Since I'm shy to wear it in public, I feel tense and usually don't give in to the vibrations as much. However, at home, where I feel safe, it's a completely different story. If the vibrations align – hello orgasm!
I would recommend this toy for anyone who wants to have a little fun and want a compact sex toy that's travel friendly and occupies very little space – We-Vibe Moxie could be the perfect choice for you.
Tips For Using Your Sex Toys
Make sure to check out these essential tips for using sex toys. If you're a first-time user – don't skip!
Start Slow and Get Used to Experiences
It's normal to feel a bit awkward using a sex toy for the first time. Sex toys can be a new and unfamiliar experience, and it can take a little time to get used to them. If you're finding it difficult to use the sex toy, try experimenting with different positions or speeds to find what feels best for you. You can also ask your partner to help you out or look for online tutorials or guides. With a little practice, you'll be a pro in no time!
Hygiene is a Must!
Dirty sex toys are bad for a number of reasons. First, they can harbor bacteria that can lead to infection. Second, they can cause irritation or even allergic reactions. Third, they can transmit diseases. Finally, they can be simply uncomfortable to use.
Moisturize and Lubricate
Lube can help reduce friction, making it more comfortable to use your vibrator. It can also help increase sensation and make your vibrator feel more intense.
We-Vibe Moxie Reviews
I've collected some verified user reviews about the We-Vibe Moxie. This will help you better understand what this product is all about while learning other people's experiences. After all, what works for one person, might be completely wrong for another one.
I wear Moxie on dates and I give the remote to my date. Movies, dinner, picnic whatever setting you can think of. It's always a great way to have fun, turns us both on and we can't wait to get home!

Hannah
It's soo unbelievably exciting and nerve-wrecking to wear the Moxie in public. Me and my partner just love this little secret we have. Would be nice to have more powerful vibrations to get me to climax though. But we see this as a foreplay anyways and my partner can easily take care of that climax-part 😉

Lisa2020
Vibration is plenty strong, in fact it's clearly audible on even the lowest setting. My husband and I purchased this mostly to play during the day when we're away from each other, and it fully meets our expectations. He's able to control it from his phone, though the app asks my permission first which isn't a bad thing. Battery life is great, pairs quickly, love all the settings and variety. My husband loves it too, even when we're around the house on the weekend.

Anonymous
Alternatives to We-Vibe Moxie
While We-Vibe Moxie is a great and exciting toy, there's a chance that you may be looking for something a bit differently. While I don't have exact alternatives, I can suggest you some fun toys for the clitoris for consideration:
Lelo Ora 3 – a very discreet, doughnut-shaped vibrator that has a tongue-like miniature handle to provide some licking experience to your private parts.
Womanizer Premium 2 – one of the best-selling toys worldwide, designed to stimulate the clitoris. The new Premium 2 edition has an improved autopilot function to keep you surprised throughout the whole session. Just like a lover does.
We-Vibe Jive – if you want a discreet wearable vibrator, consider the We-Vibe Jive, designed to stimulate the G-spot. It's exciting, fun, and can be worn in public spaces discreetly under your clothes.
The Verdict on We-Vibe Moxie
Overall, the We-VIbe Moxie is a fun and compact sex toy, perfect for those who want to spice up their relationship or simply dip the first toe to the sex toy world.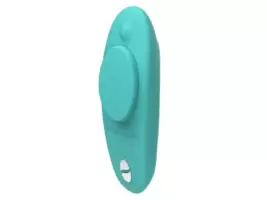 Order Now
The toy is discreet enough to wear in public, so as long as you're comfortable wearing it, the toy should give you a pretty fun experience.
Other than that, if you wear it long enough and relax to fully give in to the vibrations, We-Vibe Moxie might do a lot more than teasing.