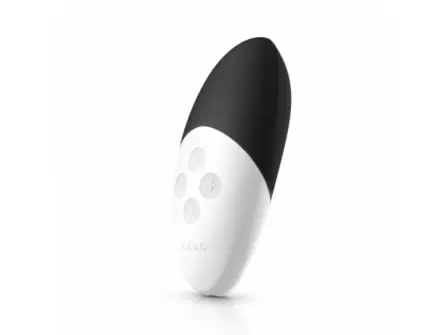 Lelo Siri 2
Overall Rating
4.55 out of 5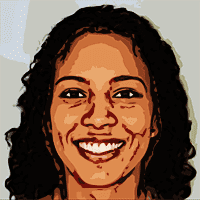 Written by
on , updated on
Lelo Siri 2
Have you ever wondered what a music-based orgasm would feel like? Well, I haven't until I discovered that it is actually a possibility. The Lelo Siri 2 has the unique function of being responsive to sounds, including music and your moans.
I mean, how great is that? A Bohemian Rhapsody on your clitoris? Sounds interesting and I actually tried it. However, let's put the music aside and concentrate on the toy. So, let's start from the basics and review the benefits of this unique toy.
The Benefits Of Lelo Siri 2
Lelo Siri 2 is truly a unique sex toy that comes with numerous benefits. Some of these benefits come with all sex toys that Lelo produces, however, some are only available with Siri 2.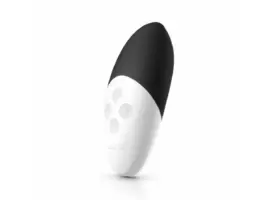 Order Now
Responsive to Sound
Lelo Siri 2 uniqueness comes from it being able to respond to sounds. So, if you would like the toy to vibrate according to Madonna's or even Cardi-B songs – feel free to try that out.
However, music is not the only thing it responds to. It responds to other sounds like your voice as well as your partner's if you decide to use the toy together.
8 Vibration Patterns
Like most Lelo toys, Siri 2 comes with 8 vibration patterns, if you choose to switch off the sound responsiveness. These 8 vibration patterns vary from intense non-stop stimulation to interrupted rumbling vibrations. So, you can choose whichever you like best.
Body-Safe Materials
Lelo uses only high-quality, hypoallergenic materials to produce their sex toys. Sex toys that are made from body-safe materials like Siri 2 are made from silicone and ABS, won't cause you any unexpected skin irritations and/or allergies. So, you're in good hands when you choose Lelo.
Easy to Use
The Lelo Siri 2 comes with a four-button interface that is easy to navigate. Since the buttons are not flush with the surface, you won't face any trouble when jumping between vibration patterns and changing their intensity.
Couple-Friendly
You can use the toy alone, or you can use it together with your partner. Since the toy is responsive to sounds, it can make your couple's play a lot more exciting and fun.
100% Waterproof
Another great thing about this Lelo toy, just like many other toys that they produce – it's waterproof. So, you can take it to the shower, to the pool, or your bathtub and there will be no need to worry about water damage.
The Specs
As you already know, Lelo Siri 2 is responsive to sounds. However, there's more to know! Here are the main technical specifications of this unique toy from Lelo.
Materials: Body-safe silicone/ABS
Size: 96 x 45 x 34mm / 3.8 x 1.8 x 1.3in
Weight: 64g / 2.2 oz
Battery: Li-Ion 500mA 3.7V
Charging: 2h at 5.0V
User Time: 2 Hours
Standby Time: 90 days
Frequency: 120Hz
Max. Sound level: <50dB
Interface: 4-button interface
What's Inside The Box?
Here are all the items that will arrive together with your Siri 2. I would also like to point out that unpacking Lelo toys is like unpacking Christmas gifts. However, Christmas is only once a year, and Lelo products, well you can have as many as you would like.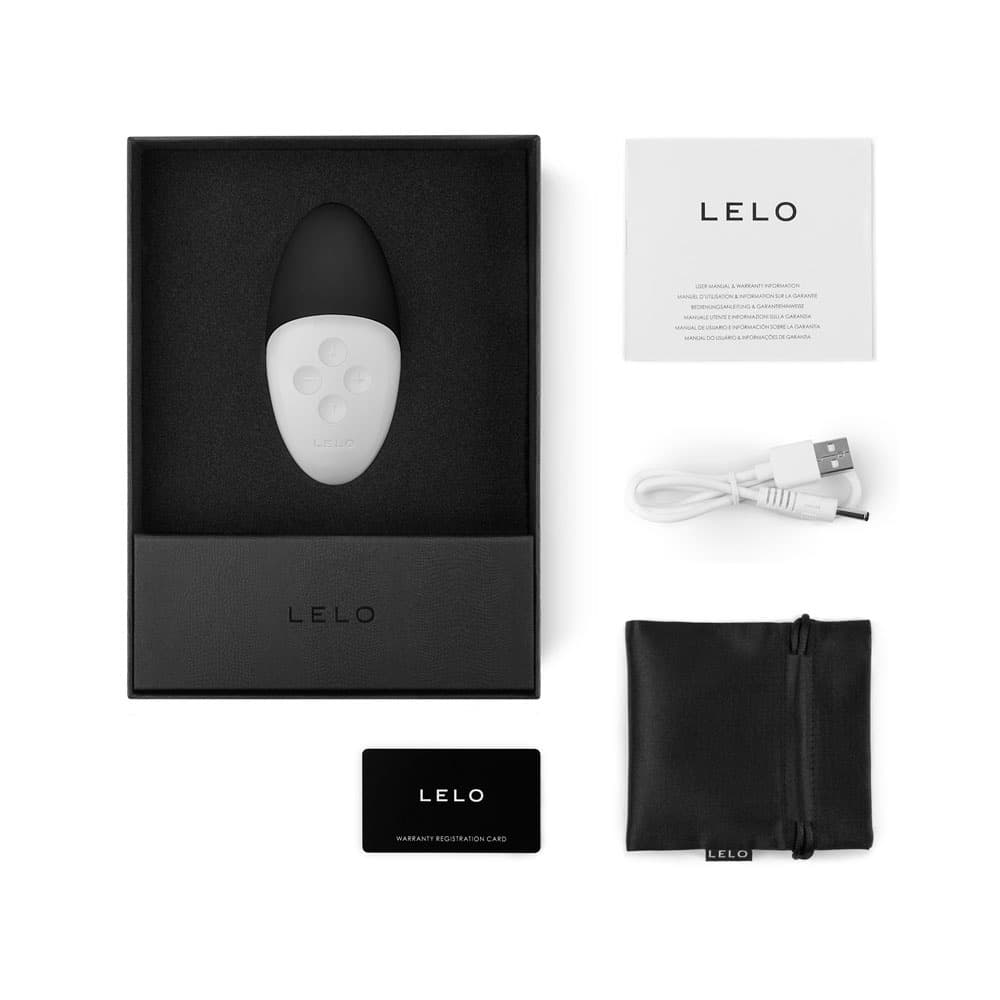 SIRI™ 2
USB-Charging Cord
Satin Storage Pouch
Warranty Registration Card
Detailed Instruction Manual
When you play with sex toys, sometimes you need extra investments. Usually, one of those is lube. Lube helps lubricate places that are not self-lubricating and this way reduces friction and protects your skin.
Lelo Siri 2 in Action
As a regular vibrator for the clitoris, Lelo Siri 2 works well and hits the spots right. So, if that's enough for you – you can freely order it. The vibrator can be gentle as well as intense, so it will suit most women's needs.
However, if you're here because you were intrigued by the feature of sound responsiveness – I will tell you all I found out. First, the choice of music matters, and it matters a lot.
If you find a song that builds up and reaches its most intense point – your experience will be pretty good, interesting, and exciting. However, if you go for a chaotic tune that has zero patterns and is very random – you are going to have a random, chaotic, and maybe not a very pleasant experience.
So, when it comes to the feature – the experience strongly depends on the sounds and their harmony.
Tips For Using Your Sex Toys
If it's your first toy – make sure to read these tips. They work for other sex toys as well.
Always Use Lube
Lubricants are used to reduce friction and smooth sexual intercourse (human or sex toys). When two dry objects rub against each other, the weak one (acknowledge, it's your skin, not the plastic toy) is damaged. Therefore, use lubricants, especially if you use the toys in places where you do not use lubricants. Failure to do so can cause skin irritation.
Not a Sprint, It's a Marathon
Buying your first sex toy can be a little scary and intimidating. You can even feel like that when you buy new types of sex toys. At first, using toys may seem a bit strange, and you have to relax and immerse yourself in everything. More importantly, don't expect orgasms and fireworks to occur within a minute. So don't focus on orgasm, it will come, focus on the experience. It is a marathon rather than a sprint.
Hygiene is a Must!
I will repeat this in every article I write. Proper hygiene habits are a must when it comes to using sex toys. That helps to keep them in good condition as well as prevents various microorganisms from inhibiting their surfaces. Not washing your sex toys and using them dirty can cause a nasty infection that could take you weeks if not months to properly cure.
Lelo Siri 2 Reviews
Buying anything online can be tricky. Unless you've seen the product in real life and already know what that product is all about.
However, it's usually not the case with sex toys and people still prefer ordering online rather than buying in physical stores. At least that's what I heard.
I selected reviews, that highlight both: the positive and the negative aspects of Siri 2. Each review comes from Lelo's website. This way you know you're getting the information from a real person who actually used the toy.
Reviews, highlighting positive aspects of Siri 2
I have had this for 6 or more years. I'm on my second one as the first I couldn't get to charge anymore. For the first time I used it in the bath and the next day found out it is NOT waterproof as it states. It started to turn on randomly and never when you use the buttons to turn it on yourself so that was a bit depressing. No matter how many other vibes I buy I end up back to this one!

-Lelo lifer
It was really good surprise when I tried it for the first time. Even with my parter it gave pleasure to both of us. Pity is that after 6 months it started to make louder sound so i asked The internet shop (from which I purchased) about warranty and they asked me to send it to them. It was almost a year ago and they still ignore me. Hope whoever has it enjoys it the way I used to..

-Someone from north
Reviews, highlighting negative aspects of Siri 2
I was a huge fan of the first Lelo Siri. When mine finally quit on me after four years of loyal service, I invested in the Siri 2. It worked great at first, but after less than a year, it stopped charging. I sent it back and got a replacement from Lelo, but then that one died after less than a year! After not one, but two of died on me, I didn't even bother replacing the second one.

-Strummfan
It's a little too big and bulky .. I have tried other Lelo products in the past and I've been very happy. But not with this one. I'll have to try something else.

-Nope550000000
Alternatives to Lelo Siri 2
Lelo Siri 2 is an excellent choice. However, if you feel interested in learning what else is on the market – let me give you some suggestions. Here I listed some brilliant sex toys that could be good alternatives to Lelo Siri 2.
Nea 2 – Lelo Nea 2 is probably the most discreet vibrator that Lelo has made. It's very feminine and comes with floral ornaments which make the looks of the toy exceptionally discreet. It has an ergonomic shape to enrobe your clitoris and precisely stimulate it.
Lily 2 – If you want a vibrator with a similar shape but with an added fragrance sensation, consider Lily 2. The vibration strength of both toys is very similar. However, Lily 2 is made of silicone, while Nea 2 is made of ABS. Lily 2 comes in three colors, and each color has a different scent that ranges from lavender to chocolate.
The Verdict on Lelo Siri 2
If you are intrigued about trying out a sound-responsive vibrator, Lelo Siri 2 should be on your list. While the function works pretty well, you will need to find a song that works on your body. Otherwise, it can just be very chaotic and feel out of sync.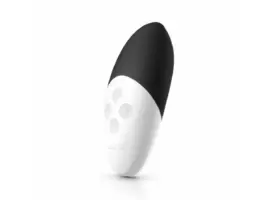 Order Now
Besides that Lelo Siri 2 is a small and powerful vibrator that's good for stimulating the clitoris and compact enough to fit anywhere and be comfortable for traveling.