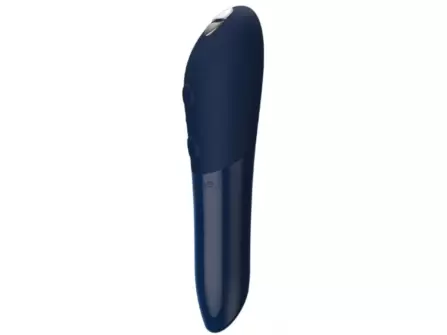 We-Vibe Tango X
Overall Rating
4.6 out of 5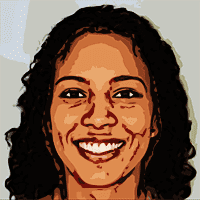 Written by
on , updated on
We-Vibe Tango X
The We-Vibe Tango X clitoral stimulator is a powerful little vibe that packs a punch! It features a tapered tip for precise stimulation, and its compact size makes it perfect for on-the-go fun. The Tango X is also waterproof and rechargeable, so you can enjoy it anywhere, anytime.
The We-Vibe Tango X is a clitoral stimulator that is specifically designed to provide targeted and intense stimulation. The Tango X features a powerful motor that is capable of delivering up to seven different vibration patterns, each of which can be customized to suit your specific needs.
The Benefits Of We-Vibe Tango X
Here are the main benefits of We-Vibe Tango X: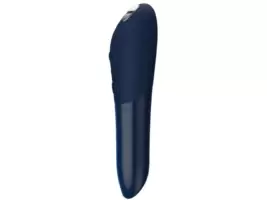 Order Now
8 Intensity Levels and 7 Patterns
The Ve-Vibe Tango X comes with 8 intensity levels and 7 different vibration patterns, each designed for different experiences. So, in total, you have 56 options to please yourself with this toy. How great is that? While I'm pretty sure it seems like too much – it's actually not. Having a diversity of patterns and speeds allows you to explore your body further and learn new things about yourself.
Comfort Grip
The We-Vibe Tango X is an updated version of their previously issued We-Vibe Tango. While the shape of the part that stimulates the clitoris is pretty much the same, the handle is completely different. The Tango X version has a silicone grip to avoid it slipping and moving in your fingers. The previous version didn't have it, so it's a great update to the popular toy.
Body-Safe Materials
Did you know that the sex toy market has very few regulations? There are still plenty of toys that contain harmful substances that could cause harm to your body. That's why you need to be careful when choosing your toys and only buy from reputable brands. We-Vibe is one of those manufacturers that actually care about their customers' health. They use only high-quality and body-safe materials.
Easy to Use
Using the We-Vibe Tango X is very simple and doesn't require any special skills. When charged and ready for action, you'll need only to know the location of three buttons that will do all the work. There are two buttons to control the speed: (+) to increase and (-) to decrease. The button between the two (~) switches the patterns. That's it!
Couples-Friendly
While it doesn't have a remote control option, the toy is definitely couples-friendly. Having a bullet vibrator or any other vibrator that's comfortable to use and friendly to your clitoris makes penetrative sex a lot easier. Especially if you have difficulty experiencing orgasms solely through penetrative action. The toy does part of the job while you and your partner can focus on each other.
100% Waterproof
Just like any other We-Vibe toy, Tango X is completely waterproof. This means that a relaxing orgasm in the shower is never off the table. Use it in a bathtub or jacuzzi – wherever you desire.
Specifications
These are the technical characteristics of the Tango X:
Available Colors: Cherry Red, Midnight Blue​
Battery: USB rechargeable lithium ion battery ​
Run Time: Up to 2 hours
Charge Time: 90 minutes
Materials: ABS, body-safe silicone, free from phthalates and BPA and made without latex ​
Dimensions: 9,98 cm x 2,29 cm x 2,43 cm ​
Warranty: Two years
As you can see, it's completely body-safe. When it comes to running time, my average is about 60-70 minutes.
What's Inside The Box?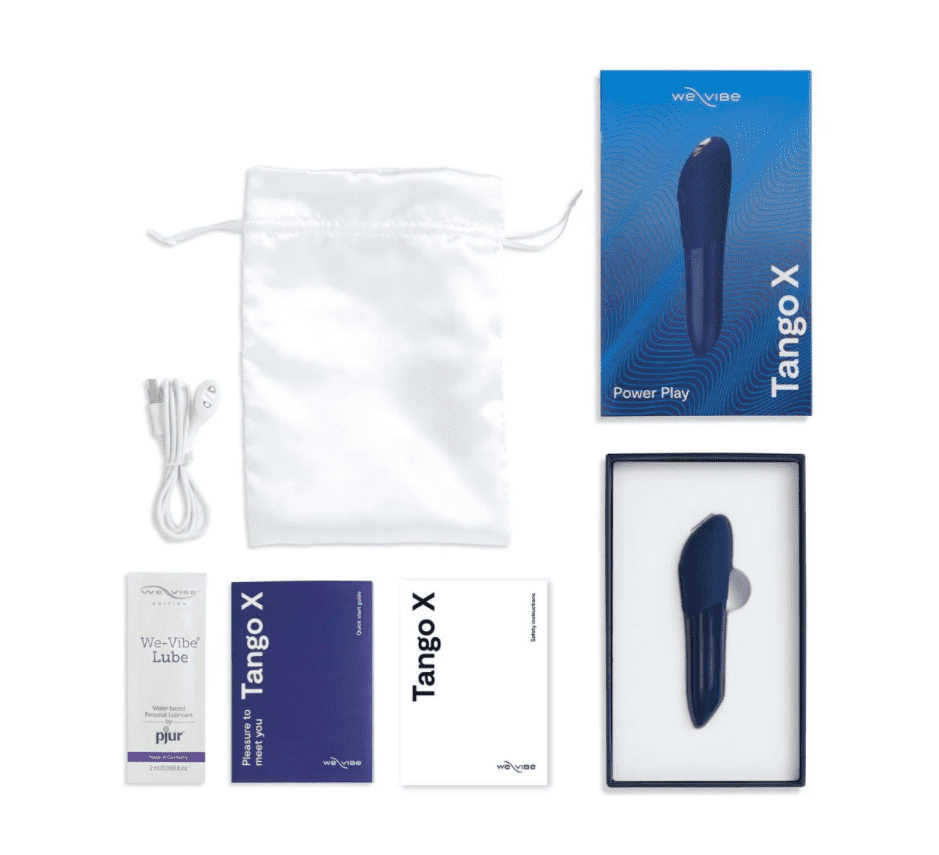 Here is a full list of items that you will be getting when ordering the Tango X:
We-Vibe Tango X Clitoral Mini Vibrator in Cherry red or Midnight blue​ color
​USB charging cable for charging via any USB port or widely available USB power adapter (not included)​
Quick start guide​ with illustrations
Storage bag – a silky-storage pouch for convenient storage and travel​
We-Vibe Lube made by pjur® ​2 ml sample​
Make sure to get some extra lube, 2ml might not do the trick for long!
We-Vibe Tango X In Action
The We-Vibe Tango X is an updated version of the Tango. We-Vibe found several ways to improve the toy without changing its essence.
First, the previous edition was fully made of plastic. Now part of the vibrator is covered with silicone that gives a better grip and ensures that the toy stays in your hand and doesn't slip even during the wettest moments.
Second, the new edition has more power, so it produces more intense vibrations. However, as you know, the more intense you go, the more chance to have a slightly numb clitoris after your sexual experiences.
Overall, the Tango X is very similar to most vibrators that are lipstick-shaped. They work fine and if you're a fan of the classics – this one won't disappoint you. Yet, the silicone grip and many vibration options give it an advantage over its competition.
Tips For Using Your Sex Toys
Here are some rules for sex toys that I swear by. They help ensure the longevity of my vibrators (and other sex toys). Also, protects my body from the risk of any unwanted infections.
Start Slow and Get Used to Experiences
There is no one way to enjoy a vibrator, as each person experiences pleasure differently. However, I recommend starting with the vibrator on a low setting and gradually increasing the intensity as you become more aroused. Experiment with different strokes and speeds to find what feels best for you. Pay attention to your body and breathing as you use the vibrator, and always stop if you feel uncomfortable.
Hygiene is a Must!
Hygiene is important for sex toys because they can easily become contaminated with bacteria, which can lead to infection. It is important to clean sex toys after every use, using mild soap and water. Be sure to dry them thoroughly before storing them.
Moisturize and Lubricate
Many people tend to underestimate lube. Sure, the vagina is self-lubricating. However, some external factors like a little dehydration, or simply hormones sometimes cause a dryer vagina. If you ever experienced that – you'll know what I'm talking about. I first learned the lesson with my husband when I understood that my vagina is not in the mood for his penis. So, don't be like me and have some lube on your nightstand. It can actually be a game-changer. Especially if you are ready to try some heating or cooling ones.
We-Vibe Tango X Reviews
The more you read about a product before buying it, the more likely you'll find the one that works for you. Here I collected some reviews directly from the We-Vibe website. They highlight both positive and negative aspects of the toy. This will help you better understand what to expect from the toy and whether it's something you're looking for.
when it says intense… it's INTENSE. Much better than the classic tango. I always carry this around with me.

helga
I loved my tango a lot. An all time fave for me. And this upgrade is AMAZING. Makes it much easier to hold and the travel lock is great bc I take it everywhere I go lol

Jessica
I have been looking for a good bullet vibrator for a while. I own several vibrators, yet none come even close to being as good as those from We-Vibe. Currently I have the Rave, Melt, and Womanizer Premium. Decided to try out their bullet vibe and as usual they don't disappoint. Tango X is amazing!!! Easy to hold and very powerful! I'm amazed at how good it is. I got the blue as it seems less conspicuous. I do wish it had some sort of cap for it instead of the storage baggie though, but I guess you can't have everything.

Angie
Too intense for me personally.

G.G.
Very nice product with great quality. A bit expensive but the intensity makes up for it.

Holly
Alternatives to We-Vibe Tango X
While We-Vibe Tango will work for many, there's always a chance that you're looking for something slightly different. Here are some exciting alternatives for you to consider.
Lelo Mia 2 – a classic lipstick-shaped bullet vibrator that is super discreet and can actually pass for a lipstick, if you don't look into the details too much. Powerful, fun, exciting, absolutely travel friendly.
Lelo Ora 3 – another option to consider if you're looking for a discreet vibrator. The Lelo Ora 3 has a round shape and a small tongue-like handle for the exciting experiences of the clitoris.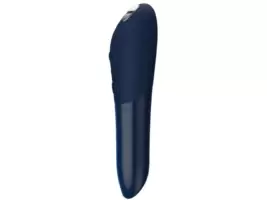 Order Now
The Verdict on We-Vibe Tango X
The We-Vibe Tango X is a classic lipstick-shaped vibrator. The lipstick shape has been used for years by various manufacturers and it never goes out of style. So, you can't go wrong when you choose this toy. However, if you're looking for more advanced toys, consider toys that use sonic waves or Pleasure Air technology.
Other than that, it's a good toy that is compact, discreet, and comes with an excellent grip that will keep it stable in your hand during the most intense vibrations and in the wettest situations.