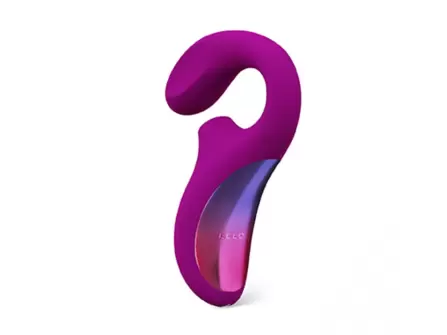 Lelo Enigma
Overall Rating
4.48 out of 5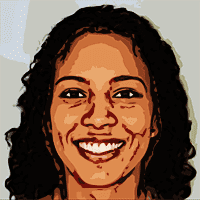 Written by
on , updated on
Lelo Enigma
Just by looking at it, you can tell that Lelo Enigma is not your ordinary vibrator. And most likely, Lelo once again came up with one more way to surprise us and bring the O game to the next level.
Lelo Enigma is one of the latest products from Lelo and the latest one I laid my hands on. So, it has the most rivals to battle with.
However, if you're the best, it's not important how much competition there is, the winner is only one.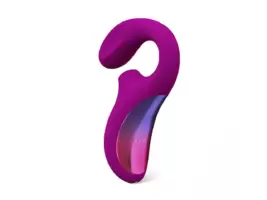 Order Now
To tell you the truth, when I first saw Lelo Enigma, it did seem like a riddle to me, can't argue with that. So, I must agree the name suits the looks of the device. However, let's try to unravel the mystery behind Enigma.
The Specs of Lelo Enigma
Lelo Enigma comes with a very unique shape. Therefore it's super useful to check out the total dimensions, know the insertable length, and in general, what you can expect from the toy.
Made from: Body-safe silicone, ABS
Size: 3.9 x 1.9 x 7.3 in / 100 x 50 x 185 mm
Insertable length: 5.5 in /140 mm
No of Vibration: 8 settings
Use time: 2h maximum, depends on settings you choose
Available Colors: Deep Rose, Black
User Interface: 3-buttons
Net Weight: 0.43 lb / 196 g
Frequency: 60 Hz / 100 Hz
Battery: Li-lon 850mAh 3.7V
Lelo Enigma Benefits
Even though Lelo Enigma comes in an odd hook-like shape and doesn't look like your average sex toy, it's actually a great one with numerous benefits ready to be discovered by you.
Dual Stimulation
Lelo Enigma can stimulate the clitoris and the G-spot simultaneously. That's great because one sex toy does the job of two. Also, if you're similar to me, and have difficulty reaching orgasms during penetrative sex without additional stimulations – you'll understand how important the attention to the clitoris is.
8 Vibration Patterns
The Lelo Enigma comes with 8 unique vibration patterns o tickle your clitoris and your G-spot the way you like it. You can start from low and upgrade step by step or try out the ultra-intense sensations straight ahead – your choice.
Body-Safe Materials
Lelo uses only the highest-quality materials to make their sex toys. Lelo Enigma is not an exception. It's made from the highest quality and softest silicone you can possibly imagine. The toy is hypoallergenic and won't cause any unexpected skin irritations or allergies.
Erginomic Design and Controls
Lelo Enigma has a unique shape that actually makes using it very easy. The high handle that's sticking out when the toy is inside you is super easy to reach from nearly any angle. I was very presently surprised how much sense this odd sex toy makes.
Lelo Enigma is Fully Waterproof
Having a sex toy is fun. However, having a sex toy that can be used in the water is a lot more fun. And by saying a lot, I do mean A LOT. A hot shower or a hot bath is already very exciting, however, a hot shower with an orgasm is a next-level pleasure.
Discreet Shipping
Lelo values you as a customer and respects your privacy. That's why they pack their sex toys in simple and plain carton boxes without any flashy signs that scream about the dildos inside. So, worry not, you will be getting the luxury treatment.
Tips For Using Your Toy
Using and taking care of sex toys is not complicated. Especially if they're made from non-porous materials. Lelo toys are exactly that. Here are some useful tips that will help you make your experience with your toy a lot more simple:
Lube It Up
Get a quality lube that's compatible with your sex toy. The material your sex toy is made from, to be more precise. This is necessary especially for those, who plan on using sex toys to massage places that are not self-lubricating like the vagina is. You will reduce the friction and will protect your skin.
Not a Sprint, It's a Marathon
If you ever masturbated, you know that giving yourself an orgasm can take as little as 2-3 minutes. However, you also know that taking it slow is more rewarding. Using a sex toy is a marathon rather than a sprint. Especially till you get used to the experience and fully give in to it.
Clean, clean, clean!
Clean your sex toys the way the manufacturer suggests. They made it, therefore they know how to take care of it. Don't let your sex toys become a place where dust, dirt, bacteria, and germ accumulate. Those later could get transferred to your body and cause a nasty infection.
What's Inside The Box?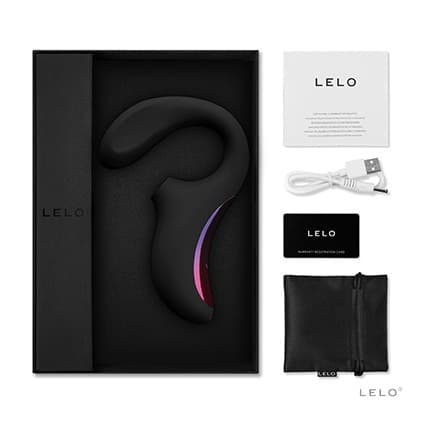 Years keep on passing and I keep on loving the packaging that Lelo is using. It always makes me feel special and super fancy. If you never owned anything produced by them – you'll be pleasantly surprised. Here's the full list of items you will get when ordering Lelo Enigma:
ENIGMA™
USB-Charging Cord
Satin Storage Pouch that's perfect for keeping the dust away
Warranty Registration Card
Detailed Instruction Manual
Since Lelo Enigma is also designed to stimulate the clit – make sure to get some lube. The clit is not self-lubricating, therefore, it needs something that doesn't dry away immediately. Otherwise, you could irritate the clit and turn a pleasurable experience into a pretty painful one.
What Enigma Feels Like in Action?
The Lelo Enigma uses sonic waves to stimulate you from the inside and out.
Lately, using sonic waves has shown to be very effective for reaching climax. If you've never experienced such waves in action, it feels more like pulsations rather than your regular vibrations.
If you compare the two, the pulsations, for me at least, are more effective than vibrations. Sometimes too intense vibrations leave you a little numb for a while. However, that's not the case with sonic waves.
When it comes to Enigma, it did pleasantly surprise me. Even though it wasn't exactly right for my anatomy and the bulb that went inside me felt uncomfortable at first. However, when I turned it on and eased into it, the experience changed completely.
The pulsating sensations against the clitoris were insanely satisfying while the gentle stimulation of the G-spot worked well together in sync for an intense climax.
I could easily recommend this toy for those, who are not afraid of wider toys inside them and appreciate the sensations dual stimulation can give you.
Alternatives to Lelo Enigma
Lelo Enigma is one uniquely shaped sex toy. No one can argue with that. However, that shape has a purpose, yet has its downsides. So, if you feel like Lelo Enigma is not exactly right for your anatomy, check out several alternatives that may catch your attention.
Lelo Soraya 2 or Lelo Soraya Wave: These two toys look the same and are brilliant for stimulating the G-spot. However, both do it in a different manners. While Soraya 2 uses a more traditional vibrator method, Soraya Wave moves in the come-hither motion to give ultra-precise clitoris stimulation.
Lelo Ina 3 or Ina Wave – when it comes to the way this toy operates, the Wave in the title means that it also uses the come-hither motion. However, what separates Ina from Soraya is a wider surface area that you can use to stimulate the clitoris. So, there's less aiming and less room for error.
Lelo Enigma Reviews
Lelo Enigma can be a real riddle right? Especially when you see it for the first time. That's why it's good to collect as much information about it before ordering. Just like you would before buying any other thing.
Here I collected some positive, as well as some negative reviews of Lelo Enigma. This way you can make a more informed decision about whether the toy will work for you or won't it. All reviews are from the official Lelo website, so you know you're reading genuine feedback.
The positive experience with Lelo Enigma
I had a sona for about a year now and was a big fan, however this takes the experience to a new level. I am able to find pleasure easily and quickly for multiple orgasms. My husband and I are both huge fans of this product. You will not be disappointed if you enjoy clit stimulation.

-IG Chellalosesit
bought this for my wife to enjoy. I love watching her play, and I have never seen her feel so good. She says it hits all the right spots and makes her toes go numb.

– Agg113
The negative experience with Lelo Enigma
I was initially going to purchase the sila, but I changed my mind after reading the description of the enigma, and I must say I wish I hadn't. My experience so far has left me wanting. My body is not compatible with the design.

-Meena2021
Bought it because Instagram told me many good things about it. But as it´s often the case with Instagram ads … they are rarely worth it. Works the same as any vibrator, is just totally uncomfortable and loud. Tried it once and it´s collecting dust ever since. Not worth the price, nothing special.

-Rose28159
As you can see, there are people who are simply crazy about the Enigma. However, there are those, for who the vibrator didn't work for one reason or another.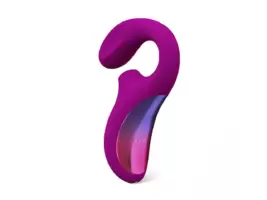 Order Now
The Verdict on Lelo Enigma
Overall, as oddly as Enigma looks, it's a brilliant vibrator that really surprised me. Size-wise, for a dual-stimulation vibrator, it's a little bulky but pleasure-wise it's great.
The vibrator accurately hits the G-spot and the clit stimulator is on-point as well. It is comfortable to control from any angle and helps you reach mind-blowing orgasms.